ORICO Universal Power Strip
Traveling Companion
4USB


Ports

110-240V

20W


Watt Power
ORICO Universal US Plug Convert with 4 USB Charger Ports, Supports US/UK/EU/AU/CH Outlets
Perfect for use with your appliance/equipment when you are traveling in US wherever you are from UK, AU or EU. Be able to convert all countries AC plug to US style. Support US/UK/EU/AU/CH 4 international plug adapters devices, covers more than 150 countries including United Kingdom, France, Germany, Italy, Spain, Belgium, USA, Hong Kong, Singapore, Malaysia, Indonesia, India, Brazil, Chile, Japan, Taiwan, Thailand, Philippines, Australia, New Zealand, Argentina etc.
Faster 4 Ports USB Charger ( 4 x 5V/2.4A )
4 USB charging ports saves taking several different chargers (can be used for charging cell phones, digital cameras, mp3 players, iPod, iPhones and various other electrical devices during your travels) A perfect gift for any traveller! Please note: Charging current will be matched automatically, smart 5V2.4A Intelligent Recognition Per Port and the total current of 4 USB charging port is 5V4A 20W.
4 Port Fast Charging
Beyond the original charger, intelligent IC can recognizes your devices to deliver ideal current each time of up to 2.4A
Synchronous Rectification Technology, Intelligent IC Recognition
ORICO S4U provides 4 USB ports and each port recognizes smartphones, tablets and other 5V devices to deliver ideal current each time of up to 2.4A, sparing the worry of carrying power adapters. A current control circuit only approves a current whose value is under 2.8A for each port, helping to defending the integrity of devices and avoiding accidents. Its electric energy conversion rate reaches up to 88%, which causes less unnecessary heat and is more environment-friendly. The safety guard protects children from an electric shock.
Synchronous Rectification Technology
Efficient Charging I Lower Heat
Its electric conversion rate reaches up to 85%, which causes less unnecessary heat and is more environment-friendly
Multi Protection Safety System, Safe to Use
Multi protection system: certified by FCC, CE, RoHS ensures complete protection from electrical short circuit, over heat, electric surge, over charging, over current; the 2.8A current limiting chip can interrupt current output once any malfunction occurs. The multi protection safety system of this Surge Protector give user a guarantee that it'll have a complete protection against electrical short-circuit, overvoltage, over-heating, over current, over-charging and many more. Not just that, it's made of ABS fire resistant engineering plastic that makes it safer.
High technology, multi-protection safety system
Support 2.8A current control, more secure
| | | | | | | |
| --- | --- | --- | --- | --- | --- | --- |
| Over Power Protection | Overvoltage Protection | Overcurrent Protection | Short-circuit Protection | Overcharge Protection | Overheating Protection | Leakage Protection |
Multi-Function Plug
Compact Design with Safety Gate, Broad Compatibility
It's small and lightweight, compact and easily portable, compact design (3.77*2.28*1.25 inch) and lightweight make it easy to carry on travel just a fraction of space to take on the go - perfect for travelling. Each jack have independent safety gate hands or metal objects vertical insertion it, need 75 newton can open the safety gate. But it does not affect the normal use.
Uniquely designed with ports for iPad, Samsung Tab, PSP, Tablets and others. Super charging ports will detect attached devices and self-adjusted to right status, avoid any compatibility issue and supply reliable power for any high power required iPad, Tablets or Cellphones from Apple, Samsung, Sony, HTC etc. Attach devices to super charging ports when any compatibility issue is recommended.
Mini Portable
Product volume similar with mouse, length 58mm, width 36mm, height 32mm, mini portable, Easy to carry in journey.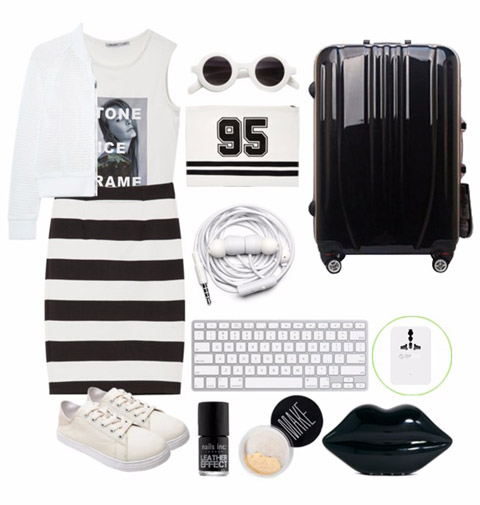 The same as a mouse
Light and handy
What's in the Box:
1 x ORICO 4 USB Ports Surge Protector
1 x User Manual 
1 x Service Card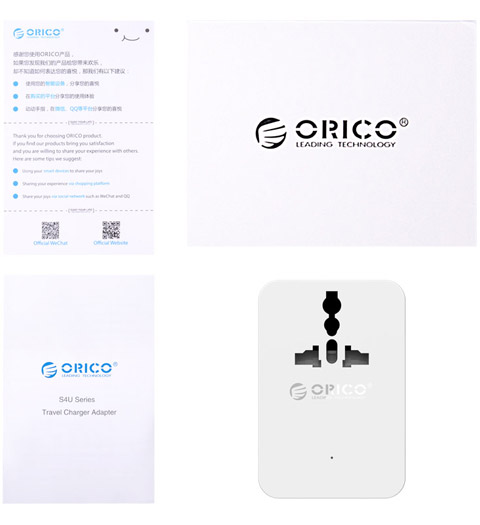 Specifications
| | |
| --- | --- |
| Item # | ORICO S4U-TUS-WH |
| Port | 4 Port USB Charger |
| Output | 5V4A 20W |
| Input | 100-240V 50 / 60Hz |
| Controller | Intelligent Detective IC |
| Dimension | 86* 58 *32mm/3.77*2.28*1.25in |
| Certificate | CE / FCC / RoHS |
| Circuit Protection | Overload Protection, Surge Protection, Leakage Protection |
| Charging Ports | 4 x 5V2.4A USB Wall Charger Port with synchronous rectification and a current limiting  |
| Compatible Brand | Mobile Phones iPhone7,6s,5s,Tablet,Samsung Galaxy SONY, LG, Media Players IOS and android and Other USB Devices |