Wavlink USB 3.0 to 4K HDMI/ 2K DVI Adapter (USB A to C converter included)
Are you looking to run the same signal on your TV or extend the display with computer monitors? If yes, it's time you invest in a good USB to HDMI/ DVI adapter.
So be it running the same TV program or extending your laptop's display into the other monitor, this clever device Wavlink USB to HDMI/DVI converter makes it all possible.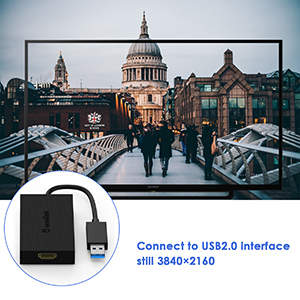 High resolution:
Leveraging 5Gbps high-bandwidth Super Speed USB 3.0 interface offering flawless high definition video transmission to your monitor or projector. Supports resolutions up to 3840* 2160@30Hz (HDMI) for enhanced visuals. 1920* 1080@60Hz (DVI). This USB to HDMI adapter is backward compatible with USB 2.0. If connected to USB2.0 devices, resolution still be up to 3840?2160(4K).
Super-speed transmission:
Leveraging the high-bandwidth (5Gbps) super speed USB 3.0, 10 times faster than USB 2.0, which offers flawless high definition video transmission to your monitor or projector.
Rotation mode & Collage mode:
Rotation mode allows you to rotate the interface according to your needs, for collage mode, you can match two screens together into a single one. It also aims to extend your screen to improve your productivity.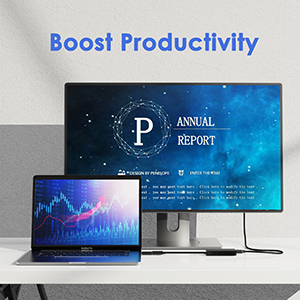 Boost Productivity:
If you're doing information work, looking at one document while editing another, researching, or generally working on several things at once, having multiple displays is indispensable.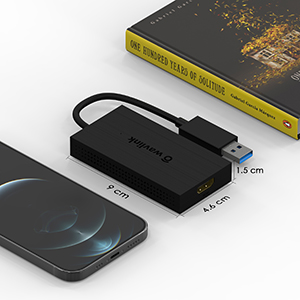 Compact and portable:
Size: 3.5 x 1.8 x 0.6 inches. Easily stows in any backpack or laptop bag, taking up roughly the same space as a pack of playing cards, no external power adapter needed.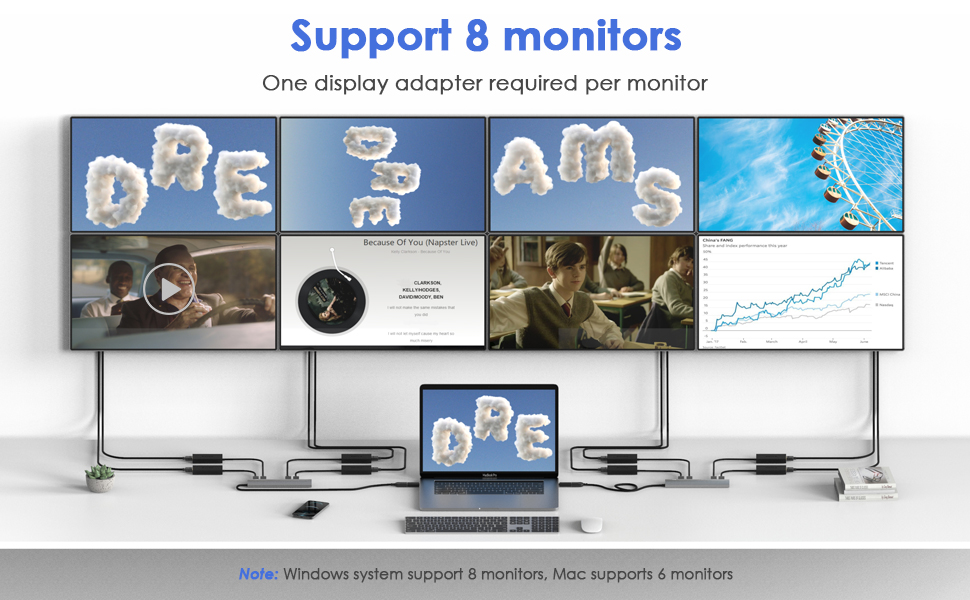 Multi-Screen Display:
The USB to HDMI adapter with additional DVI converter, Windows system supports up to 8 screens expansion, Mac supports 6 monitors, multi-task operation to avoid screen switching back and forth, improve work efficiency. Ideal for games entertainment, home theater, video conference, corporate training, etc
Universal Compatibility:
Designed to work with virtually any USB3.0 /USB-C and HDMI/DVI devices including PC, laptop, phone, HDTV, monitor,projector, etc. Widely compatible with most of system, such as Windows, Mac OS, Android 7.1 or later, Chrome OS etc.
Hot-plugging:
This technology allows the user to remove and replace the damaged devices without shutting down the system or cutting off the power supply, thus improving the system's timely recovery ability, expansibility and flexibility.
Warm tips:
1. No external power adapter needed and driver free on Windows 10 OS only.
2. Support Windows 7 / 8 / 10; Max OSX 10.10 to latest; Chrome.
3. Its RAM can be up to 4GB.
4. Video decoder multiple formats supports (H.264, H.263, MP4, MP2, DivX, AVS, JPEG and etc.
What You Get:
1 x USB 3.0 to HDMI 4K Display Adapter
1 x USB 3.0 Type-A to Type-C Converter
1 x HDMI to DVI Converter
1 x CD-shaped card for driver download link
1 x Quick Start Guide