Are you an E-Blast Insider?
Wavlink Aluminum USB-C Hub Adapter for both 13'' and 15'' MacBook Pro, Thunderbolt 3 Mini Dock - 5K 40GbS, 4K HDMI, Pass-Through Charging, USB-C Port, 2 USB 3.0, SD/Micro SD Card Reader - Red
Limited time offer, ends 09/30 By Wavlink Technology Marketplace
Aluminum USB-C HUB/Dock
4K HDMI Port, 2 X USB 3.0 ports, SD and Micro SD card slot,USB-C Port
Thunderbolt 3 Date Speeds up to 40Gb/s
Power Delivery - upstream power charging
Upper USB-C port extended Thunderbolt 3 port connectivity, Intel compliant materials truly max. running at 40Gbps speed, including USB3.1 (10Gbps) / DisplayPort V1.2 (5K@60Hz or 4K@60Hz) video out or USB3.1
Leather Case
For Macbook Pro 2016/2017/2018/2019 13''15''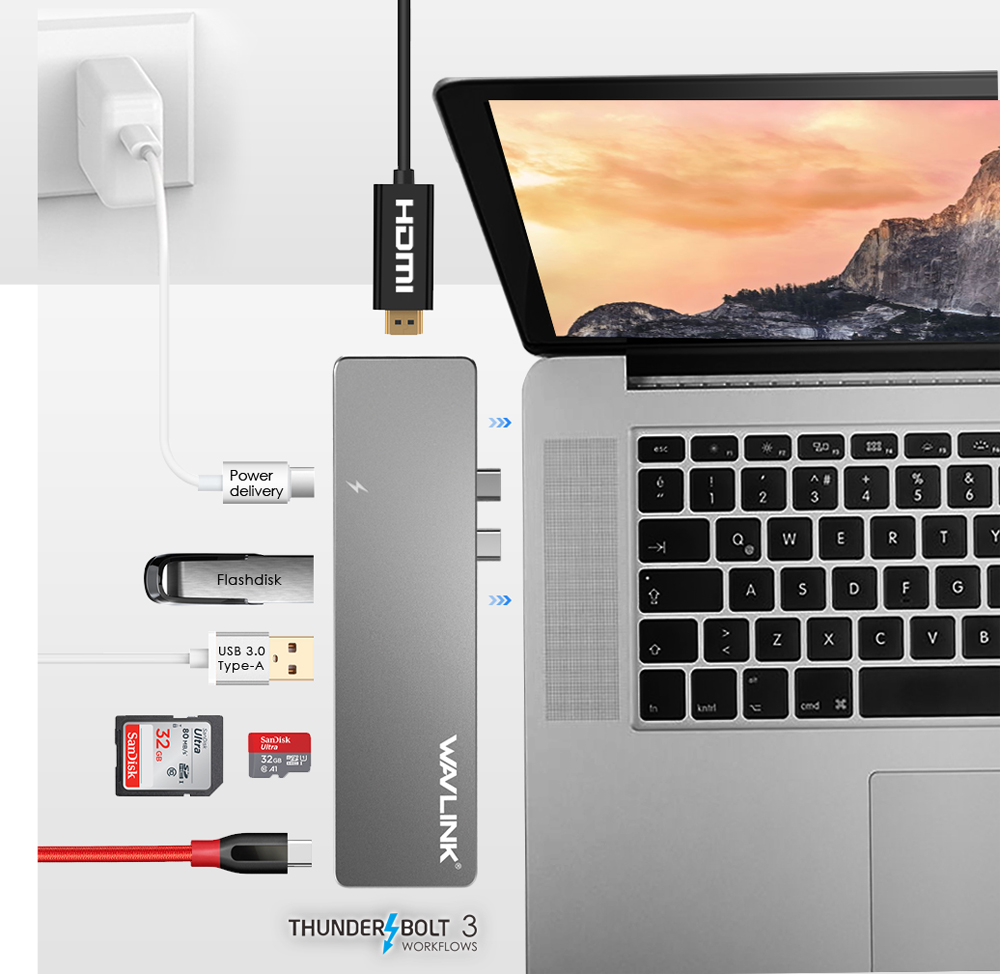 Wavlink Aluminum Thunderbolt 3 USB-C HUB/Dock is coming!
---WL-UHP3405M (Space Gray)
The Wavlink Aluminum Pro Hub/Mini Dock is the newest addition to our USB Type-C collection and the perfect companion for your 2016/2017 MacBook Pro. Sleek and compact, the 3405M features a Thunderbolt 3 port, USB-C port, 2 USB 3.0 ports, 4k HDMI, and a SD/Micro card reader, the Best USB-C Hub Adapter gives full functionality.
Simply, plug and play to expand your MacBook's capabilities. Designed for the 2016/2017 MacBook Pro - compatible with both 13" and 15" models. In addition, we had offered a Leather Pouch in the product box, it will be Convenient for all your application.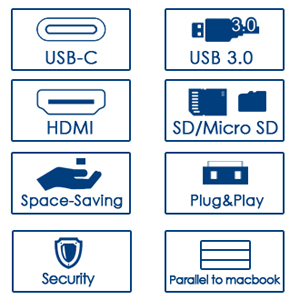 Thunderbolt 3 Port - Up to 5k or 2x4k @ 60Hz video, up to 40Gb/s data speed + Power delivery
2 x USB 3.0 Ports - 5Gb/s data speed
USB-C 3.1 Ports - one USB-C 3.1port up to 5Gb/s data speed
SD/Micro card reader - Up to 104MB/s
4K HDMI Output - Delivers 4K@30Hz video signals to HDMI-enabled devices
Strong Power Delivery - Support strong power input, Charging your laptop while connecting all supportable peripherals
Plug & play - does not require any software, drivers or complicated installation process.

1. HDMI Video Output
Up to 4K@30Hz / 1080p@60Hz
Max 100W power delivery
2. Thunderbolt 3
Up to 5K or 2x4k@60Hz
Up to 40Gb/s data speed
3. 2 x USB 3.0
5Gb/s data speed
4. SD/MicroSD
Up to 104Mbps
5. USB-C
5Gb/s data speed data only
---
Let Wavlink Aluminum Pro Hub (WL-UHP3405M ) expands your MacBook Pro's Capacities.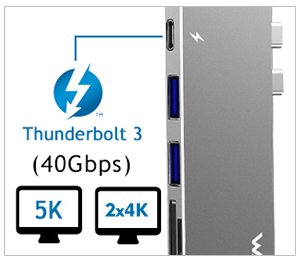 Passthrough Charging & fastest Thunderbolt 3 hub
Thunderbolt 3 consolidates data transfer, video output, and charging into a single compact connector. This hub delivers up to 40Gb/s data transfer speeds and pass through charging for both 13" and 15" MacBook Pro. Enjoy brilliant 5K video output or connect 2 monitors for crystal-clear 4K resolution. The Thunderbolt 3 USB-C Port support 5K@60Hz or 2 x 4K@60Hz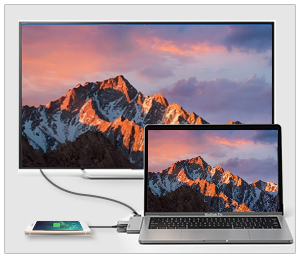 4K HDMI Output.
HDMI output delivers 4K@30Hz video signals to HDMI-enabled devices. It is convenience to connect an HDMI cable from the Wavlink Hub Adapter to extend or mirror your monitor to view crystal-clear display. It is an ideal choice when travelling, when hotel movies are expensive. Also, it can support 1080P@60Hz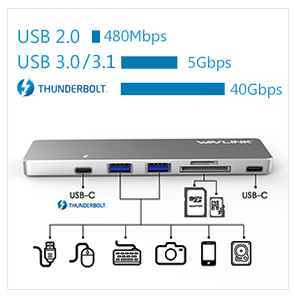 2 x USB 3.0 type A ports + 1 x USB 3.1 Type C ports
Except the Thunderbolt 3 ports, 3405M also offer two super speed USB 3.0 ports and one USB-C 3.1 Gen 1 Pots, transmission rate up to 5Gbps ! The dock ensures compatibility with a vast array of peripherals such as external hard drives, printers and scanners including Type-C and Type-A device.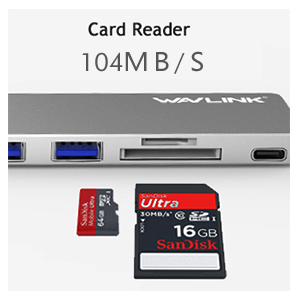 Card Reader
SD card supports SD/SDHC/SDXC/SD3.0 UHS-1, up to 104MB/S. Micro SD card supports TF, Micro SDHC, Micro SDXC, M2, up to 104MB/s - on the go.

It's designed to be compact enough to stay with your MacBook Pro wherever you go, Leather Pouch in the product box, it will be Convenient for all your application.
We designed to feel like a natural extension of the Apple new MBP with similar product lines, thickness, right angled edges and rounded corners. CNC precision milled aluminum enclosure color matched to silver and space gray Pro.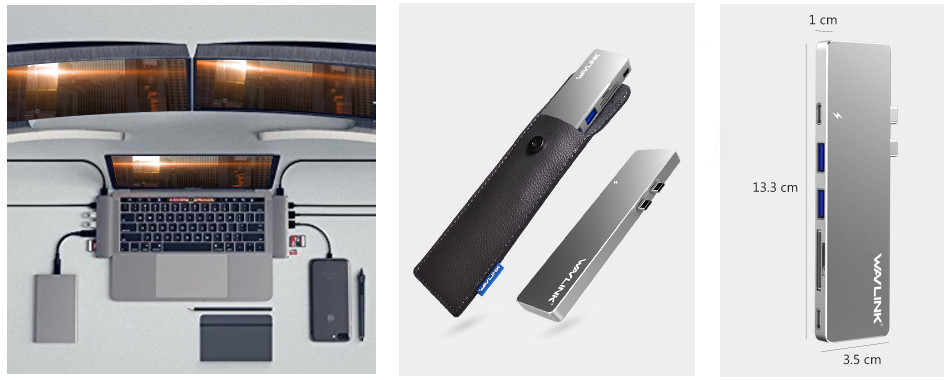 Allow yourself to choose colors that you love - Space Gray / Silver / Red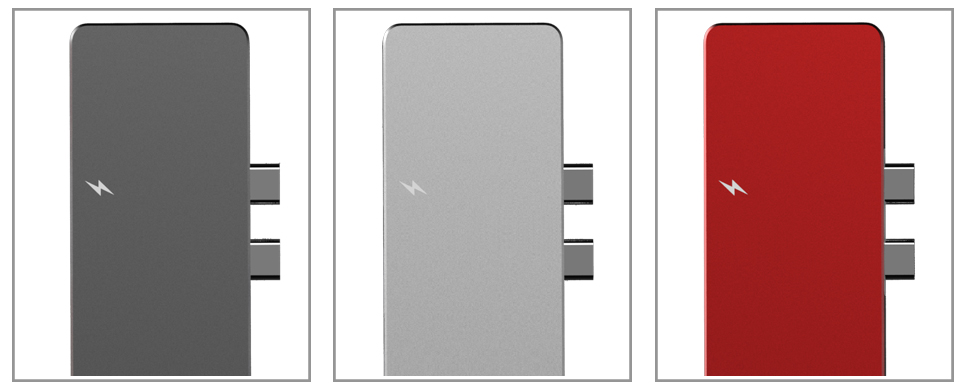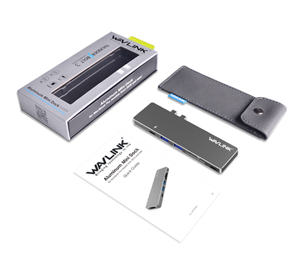 Package Included:
1 x Thunderbolt 3 Mini Dock
1 x Leather Pouch for Product Protection
1 x User Manual
Customer questions & answers
Can I charge my iPhone and iPad via the adaptor?
Answer: Yes. It can charge through the USB-A ports and (if you have a USB-C to Lightning) it can charge through the USB-C ports also.
---
Is it possible to connect 3 external monitors with this adapter (1 over 4k hdmi video output - 1080p @ 60 hz, 2 over tb3 2x4k @ 60hz video)?
Answer: Yes, you can connect 3 external monitors using the described set-up.
---
Is it possible to plug the apple usb-c to hdmi multiport adapter into the hub thunderbolt port to provide an additional hdmi port?
Answer: Yes! You can plug in a USB-C to HDMI adapter into the Thunderbolt 3 (USB-C) Port on the Pro Hub for additional video output. Not while also charging the laptop.
---
Does this obstruct the headphone jack on the right side of the MacBook Pro?
Answer: Yes, if you are using the Pro Hub on the right side of the Macbook Pro, the headphone jack will be obstructed. So, please use this dock at the left side.
---
Does this come with a case for the hub?
Answer: Yes, Different from other hubs on the market, we will provide an additional protective cover.
Customer comments and feedback
---
Great quality product, I do recommend ! --- Joshua Rasheed
Very nice quality HUB adapter, I love how they design the color match my MacBook color. It very convenient for me to transfer my photos from micro SD card to computer, and I don't need adapter for the micro card anymore. speed can go up to 104MB/s which is fast enough for me . And I can also charge my phone at the same time with no worries about there is lack of USB ports. Very convenient and so satisfied with this purchase.
---
Perfect add on for Macbook Pro -- Jason Lisenby
This Thunderbolt 3 type C hub is awesome! I solved the issue of not having enough ports that I had my Macbook Pro. This hub is extremely compact and well built. It is also stylish with my laptop, the color matched with the Macbook pro. The transfer and charging speed is amazing. this hub exceeded all my expectation and I highly recommend this product from this well known brand.
---
I love the design - it's sleek and matches nicely --- Otavio Larry
Overall, a very portable and reliable addition to the Macbook. I love the design - it's sleek and matches nicely with the mac so it almost looks like it's part of the computer. Most importantly, this product gets the job done - it's super handy for connecting all my USB devices.
Warranty & Returns
Warranty, Returns, And Additional Information
Manufacturer Contact Info