4 TIMES FASTER
With great performance and ultra-fast read and write speed, GX2 solid state drive is 4 times faster than the traditional hard drive.
HIGH PERFORMANCE
GX2 SSD offers more efficient data read/write performance, lower power consumption, and a quiet operation experience.
VARIOUS CAPACITIES
Using SATA III 6Gbps specification and there are 128GB, 256GB, 512GB, 1TB, 2TB, 5 capacities available to choose from.
LOW POWER CONSUMPTION FOR LONGER USE
TEAMGROUP GX2 supports a new generation of power saving technology: DevSleep (Device Sleep Mode). It features ultra-low power consumption, which turns off the power of the SATA interface when the computer goes into standby mode. It saves more battery power and extends battery life, so you can back to work mode in no time.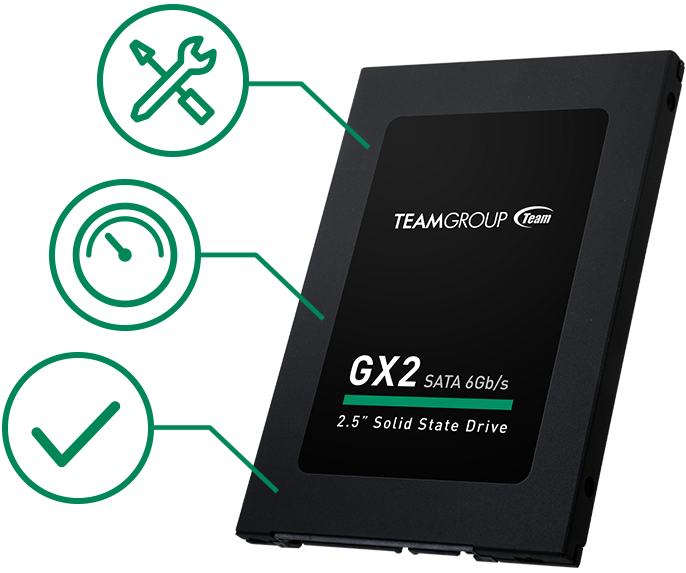 TRUSTWORTHY AND RELIABLE
GX2 SSD's built-in smart algorithm management mechanism has functions such as garbage collection, which is able to ensure operational efficiency and prolong the service life of the SSD. Meanwhile, the powerful Wear-Leveling technology and ECC (Error Correction Code) function can enhance the reliability of data transfer.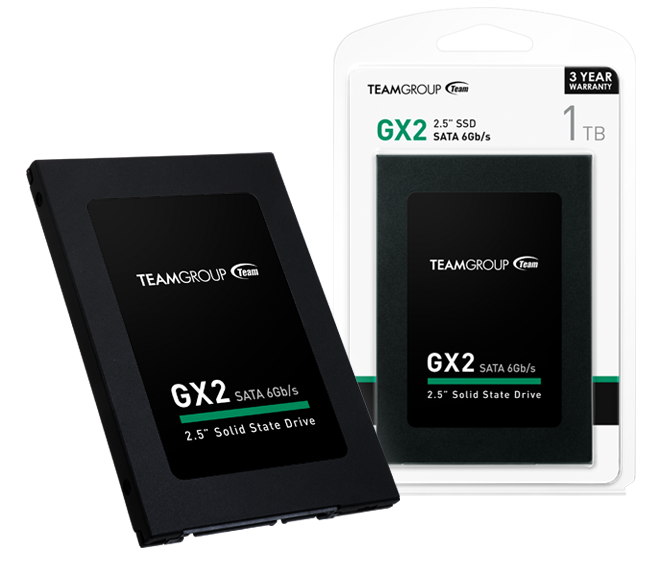 4x faster than a HDD —injects vitality into the system
High performance — Read speeds up to 530 MB/s to boost overall system responsiveness and performance
Slim form factor — 2.5-inch drive available in 7mm to fit in more systems (even slimmer notebooks)
Supports S.M.A.R.T. — monitors the status of your drive
Supports TRIM — maintains maximum performance of compatible operating systems
Guaranteed — 3-year warranty and free technical support
Specification
Interface
SATA Rev. 3.0 (6Gb/s) - with backwards compatibility to SATA Rev. 2.0
Capacity
128GB / 256GB / 512GB / 1TB / 2TB[1]
Voltage
DC +5V
Operation Temperature
0℃ ~ 70℃
Storage Temperature
-40℃ ~ 85℃
Terabyte Written
128GB / >30TB
256GB / >60TB
512GB / >120TB
1TB / >240TB
2TB / >480TB[2]
Performance
ATTO / Crystal Disk Mark:
128GB Read/Write: up to 500/320 MB/s
256GB Read/Write: up to 500/400 MB/s
512GB Read/Write: up to 530/430 MB/s
1TB Read/Write: up to 530/480 MB/s
2TB Read/Write: up to 550/500 MB/s[3]
Dimensions
100[L] x 69.9[W] x 7[H] mm
Humidity
0℃ ~ 55℃ / 5% ~ 95% RH, non-condensing
Vibration
20G [non-operating]
Shock
1,500G
MTBF
1,000,000 hours
Operating System

Windows 10 / 8.1 / 8 / 7 / Vista
MAC OS 10.4 or later
Linux 2.6.33 or Later

Warranty
3-year limited warranty
[1] 1GB=1,000,000,000 Bytes. In OS system, it would be displayed as 1,000.000,000 Bytes/1024/1024/1024= 0.93GB
[2] Definition and conditions of TBW (Terabytes Written) are based on JEDEC standard
[3] Transmission speed will vary according to different hardware/software conditions, therefore the data can only use for basic reference.
❅We reserve the right to modify product specifications without prior notice.