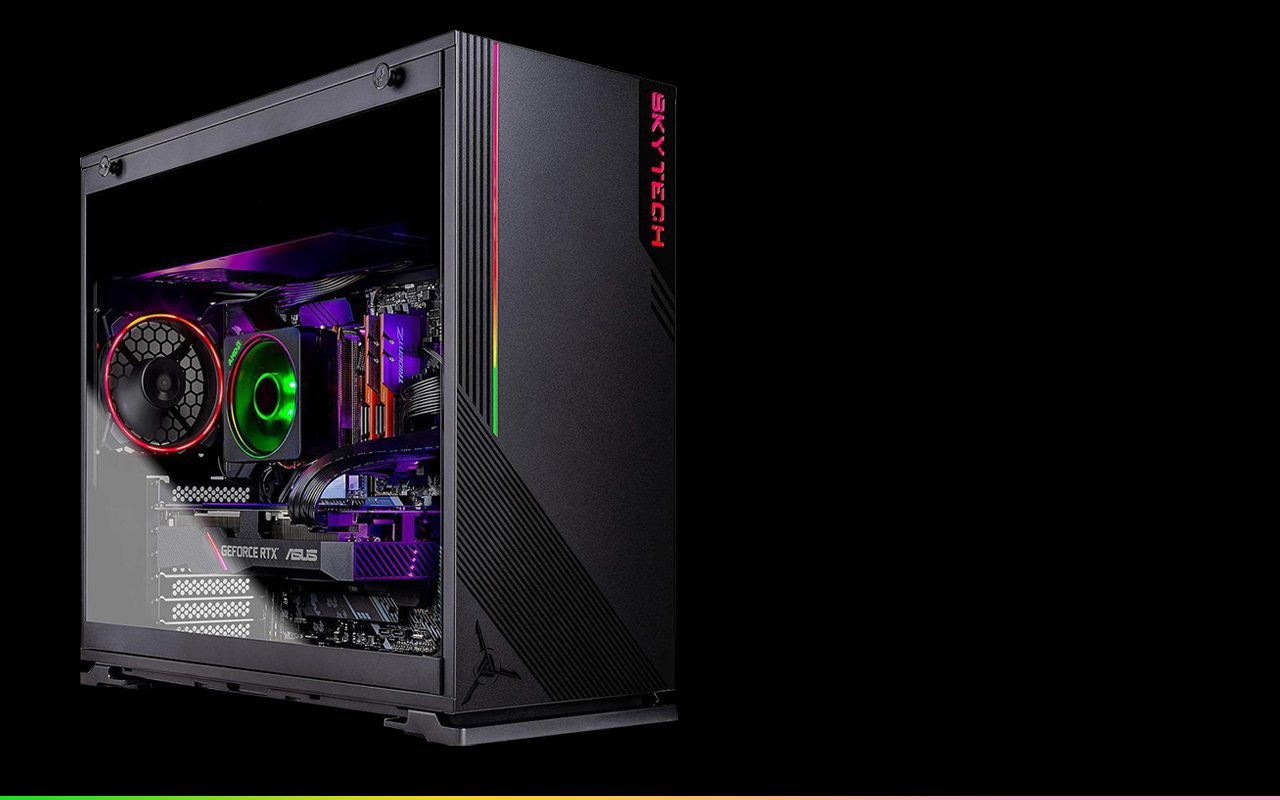 Skytech Azure Gaming Computer
No component is humble. Each and every component packs an imposing punch. Power on and keep performance soar in style.
AMD RYZEN 7 3700X Processor
Game, stream and create to your heart's content. AMD RYZEN 7 3700X processors offers eight cores, 16 threads, and a max boost clock of 4.4GHz to make hot games and professional applications launch and load fast. The Wraith Prism Cooler with RGB LED prevents heat from holding your processor back.
GeForce RTX 2080 Ti Graphics Card
NVIDIA's newest flagship graphics card is a revolution in gaming realism and performance. Its powerful NVIDIA Turing GPU architecture, breakthrough technologies, and 11 GB of next-gen, ultra-fast GDDR6 memory make it the world's ultimate gaming GPU.
RGB G.Skill Trident Z Neo Memory
Two 8GB G.Skill Trident Z Neo Memory Modules maintain the best signal integrity to achieve fast overclocking performance while delivering vibrant RGB lighting.
NVMe M.2 2280 SSD
A capacity of up to 1TB lets you store a sea of hot titles. NVMe M.2 interface ensures high data bandwidth for fast access and retrieval of data.
Asus TUF Gaming Motherboard
Built according to TUF standards, the X570-Plus (Wi-Fi) motherboard can withstand any exacting environment. The combination of game-ready features and proven durability ensures rock-solid gaming performance and stability.
650W Power Supply
All components will enjoy robust power supply at 80 Plus GOLD certified high efficiency. Less heat will be generated. PC performance will be more stable.
A Rich Set of Connectivity
The gaming desktop PC is ready to connect to the internet via 802.11AC Wi-Fi, ensuring no lags for gaming and streaming. It offers a comprehensive blend of USB ports, including four USB 3.2 Gen 1 (up to 5 Gbps) ports, three USB 3.2 Gen 2 (up to 10 Gbps) ports (Type-A + USB Type-C), and two USB 3.0 ports.
A True Work of Art
The three ARGB fans not only create a forceful torrent of airflow, but also give off vibrant lighting to cheer up all component inside viewable through the transparent edge-to-edge side window. The geometric pattern and ARGB LED strip on the front panel are a good match for the look of the transparent side window.