SanDisk SSD Plus Internal SSD
Storage for Demanding Applications
SanDisk SSD Plus Internal SSD is an ideal all-in-one storage solution for systems built for data-intensive applications. It delivers the best of both worlds—capacity and speed—quietly at high power efficiency. Data will stay intact regardless of the scenario. You will also get dashboard* status monitoring for your favorite media applications.
Extend the life of your laptop or desktop PC
Extend the life of your laptop or desktop PC Upgrade your laptop or desktop with a fast, reliable solid-state drive from a globally trusted brand and suddenly, your old computer acts and feels like a new machine with faster boot-ups, shutdowns and app response times1.
Faster boot-ups, shutdowns, and app response
High sequential read speeds of up to 535MB/s** and sequential write speeds of up to 450MB/s** translate into better performance for everything you do, performing faster than a typical hard disk drive1.
Durable solid-state design
With no moving parts, the SanDisk SSD Plus is engineered to resist shock and vibration, helping to keep your data safe through life's bumps and bruises2.
Ideal for typical PC Workloads
The SanDisk SSD PLUS delivers SLC caching which boosts burst write performance, making it the ideal storage solution for typical PC workloads such as web browsing, email, casual gaming, office productivity, and audio/video entertainment.
Easy set-up
The SanDisk SSD Plus comes with easy, step-by-step instructions and cloning software to help you set up your new drive.
A more efficient drive
SanDisk SSDs are cooler, quieter and more efficient than a hard disk drive1, so your laptop battery lasts a long time on a single charge.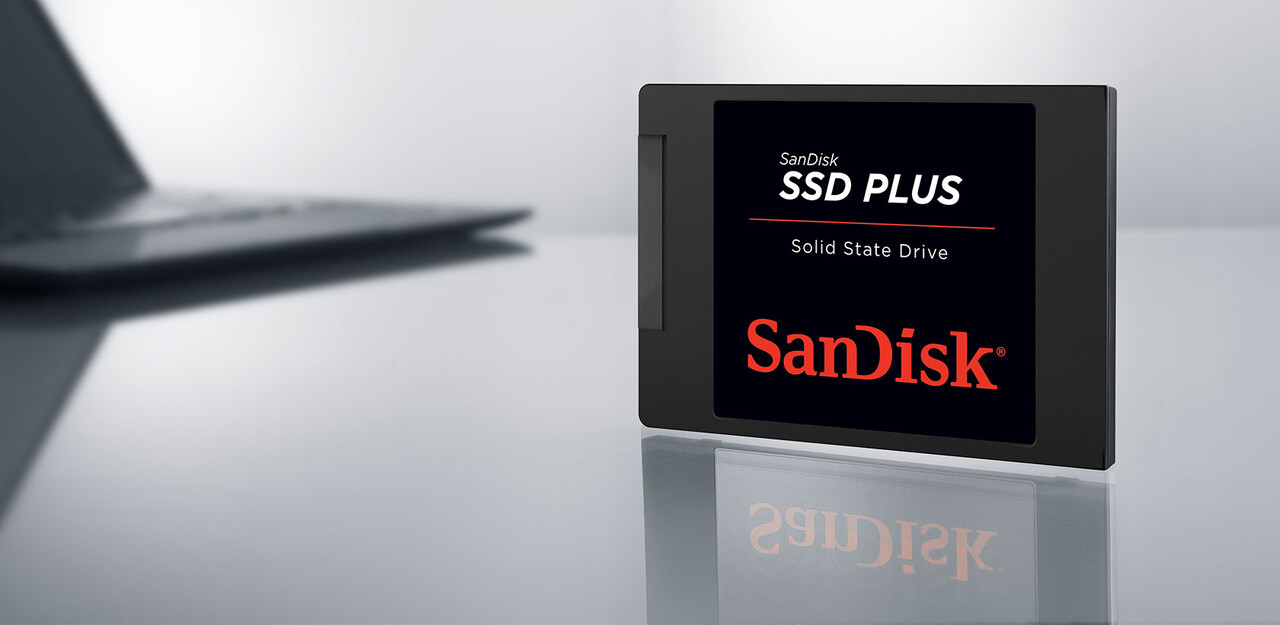 Note:
* Download required from //www.sandisk.com/ssdswap/download. Limit one time use per system.
** Based on internal testing; performance may vary depending upon drive capacity, host device, OS and application. 1MB = 1,000,000 bytes.
1. As compared to 5400 RPM SATA 2.5" hard drive. Based on published specifications and internal benchmarking tests using PCMark Vantage scores.
2. Shock resistant (up to 1500G) and vibration resistant (5gRMS, 10-2000 HZ/4.9 gRMS, 7-800 HZ), temperature (from 0°C to 70°C).