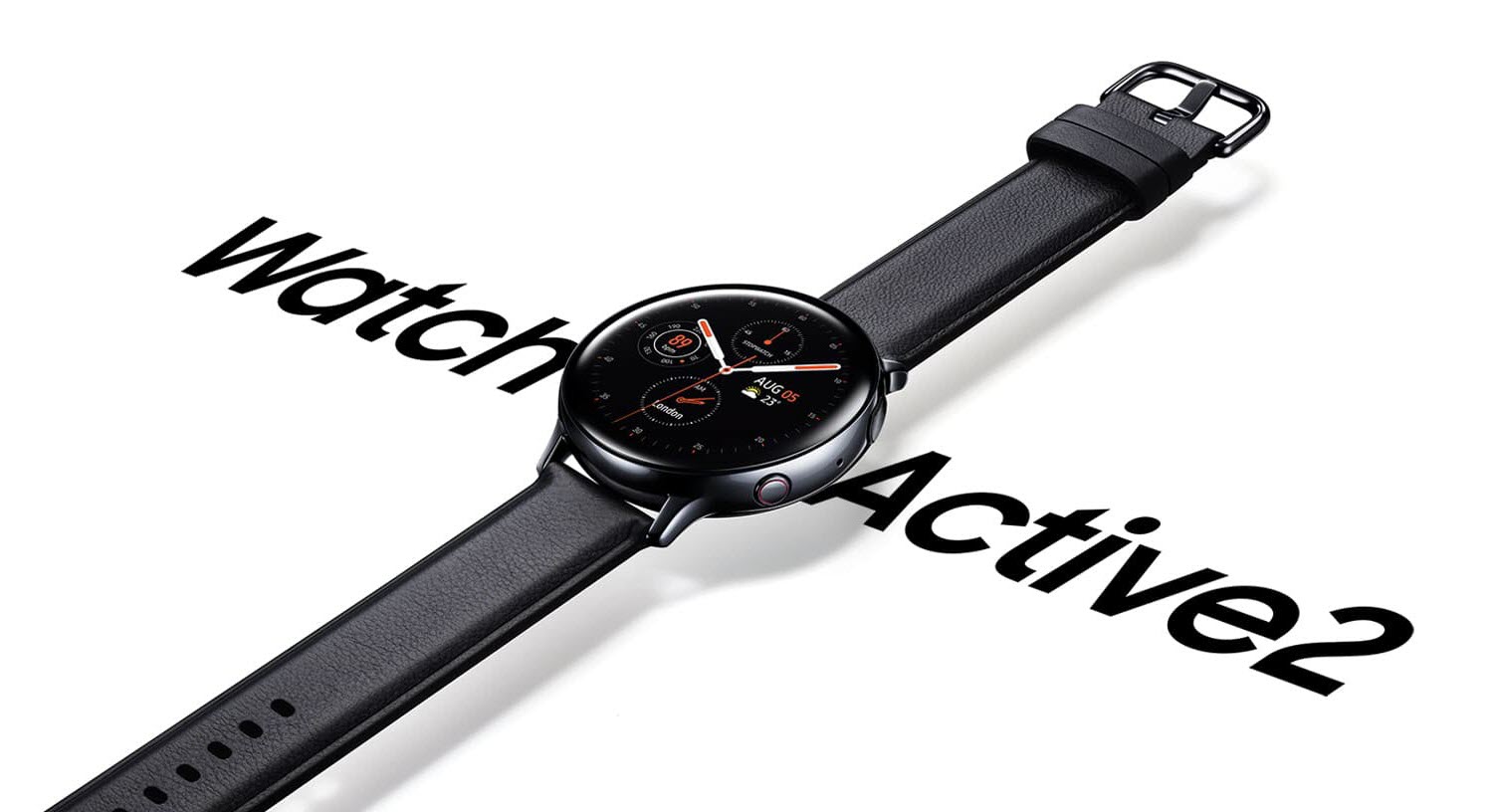 Galaxy Watch Active2 not only tracks your exercises, sleep, and heart rate, but also acts as coach and wellness advisor you can count on to stay fit and healthy. Pair it with your phone via Bluetooth, and get calls, messages, and notifications right on your wrist. With LTE, you can stay connected even without your phone. Download apps provided by Samsung or other third parties to grant your Galaxy Watch Active2 more functions. You can customize watch faces based on your outfit or strap.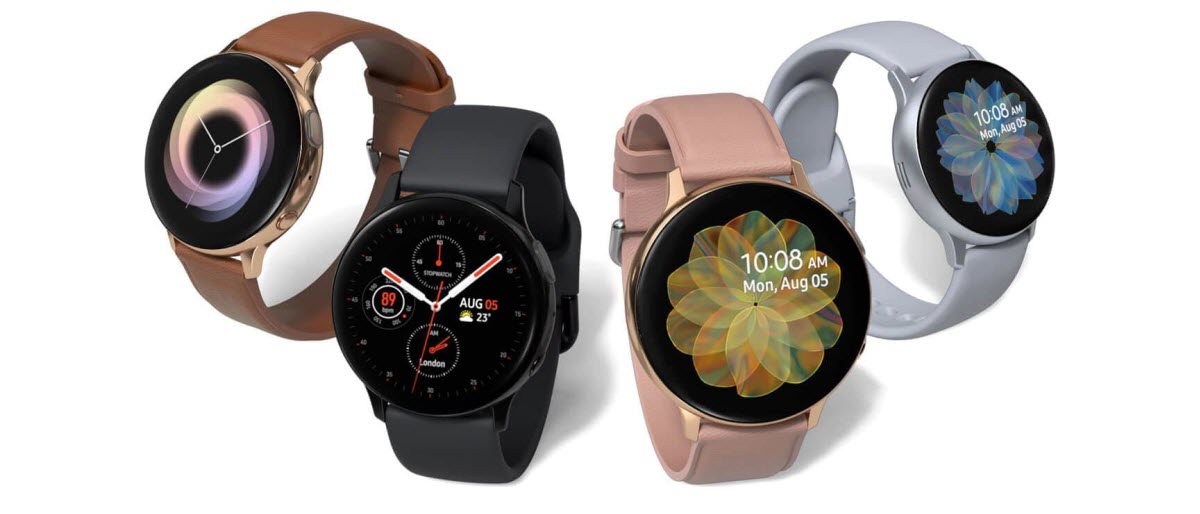 Custom comfort on your wrist
Choose your look for the fitness partner you will want to keep on 24/7. Galaxy Watch Active2 comes customized from day one, starting with your choice of Bluetooth or LTE connectivity, 44mm or 40mm watch face, stainless steel or lightweight aluminum design, and straps galore.1

Widen your space
Maximize your screen space with an uninterrupted view on a sleek body fitted with a touch bezel for quick control. Galaxy Watch Active2 features an enlarged display with a pure black screen and a slim border to get the insight you need.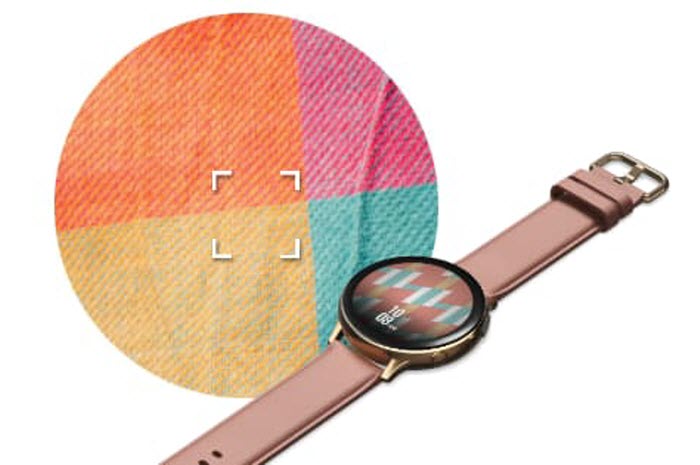 Snap your outfit and grab your look
Express yourself with a watch face that fits your look and mood. When you snap a picture of your outfit of the day, your Galaxy Watch Active2 suggests a watch face to match it.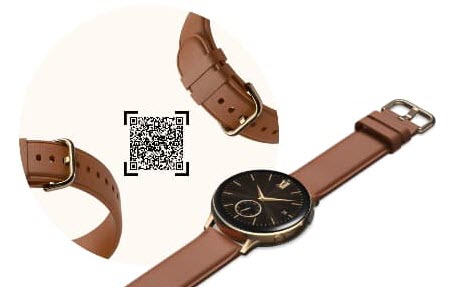 Match your strap in a flash
Complement your style with a watch face that matches the color and material of your strap. When you buy an additional watch strap and scan the QR code on the package, you will get a link to Galaxy Store to download a watch face that matches it.2,3,4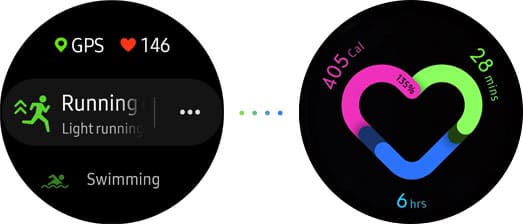 Track your workout on your wrist
Galaxy Watch Active2 automatically detects and tracks seven popular workouts, letting you focus on enjoying your fitness. You can also manually track more than 40 different workouts to get credit for every move. Plus, the new built-in running coach gives you real-time feedback on your runs using the advanced accelerometer.5,6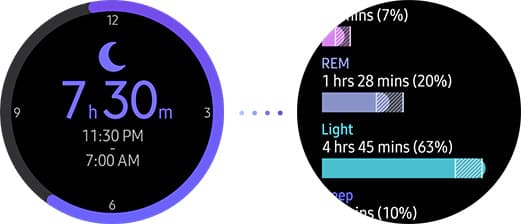 Wellness support from the inside out
By measuring four different sleep stages including REM sleep, the Galaxy Watch Active2 helps you evaluate your sleep patterns and form better habits. When you need a break, the Galaxy Watch Active2 can guide you through interactive meditation and breathing exercises helping you feel refreshed. 5,7,8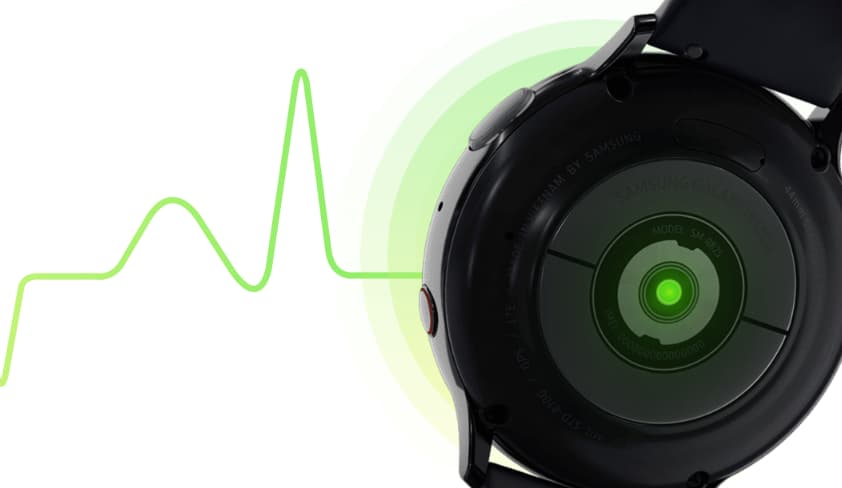 Heart rate tracking for peace of mind
Monitoring your fitness is at the core of Galaxy Watch Active2 with a full eight photodiodes on the rear side of the new curved design keeping an eye on your heart rate.5,9
Give your life an assist
Get a jump on life with a smart assistant on your wrist. Remotely control your smartphone's camera, view and likes on social media, and do translate on the go.10,11,12,13
Stay connected without your phone
Take your contacts, messages and music with you on an LTE-powered life assistant that lets you leave your phone behind. Go on a run with the peace of mind of being connected and not weighed down. Keep your music streaming as you go or download ahead of time for areas with low or no connectivity.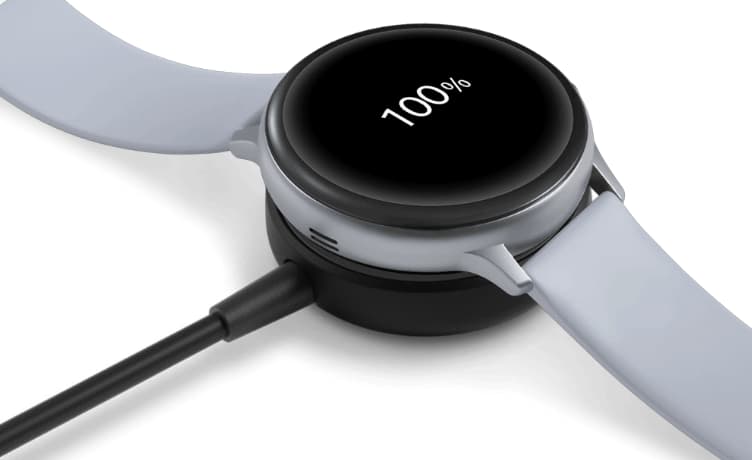 Power that lasts for days
Go non-stop with a long-lasting battery that lasts for days on a single charge. In a hurry to make a yoga class but need a quick recharge? Just place your Galaxy Watch Active2 on the compact magnetic wireless charger to bring it back to full, no charging jacks or wires required.14,15
Keeps up where you go
Take your watch along on the road less traveled. Galaxy Watch Active2 goes where you go with a 5ATM water resistance rating plus military grade durability to handle a range of conditions so you can keep it on to go further and experience more.16,17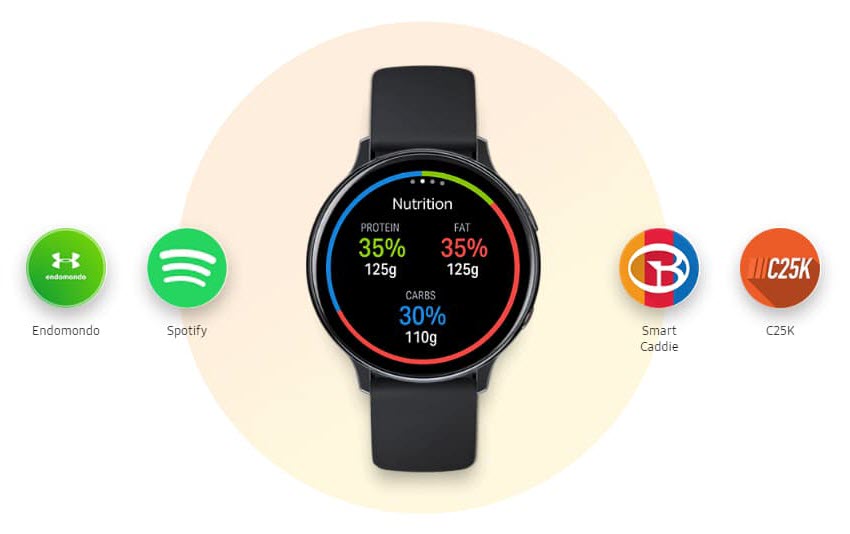 Apps to push you further
Bring enhancement to your life with apps ranging from the Galaxy lineup to a large variety of downloadable 3rd party apps. Download apps to create your own personal lineup for smart advice on the fly that you can pull up without leaving your wrist.18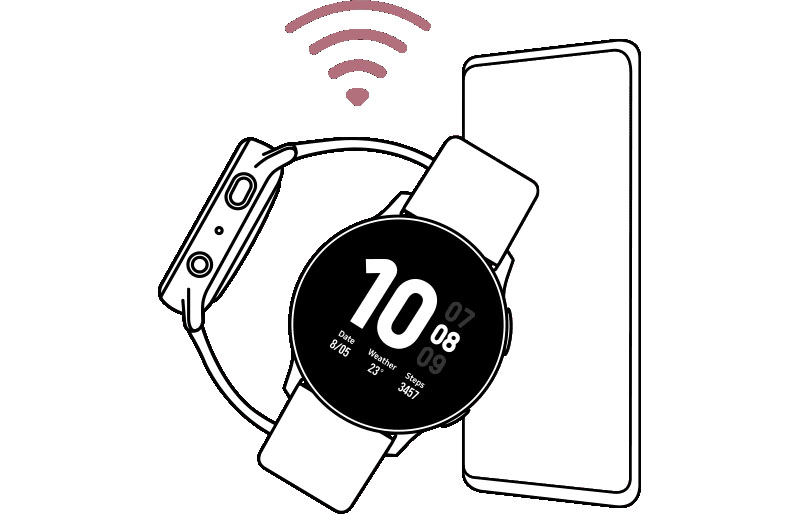 Get connected to your device
Wide compatibility with both Galaxy and non-Galaxy smartphones. Get started by seeing which devices are compatible with Galaxy Watch Active2.
Android: Android 5.0 or higher, RAM 1.5GB or above
iOS: iOS 9.0 or above
Note:
1. Availability of models may vary by country and carrier.
2. Available strap models may vary country. Sold separately.
3. Image simulated for illustrative purpose.
4. My Style works with android smartphones paired with Samsung Galaxy Watch Active2. QR code watch face and strap matching works with smartphones paired with Samsung Galaxy Watch Active2.
5. Intended for general wellness and fitness purposes only.
6. Fitness tracking on the watch can be used as standalone, but data stored in the watch may only be partially displayed after a certain period of time. Smartphone pairing is recommended in order to keep all data stored.
7. Stress feature available in all countries except Angola, Cyprus, Algeria, Canada, and Thailand.
8. Sleep management function on the watch can be used as standalone, but data stored in the watch may only be partially displayed after a certain period of time. Smartphone pairing is recommended in order to keep all data stored.
9. Heart rate tracking function on the watch can be used as standalone, but data stored in the watch may only be partially displayed after a certain period of time. Smartphone pairing is recommended in order to keep all data stored.
10. Camera Controller function is compatible with Samsung Galaxy S10, S10+, S10e, S10 5G, Note10, Note10+, Note10 5G, Note10+ 5G, Fold and Fold 5G models.
11. Apps available for usage may vary depending on country, region, and connection type (LTE / Bluetooth).
12. UI is subject to change.
13. SNS Viewer, Translator and camera controller app require separate download before use.
14. Average expected performance based on typical usage. Actual battery life depends on factors such as network, features selected, frequency of calls, and voice, data, and other application-usage patterns. Results may vary.
15. Based on laboratory testing. Actual battery life may vary depending on network environment, usage patterns, and other factors.
16. Galaxy Watch Active2 is 5ATM certified and has a water resistance rating of 50 meters under the ISO standard 22810:2010. It is not suitable for diving or high-pressure water activities. If the device or your hands are wet, they must be dried thoroughly prior to handling.
17. US Military Standard Compliant (MIL-STD-810G) MIL-STD-810: Environmental Engineering Considerations and Laboratory Tests is a United States Military Standard that emphasizes tailoring an equipment's environmental design and test limits to the conditions; MIL-STD-810G: + Humidity, Altitude Storage, Altitude Operational, Immersion
18. Availability of apps for Galaxy Watch Active2 may differ by carrier or country.