5

GENERATION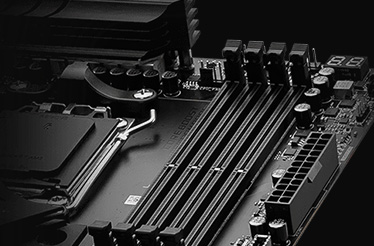 MSI motherboards support DDR5, the latest memory standard that's capable of delivering more bandwidth over the previous standard. With MSI's exclusive Memory Boost technology, dedicated memory circuit layouts allow for wide-ranging module compatibility and stable overclocking.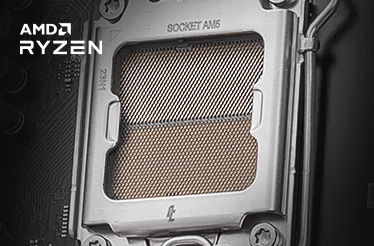 Experience an incredible leap in performance with the AMD Ryzen 7000 Series desktop processor and its 5nm architecture. Embrace enhanced connectivity and expandability including DDR5 memory and PCIe 5.0.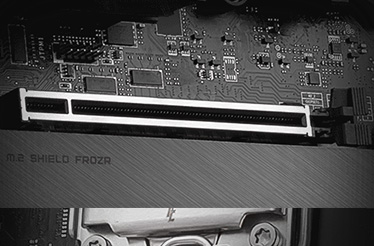 PCIe 5.0 delivers twice the transfer rate of the previous generation, up to 128GB/s of combined transfer bandwidth. Be ready for what's coming.
FEATURES
Thermals • Performance • DIY-Friendly
SCREWLESS M.2 SHIELD FROZR
MSI's exclusive Screwless M.2 Shield Frozr makes it easy to open and close M.2 SSD heatsinks without screws and tools.
DOUBLE-SIDED M.2 SHIELD FROZR
The onboard M.2 slots on all MSI X670 motherboards support Lightning Gen 5 or Gen 4. The Double-sided M.2 Shield Frozr sandwiches SSDs and helps dissipate heat during high-speed operation.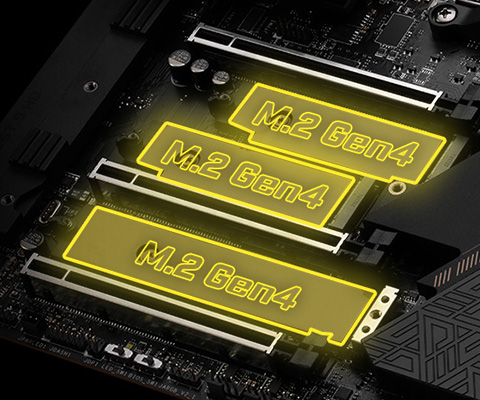 EXTREME STORAGE CAPACITY
To meet popular demand for M.2 storage, MSI X670 motherboards feature up to two M.2 slots running at PCIe 5.0 x4 speed and three M.2 slots running at M.2 PCIe 4.0 speed.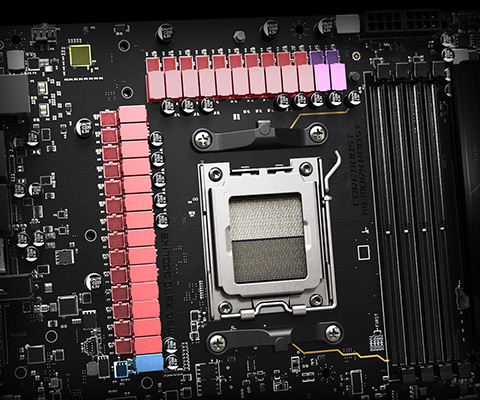 EXTRAORDINARY POWER SYSTEM
To realize the full potential of AMD's Ryzen 7000 Series processors, all MSI X670 motherboards have upgraded power systems. Up to DRPS 24+2+1 phases, up to 105A Smart Power Stages, and dual CPU power connectors are capable of delivering uninterrupted currents to multi-core processors.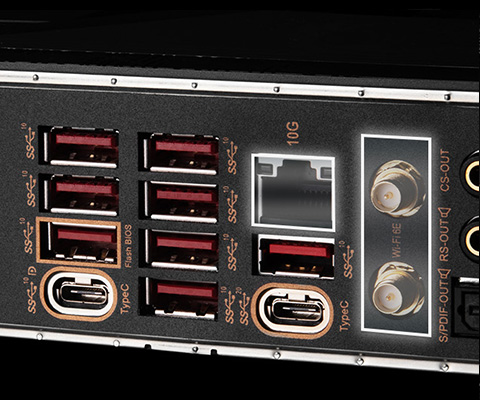 AMD Wi-Fi 6E and SUPER LAN
MSI X670 Series adopts the latest network solutions and select models are available with Wi-Fi 6E and SUPER 10G LAN.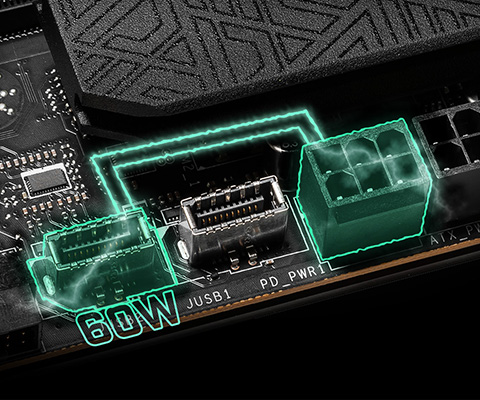 PD 60W
MSI X670 motherboards support USB Power Delivery up to 20V@3A 60W, allowing multi-device users to charge up laptops, tablets and mobile phones over USB-C.
MEG X670E GODLIKE

MEG X670E ACE

MPG X670E CARBON WIFI

PRO X670-P WIFI

CPU Support
Supports AMD Ryzen™ 7000 Series Desktop Processors for AM5 Socket
PCI Expansions Slots
3x PCIe 5.0 x16 slots
3x PCIe 5.0 x16 slots
2x PCIe 5.0 x16 slots
1x PCIe 4.0 x16 slot
3x PCIe 4.0 x16 slots
1x PCIe 3.0 x1 slot
Onboard Graphics (Requires Processor Graphics)
n/a
1x USB Type-C (DP 1.4)
1x HDMI 2.1
1x DisplayPort 1.4
1x USB Type-C (DP 1.4)
1x HDMI 2.1
1x DisplayPort 1.4
1x USB Type-C (DP 1.4)
DDR5 Memory Support
4 DIMMs, 6666(OC) MHz
4 DIMMs, 6666(OC) MHz
4 DIMMs, 6600(OC) MHz
4 DIMMs, 6600(OC) MHz
Storage
1x M.2 PCIe 5.0
3x M.2 PCIe 4.0
8x SATA
1x M.2 PCIe 5.0
3x M.2 PCIe 4.0
6x SATA
2x M.2 PCIe 5.0
2x M.2 PCIe 4.0
6x SATA
1x M.2 PCIe 5.0
3x M.2 PCIe 4.0
6x SATA
LAN
Marvell AQtion 10G LAN
& Intel I225V 2.5G LAN
Marvell AQtion 10G LAN
Realtek 2.5G LAN
Realtek 2.5G LAN
Wi-Fi
AMD Wi-Fi 6E
AMD Wi-Fi 6E
AMD Wi-Fi 6E
AMD Wi-Fi 6E
Audio
ALC4082 +
ESS ES9280AQ
ALC4082 +
ESS ES9280AQ
ALC4080
ALC4080
Form Factor
EATX
EATX
ATX
ATX
MPG B650 CARBON WIFI

MPG B650 EDGE WIFI

MPG B650I EDGE WIFI

MAG B650 TOMAHAWK WIFI

CPU Support
Supports AMD Ryzen™ 7000 Series Desktop Processors for AM5 Socket
PCI Expansions Slots
2x PCIe 4.0 x16 slots
1x PCIe 3.0 x1 slot
2x PCIe 4.0 x16 slots
1x PCIe 3.0 x1 slot
1x PCIe 4.0 x16 slot
2x PCIe 4.0 x16 slots
1x PCIe 3.0 x1 slot
Onboard Graphics (Requires Processor Graphics)
1x HDMI 2.1
1x DisplayPort 1.4
1x HDMI 2.1
1x DisplayPort 1.4
1x HDMI 2.1
1x HDMI 2.1
1x DisplayPort 1.4
DDR5 Memory Support
4 DIMMs, 6666(OC) MHz
4 DIMMs, 6666(OC) MHz
2 DIMMs, 6600(OC) MHz
4 DIMMs, 6600(OC) MHz
Storage
1x M.2 PCIe 5.0
3x M.2 PCIe 4.0
6x SATA
1x M.2 PCIe 5.0
2x M.2 PCIe 4.0
6x SATA
2x M.2 PCIe 4.0
4x SATA
3x M.2 PCIe 4.0
6x SATA
LAN
Realtek 2.5G LAN
Realtek 2.5G LAN
Realtek 2.5G LAN
Realtek 2.5G LAN
Wi-Fi
AMD Wi-Fi 6E
AMD Wi-Fi 6E
AMD Wi-Fi 6E
AMD Wi-Fi 6E
Audio
ALC4080
ALC4080
ALC4080
ALC4080
Form Factor
ATX
ATX
Mini-ITX
ATX
MAG B650M MORTAR WIFI

PRO B650M-A WIFI

PRO B650-P WIFI

CPU Support
Supports AMD Ryzen™ 7000 Series Desktop Processors for AM5 Socket
PCI Expansions Slots
2x PCIe 4.0 x16 slots
1x PCIe 3.0 x1 slot
2x PCIe 4.0 x16 slots
2x PCIe 3.0 x1 slots
2x PCIe 4.0 x16 slots
1x PCIe 3.0 x1 slot
Onboard Graphics (Requires Processor Graphics)
1x HDMI 2.1
1x DisplayPort 1.4
1x HDMI 2.1
1x DisplayPort 1.4
1x HDMI 2.1
1x DisplayPort 1.4
DDR5 Memory Support
4 DIMMs, 6400(OC) MHz
4 DIMMs, 6400(OC) MHz
4 DIMMs, 6400(OC) MHz
Storage
2x M.2 PCIe 4.0
6x SATA
2x M.2 PCIe 4.0
6x SATA
2x M.2 PCIe 4.0
4x SATA
LAN
Realtek 2.5G LAN
Realtek 2.5G LAN
Realtek 2.5G LAN
Wi-Fi
AMD Wi-Fi 6E
AMD Wi-Fi 6E
AMD Wi-Fi 6E
Audio
ALC4080
ALC897
ALC897
Form Factor
Micro-ATX
ATX
Micro-ATX