Performance without Worry
Get the most out of your 11th Gen. Intel® Core™ processors with Z590 AORUS motherboards, which offer incredible precision and stability in delivering power to the motherboard's most power-hungry and energy-sensitive components. The Z590 AORUS MASTER uses a pure digital CPU power design which includes a digital PWM Controller with Smart Power Stages and tantalum polymer capacitors to improve transient response.

Fins-Array II
Utilizes new louvered stacked fins technology with nanocarbon coating to enhance heat transfer performance.

Direct-Touch Heatpipe II
Designed with a narrower gap between the heat pipe and heatsink and adopts an extra-large 8mm heat pipe to greatly improve heat transfer on MOSFETs.
Advanced Thermal Design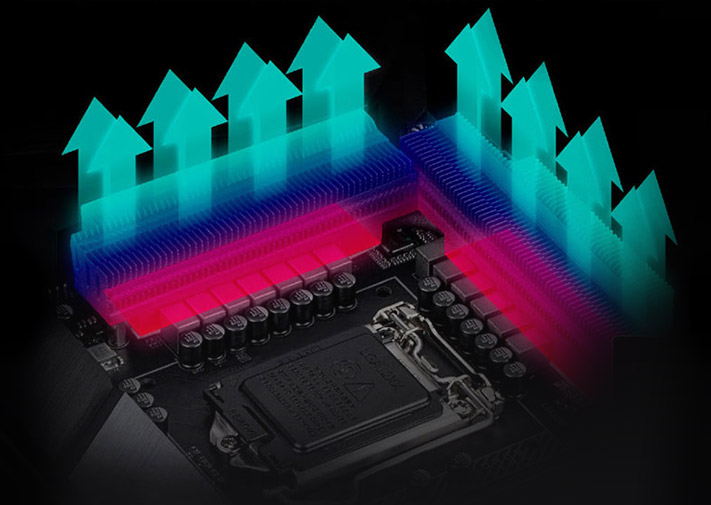 Thermal Guard II
Uses a double-sided heatsink design and prevents throttling and bottlenecks on high speed M.2 SSDs by dissipating heat before it becomes an issue.

Smart Fan 6
Features a new UI and contains several unique cooling features, such as multiple temperature sensors, noise detection and Fan Stop, that ensure gaming PC maintain its performance while staying cool and quiet.
Unparalleled Performance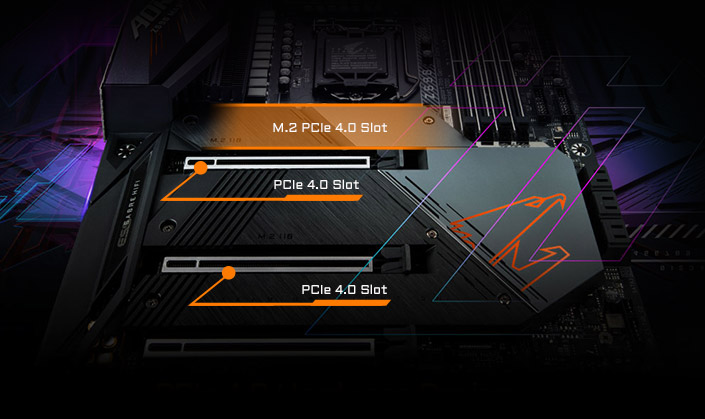 PCIe 4.0 Hardware Design
AORUS Z590 motherboards are a perfect match for AORUS Gen4 SSDs, which offer unprecedented speeds with stronger signal stability and up to double the bandwidth.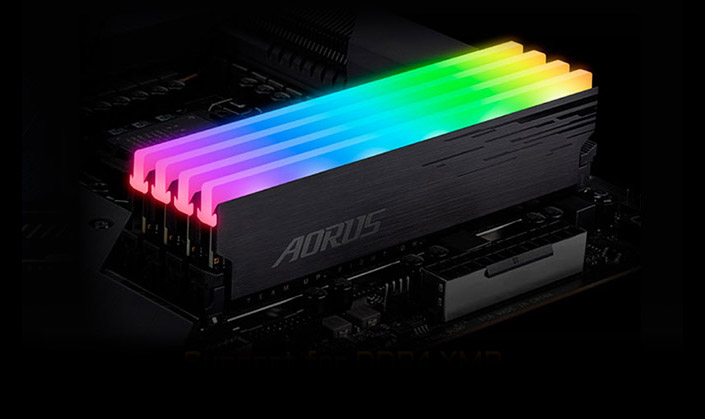 Support for DDR4 XMP Up to 5000MHz and Beyond
AORUS is offering a tested and proven platform that ensures proper compatibility with profiles up to 5000MHz and beyond. All users need to do to attain this performance boost is to ensure that their memory module is XMP capable and that the XMP function is activated and enabled on their AORUS motherboard.
Intel 802.11ax WIFI 6E
Benefit of WIFI 6E
Dedicated spectrum in 6GHz band for less interference
5.5X throughput than 802.11ac 1x1
4X better network capacity, no traffic jams especially in those dense area with lots of devices
Network efficiency increase for better user experience
Next Gen Connectivity
USB 3.2 Gen2x2
The USB 3.2 Gen2x2 design provides double the performance than the current USB3.2 Gen2. It works at up to 20Gbps ultra-fast data transfer while connecting to USB 3.2 compliant peripherals. Users can enjoy the ultimate connection flexibility to access and store massive amounts of data rapidly.
Copyright © 2021 GIGABYTE Technology Co. Ltd., All rights reserved. All trademarks referenced herein are the properties of their respective owners. Product specifications, terms and conditions are subject to change without any prior notice. Features may vary by models.