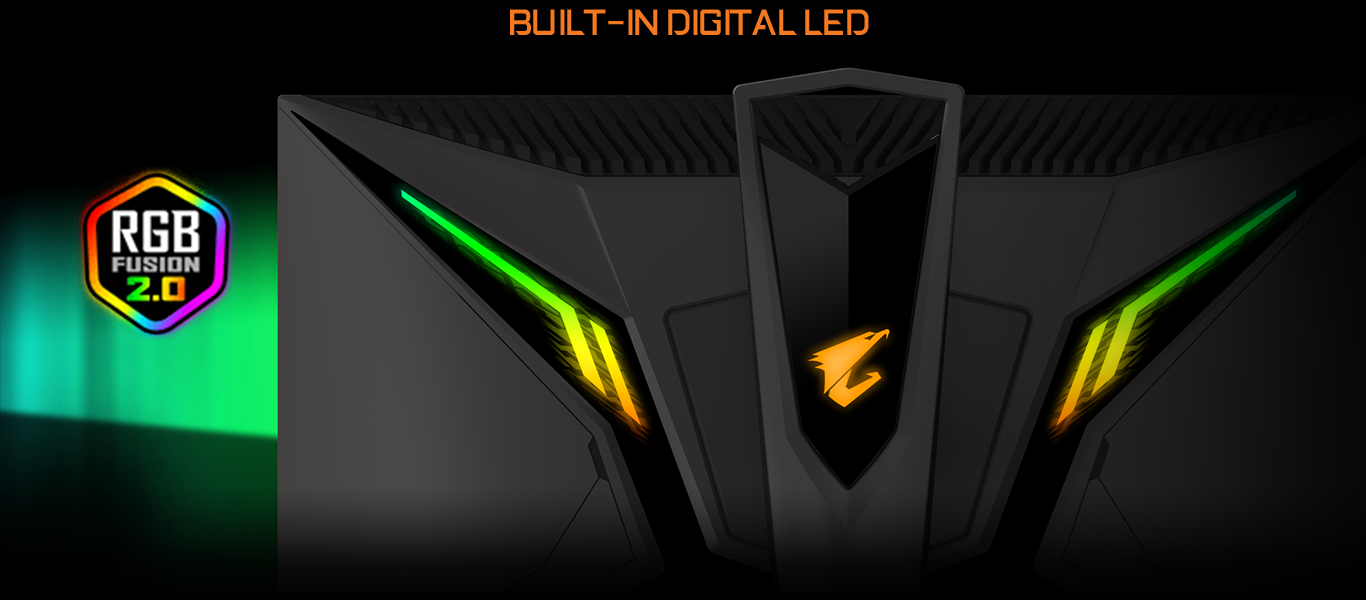 CREATE YOUR OWN GAMING AMBIENCE WITH RGB FUSION 2.0
AORUS gaming monitor boasts the most advanced LED systems in the market today. Thanks to the RGB Fusion App and its intuitive UI, you'll be able to create a gaming ambience exclusively for you. LED enthusiasts now have the chance to show off their creativity with the ability to customize multiple zones independently.
GIVES YOU A STABLE AIM
AORUS Aim Stabilizer reduces motion blur and allows gamers to maintain extraordinary clarity in the game for a smoother experience. For example, in FPS games, firing a shot will produce a strong recoil which will shake the screen and make the picture blur. The Aim Stabilizer can counter motion blur and enhance gamers' visual clarity, letting them follow bullet trajectories and control their aim more easily.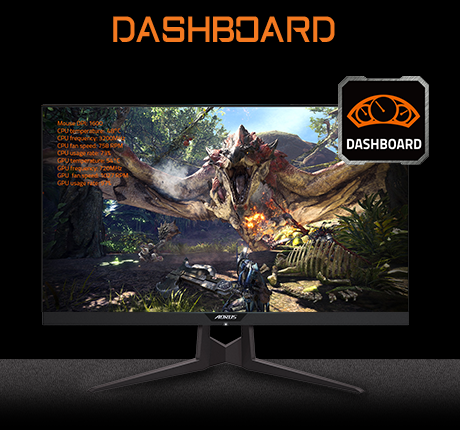 INFO WON'T BE BLOCKED BY GAMES
The AORUS Dashboard shows you critical hardware information in real-time such as CPU voltages, clock speed, temperatures, usage, fans speed and other AORUS exclusive functions, such as GameAssist. No matter what kind of scenario, you will not be blocked by any game. You can even customize the information that you want to display.
ENHANCE YOUR GAMING SKILLS
The GameAssist gives you the ability to create several custom crosshairs and assist you on the battlefield. This is extremely useful when you are playing a shooting game, and the in-game crosshair is not available.  Onscreen timer can keep track of elapsed game time. The gaming counter can calculate the opponent's use of props or any count information. The display alignment gives users multi-alignment lines on the monitor, making it easier to use multi-display setups by helping each monitor line up perfectly.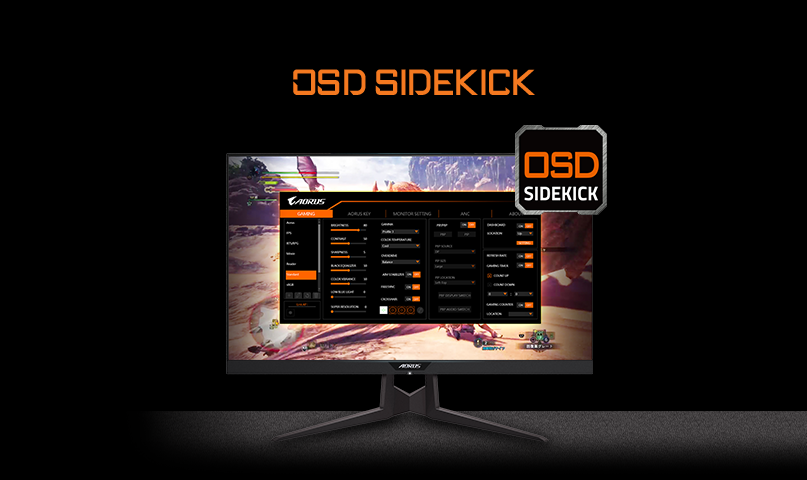 SET OSD WITH A MOUSE
The exclusive AORUS OSD Sidekick allows you to set the display options with keyboard and mouse. This gives you the ability to adjust the options swiftly without using the buttons on the monitor. AORUS also provides firmware updates and backups for this monitor, so you can enjoy new features and make your sidekick smarter with protection.
AORUS UNIQUE IC DESIGN
Smart close-talk voice capturing technology with dual mics perfectly cancels out the environmental noises/sounds with the least voice distortion, letting your teammates receive your voice clearly. It not only uses traditional Computational Auditory Scene Analysis (CASA) techniques but also combines with Acoustic Physics & Psychoacoustics to process your voice through a wideband DSP chip, bringing you the best communication convenience and privacy anywhere.
Headphones must be connected to the monitor.

GET THE PERFECT VIEWING ANGLE
The AORUS Gaming monitor features an exclusive stand that's ergonomically designed to offer an extensive range of height, tilt, pivot, stroke, and swivel adjustments.


BLUE LIGHT REDUCTION
TUV Rheinland Certified

FLICKER-FREE
Without causing eye strain and other injuries
USB CHARGER
SuperSpeed USB charger provides 5V/1.5A power

POWER BOARD BUILD-IN
No additional bulky adapter needed