Improper posture could lead to numbness in your fingers, headaches, and lower back, shoulder, or neck pains. In addition, having your monitor set at a wrong height or angle can strain your eyes.
Not being able to tilt your monitor might require you to hunch your back to get an ideal viewing position
Not being able to swivel your monitor makes it difficult to share your screen with others
Not being able to adjust the height of your monitor might mean you have to slouch in your chair
Not being able to pivot your monitor into portrait mode makes it difficult to view certain documents in their entirety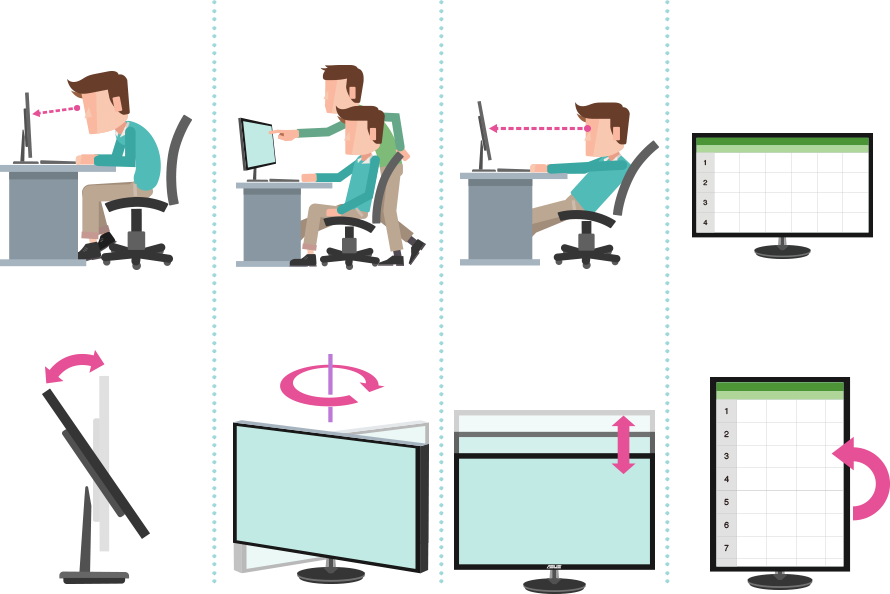 ASUS monitors are ergonomically designed for your comfort
All of the symptoms mentioned above may be relieved simply by adopting the correct body posture at your workstation. ASUS monitors feature a smart ergonomic design with full tilt, pivot, swivel, and height adjustments to give you the ideal viewing position whether you're surfing the net, viewing pictures or watching movies, or getting work done.