HDMI (High-Definition Multimedia Interface) is an uncompressed, all-digital audio/video format that uses a single cable for transmission. HDMI supports several high-definition video resolutions, including 4096x2160. HDMI also supports 8 channels of digital audio.

Popular HDMI features include:
340Mhz signal bandwidth
Data speeds up to 10.2Gbps
Deep Color
Audio Return Channel
Ethernet capability
HDMI supports two-way communication between the audio source (such as a Blu-ray player) and the output device (like an HDTV), enabling several convenient functions. Despite having several iterations, HDMI is backwards compatible with all previous versions and all versions support 1080p resolutions. Additionally, HDMI has always supported 8-channel 192kHz 24-bit uncompressed audio, which offers the best audio fidelity currently available. HDMI will also carry compressed audio formats like Dolby TrueHD and DTS-HD.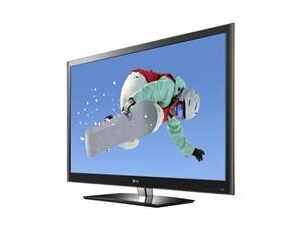 Most home theater use HDMI as the primary connection for high-definition flat screen LCD and LED displays, BD players, cable boxes and other video sources. HDMI can also be found on computer monitors and projectors. Micro HDMI connections can be expected on smaller, handheld devices.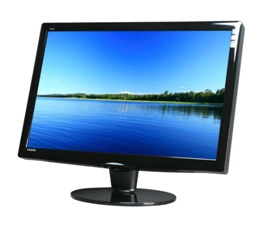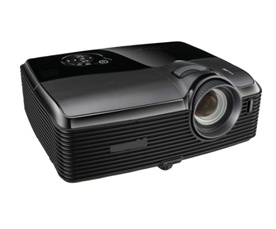 Type A/Type B: A very common HDMI connector, this is the Standard Connector with 19 pins, offering support for all SDTV, EDTV, and HDTV modes. Type A is electrically compatible with single-link DVI-D.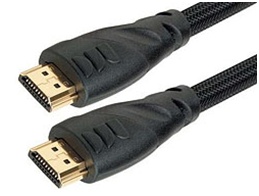 HDMI Cable - Type A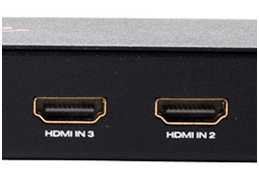 HDMI Interface - Type A

Type C: This Mini connector is designed for portable devices. While smaller than the Type A plug connector, it still has the same 19-pin configuration. A Type A-to-Type C cable can be used to connect the two form factors.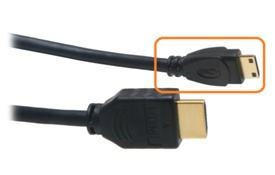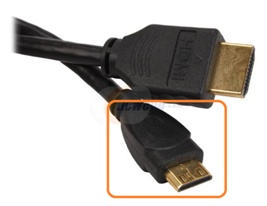 Type D: This Micro connector also keeps the standard 19 pins of Types A and C but shrinks the form factor to dimensions similar to a micro-USB connector.
To ensure that the digital data travels safely and unimpeded from the source to its destination, the quality of the HDMI cable must match the distance the data must travel. For most applications – anything under 15 feet in length – standard quality, like 28 gauge and double shielding, will suffice. For business applications or where quality and uptime are critical, larger gauge cable, thicker jackets and heavier molds are recommended, especially since data typically has to travel long distances. HDMI cables with ATC certification will ensure that a particular cable meets specifications.
Standard HDMI Cable: These cables are usually 30 or 28 gauge, sometimes with a ferrite core to supplement the lower-cost shielding method. This quality level is adequate for general purpose applications and short (15 feet or less) runs.

Professional HDMI Cable: These HDMI cables usually feature 28 gauge or larger construction and feature double shielding or better to provide a 90% or higher shielding coverage. This helps protect against EMI and RFI interference. Professional HDMI cables typically feature a heavier mold for increased durability.

Premium HDMI Cable: These cables usually use large 24 or 22 gauge construction and triple shielding for extra protection. Heavy-duty applications and connections that span more than 25 feet will want to create installations using this grade of cable.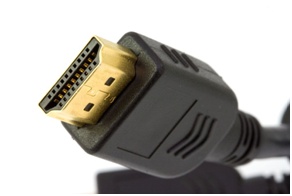 HDMI 1.1:
Support for DVD Audio.
HDMI 1.2:
Support for One Bit Audio format, such as SuperAudio CD's DSD (Direct Stream Digital), changes to offer better support for current and future PCs with HDMI outputs, including availability of the widely-used HDMI Type A connector for PC sources and displays with full support for PC video formats, ability for PC sources to use their native RGB color space while retaining the option to support the YCbCr CE color space, requirement for HDMI 1.2 and later displays to support future low-voltage (i.e. AC-coupled) sources, such as those based on PCI Express I/O technology.
HDMI 1.2a:
Consumer Electronic Control (CEC) features and command sets and CEC compliance tests are now fully specified.
Creation of version 1.2a of the HDMI Compliance Test Specification (CTS), which includes a CEC Supplement. HDMI CTS 1.2a has been updated for technical consistency with HDMI Specification 1.2a as well as to the recently released HDMI Specification 1.2.
Significantly, CTS 1.2a contains additional cable and connector testing and Authorized Testing Center (ATC) submission requirements. Specifically, under CTS 1.2a, the Adopter shall submit for testing to the ATC any new HDMI cable whose length exceeds previously tested cables.
Additionally, HDMI Licensing, LLC will maintain a list of approved connectors. For a device to pass CTS 1.2a testing at an ATC, all connectors on such device must appear on the approved connector list. To add a connector to this list, the vendor must submit to the ATC or HDMI Licensing, LLC full and passing testing results.
HDMI 1.3:
Higher speed: HDMI 1.3 increases its single-link bandwidth to 340 MHz or 10.2 Gbps (for Cat 2) to support the demands of future HD display devices, such as higher resolutions, Deep Color and high frame rates. In addition, built into the HDMI 1.3 specification is the technical foundation that will let future versions of HDMI reach significantly higher speeds.
Deep Color: HDMI 1.3 supports 10-bit, 12-bit and 16-bit (RGB or YCbCr) color depths, up from the 8-bit depths in previous versions of the HDMI specification, for stunning rendering of over one billion colors in unprecedented detail.
Broader color space: HDMI 1.3 adds support for "x.v.Color™" (which is the consumer name describing the IEC 61966-2-4 xvYCC color standard), which removes current color space limitations and enables the display of any color viewable by the human eye.
New mini connector: With small portable devices such as HD camcorders and still cameras demanding seamless connectivity to HDTVs, HDMI 1.3 offers a new, smaller form factor connector option.
Lip Sync: Because consumer electronics devices are using increasingly complex digital signal processing to enhance the clarity and detail of the content, synchronization of video and audio in user devices has become a greater challenge and could potentially require complex end-user adjustments. HDMI 1.3 incorporates automatic audio synching capabilities that allows devices to perform this synchronization automatically with total accuracy.
New HD lossless audio formats: In addition to HDMI's current ability to support high-bandwidth uncompressed digital audio and all currently-available compressed formats (such as Dolby® Digital and DTS®), HDMI 1.3 adds additional support for new lossless compressed digital audio formats Dolby TrueHD and DTS-HD Master Audio™.
HDMI 1.4:
HDMI Ethernet Channel: The HDMI 1.4 specification adds a data channel to the HDMI connection, enabling high-speed, bi-directional communication. Connected devices that include this feature can send and receive data via 100Mb/sec Ethernet, making them instantly ready for any IP-based application. The HDMI Ethernet Channel allows internet-enabled HDMI devices to share an internet connection via the HDMI link, with no need for a separate Ethernet cable. It also provides the connection platform that will allow HDMI-enabled components to share content between devices.
Audio Return Channel: The new specification adds an audio channel that will reduce the number of cables required to deliver audio "upstream" from a TV to an A/V receiver for processing and playback. In cases where a TV features an internal content source, such as a built-in tuner or DVD player, the Audio Return Channel allows the TV to send audio data upstream to the A/V receiver via the HDMI cable, eliminating the need for an extra cable.
3D Over HDMI: The 1.4 version of the specification defines common 3D formats and resolutions for HDMI-enabled devices, enabling 3D gaming and other 3D video applications. The specification standardizes the input/output portion of the home 3D system, facilitating 3D resolutions up to dual-stream 1080p.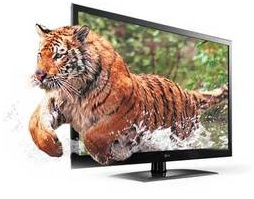 4K x 2K Resolution Support: The new specification enables HDMI devices to support extremely high HD resolutions, effectively four times the resolution of a 1080p device. Support for 4K x 2K allows the HDMI interface to transmit digital content at the same resolution as the state-of-the-art Digital Cinema systems used in many movie theaters.
Expanded Support For Color Spaces: HDMI now supports color spaces designed specifically for digital still cameras, enabling more accurate color rendering when viewing digital photos. By supporting sYCC601, Adobe®RGB, and Adobe®YCC601, HDMI display devices are capable of displaying more accurate, life-like colors when connected to a digital camera.
HDMI Micro Connector (Type D): The HDMI Micro Connector is a significantly smaller 19-pin HDMI connector supporting up to 1080p resolutions for portable devices such as cell phones, portable media players, and digital cameras. This new connector is approximately 50% smaller than the size of the existing HDMI Mini connector.
Automotive Connection System (Type E): The Automotive Connection System is a cabling specification designed to be used for in-vehicle HD content distribution. The HDMI 1.4 specification provides a solution designed to meet the rigors and environmental issues commonly found in automobiles, such as heat, vibration and noise. Using the Automotive Connection System, car manufacturers now have a viable solution for HD distribution within a vehicle.
After the release of the HDMI 1.4 specification, there are five different types of HDMI cables to choose from.

Standard HDMI Cable
The Standard HDMI cable is designed to transmit 1080i or 720p videos reliably and handle most home application such as HDTV, DVD Player, Blu-ray Player, your Gaming System and even more.

High Speed HDMI Cable
The High Speed HDMI cables handle 1080p resolution and beyond, such as 4k resolution, including 3-D, 48-bit Deep Color, Audio Return Channel, and HDMI supported audio signal.

Standard HDMI Cable with Ethernet
Same baseline performance as the High Speed HDMI cable, with addition of support for HDMI Ethernet Channel for device networking. HDMI Ethernet Channel only works if both devices that are being connected together support HDMI Ethernet Channel.

Standard Automotive HDMI Cable
This type of cable is mainly designed for automotive systems with the same baseline performance as Standard HDMI Cable because it requires a stronger signal than other cable types since automotive systems may be wired with one or more internal relays which can affect signal strength.