USB
Table of contents
USB stands for Universal Serial Bus, which is a common interface standard between home and office devices, such as computers, cameras, printers and more. USB is a popular connection type due to its compatibility with many products as well as operating systems. Most computers will have more than one USB port. Additionally, there are several standards of USB connections that are explained below.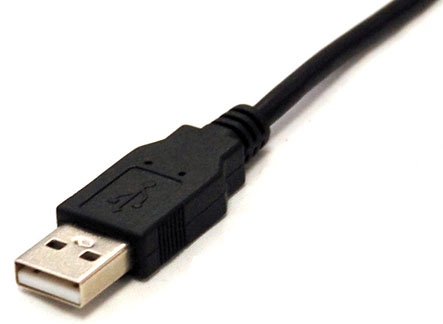 This is the USB connector that most users will be familiar with and will instantly recognize its flat, rectangular shape. The plug is designed for frequent attachments, using flat contacts and a durable, friction-based connection method. The A-socket connector is intended for use with host controllers and hubs due to the 5V DC power provided by the host controller or hub, which is conducted through one of the USB contacts. As such, A-A cables (a cable with a USB A-type connection on both ends) is uncommon and using such a cable for data transfer can damage connected devices as well as present a fire hazard.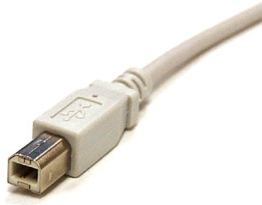 Peripheral devices that utilize USB connections typically accommodate USB B-type interfaces. B-type connections distinguish themselves with their square shape. This USB standard is similar to the A-type except that it does not receive a charge from the device it is connected to, making it ideal for peripherals.
The counterpart to Micro-USB A connections, Micro-USB B connections are used on several mobile gadgets, like smart phones, GPS units, PDAs and more. It also supports the same high speed 480 Mbps transfer. Micro-USB B connections are distinguished by its black-colored body and slightly trapezoidal shape.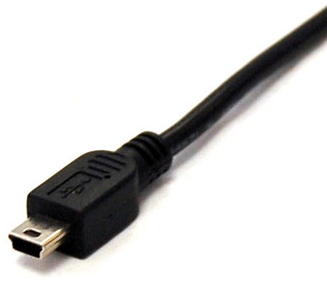 As a reaction to the large size of the USB B connector, which was too large to be practical for mobile devices, the USB Mini-B was created. This connection uses 5 pins and is roughly two-thirds the size of a standard USB A connection. It is also designed to be used with the USB standard called On-The-Go , which allows peripherals to communicate with the presence of a host controller.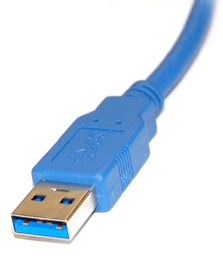 This connection type offers super speed transfers and is featured on host controllers on computers and hubs. The design is very similar to USB 1.1 and 2.0 A connections except that it uses more pins and typically has a soothing blue hue to distinguish it from previous standards. Just as USB 1.1 and 2.0 A connections are "downstream" connections, USB 3.0 A are designed to be used for host controllers and hubs and should not be used to connect two systems to each other. While USB 3.0 A connections offer super speed transfers, they are also backwards compatible with the USB 2.0 standard.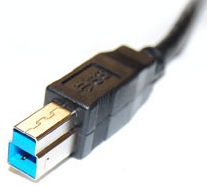 USB 3.0 B connectors are available on USB 3.0 devices and are designed for super speed transfers. Cables with this connection type are not backwards compatible with previous standards, but devices with this connection type can accommodate USB 1.1 and 2.0. USB 3.0 B connections typically feature a soothing blue hue for identification.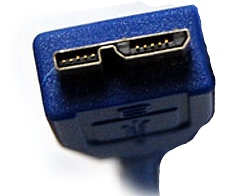 This odd-looking connection seems to fuse the Micro A and B connections in one. It is designed to provide both power and super speed transfers to USB 3.0 devices. This connection is not backwards compatible with USB 1.1 or 2.0 devices.

Buy Cables at Newegg.ca