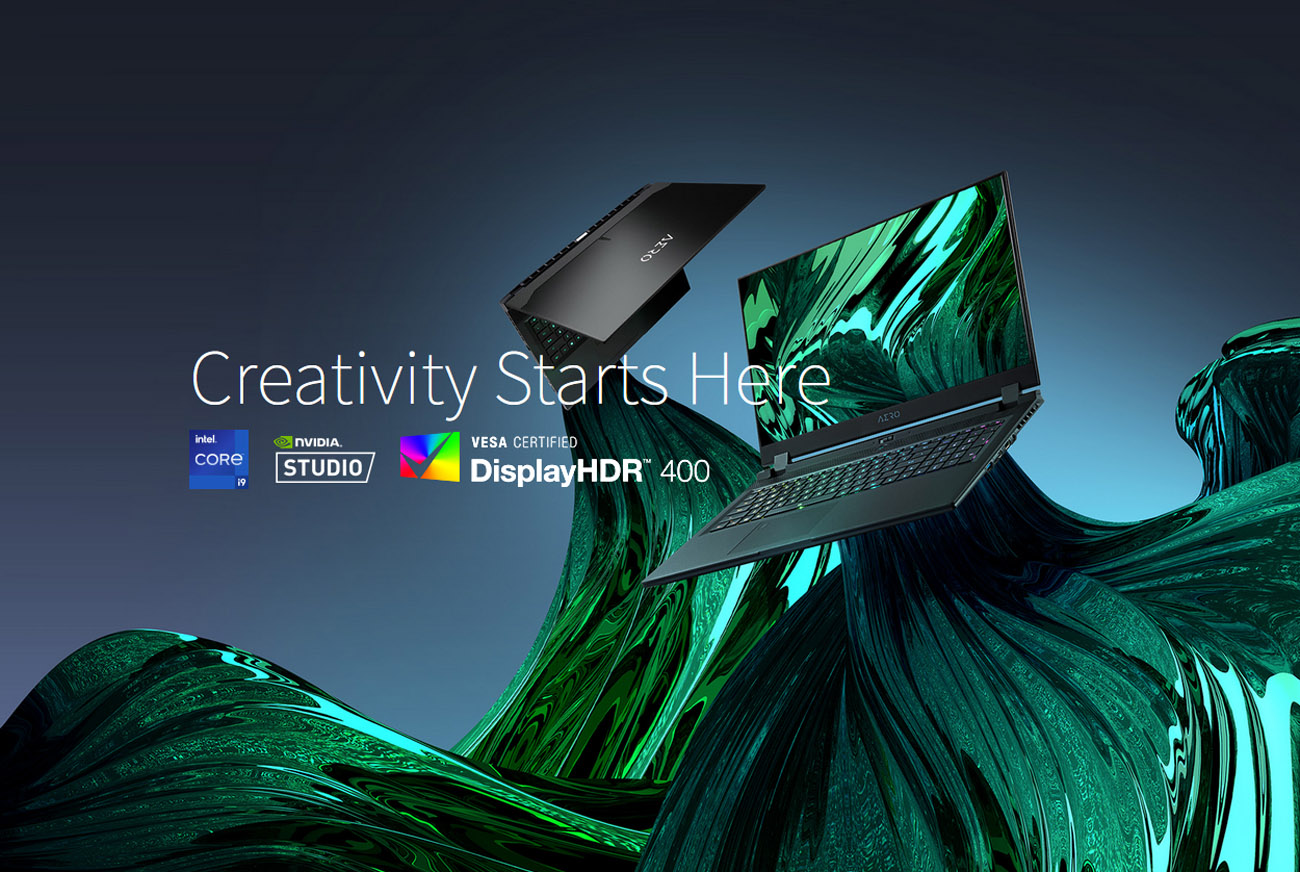 Accelerate Production, Increase Inspiration
The all-new AERO 17 HDR creator laptop has a performance upgrade with the 11th Gen Intel® Core™ H-series processor. The elegant and powerful design is paired with an unparalleled 4K HDR visual experience, bringing users a faster, smoother, and more immersive creative journey. Workflow moves with speed and ease with the desktop-caliber creativity in the AERO creator laptop. Thanks to the Thunderbolt™ 4 port, the AERO series now supports fast data transfers and up to 4K video output all in one port. Plus the next-gen PCIe Gen4 storage lets you read, write, preview and drag files more efficiently. Turn your inspiration into a reality anywhere, anytime, at home or on the go.
11th Gen Intel Core Processors
Up to 5.0 GHz
8 Cores 16 Threads
Thunderbolt 4
Transfer Data Up to 40Gbps
PCIe Gen 4
Jump 2X 1 Faster in Sequential Read Speed

FAST-TRACK YOUR CREATIVITY
Do more, wait less with GPUs.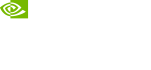 Whether you're an aspiring artist or an industry veteran looking to do your best work, NVIDIA GPUs make it happen—fast. Render quicker. Broadcast clearer. Edit videos better. From ray tracing and VR to AI-powered 8K video editing, NVIDIA GPUs in Studio laptops and desktops boost workflows. And they're backed by exclusive, free Studio Drivers that bring out the best in your creative apps.
---
3rd Generation Max-Q Technologies
Max-Q is a system wide approach to deliver high performance in thin and light gaming laptops. Every aspect of the laptop, chip, software, PCB design, power delivery, and thermals, are optimized for power and performance. Our 3rd gen Max-Q technologies use AI and new system optimizations to make high performance gaming laptops faster and better than ever.
Dynamic Boost 2.0
New AI-powered Dynamic Boost 2.0 automatically delivers the needed power between the GPU, GPU memory, and CPU for a larger performance boost than ever before. The AI networks in Dynamic Boost 2.0 manage power on a per-frame basis, so your laptop is constantly optimizing for maximum performance while you're gaming and creating.
Resizable BAR
BAR is an advanced PCI Express feature that enables the CPU to access the entire GPU frame buffer at once, improving performance in many games.
DLSS
NVIDIA DLSS delivers a massive performance boost at the same power by using the Tensor Cores to do groundbreaking AI rendering.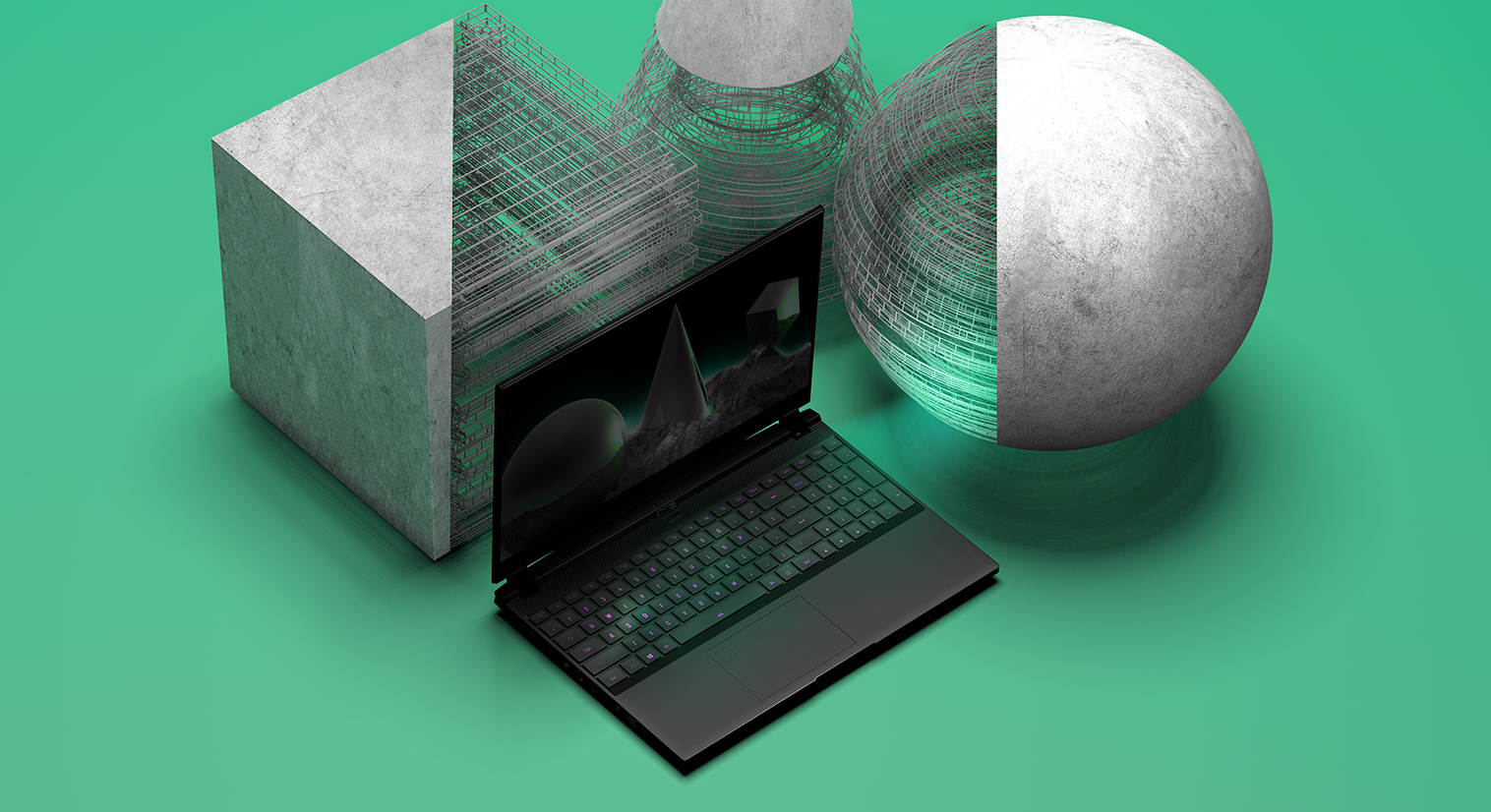 Creativity Starts Here
More stability, more speed, more power and more ports in one ultra-light elegant chassis, makes the AERO 17 HDR creator laptop the ultimate choice for creative professionals. Every single unit is calibrated for peak performance, color accuracy and has the power you need to render video, effects and high res files faster and will ease. No stutter, no chug, no overheating, for no compromise computing.

WINDFORCE Infinity Next-Gen Cooling for Laptop
All-new WINDFORCE Infinity comes with two 71-blade fans, 5 heat pipes and copper heat fins that increase overall heat dissipation by 30%2, insuring the AERO 17 HDR creator laptop remains calm and steady even under heavy gaming or multi-tasking large apps and files.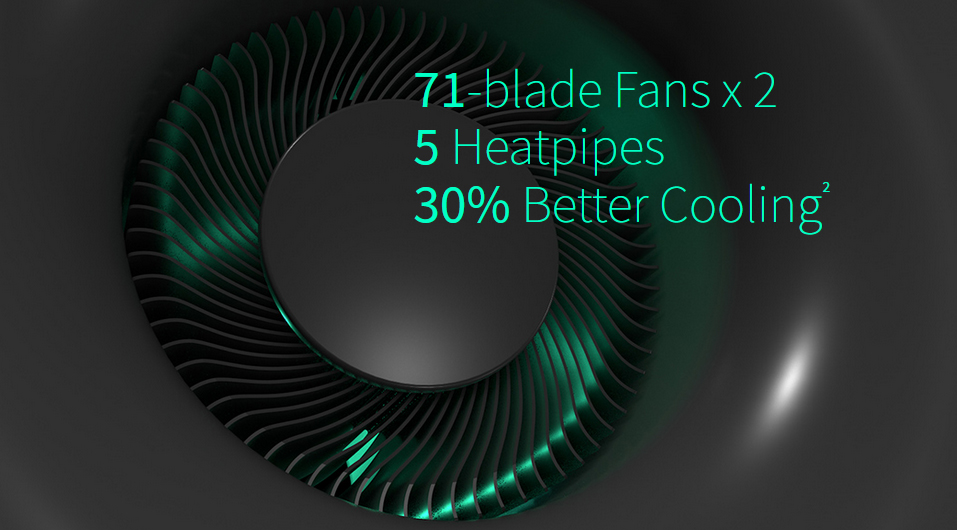 Next-Gen Connection Transfer Your Creativity Without Lag
Finding the quickest way to transfer your creative works around the globe comes second to none. AERO supports 1Gbps cable internet and the latest gen internet standard 802.11AX (Wi-Fi 6) of up to 2.4Gbps transfer speed. Your creative data is set to transfer without limitations.
PCIe Gen 4 Storage
Never Delay in Workflow
More storage means more production. AERO 17 HDR laptop supports PCIe Gen4x4 SSD storage slot. The bandwidth and the sequential read performance of PCIe Gen4x4 SSDs are up to 7000MBs, 2X¹ faster than the previous generation. Preview, store, move and read / write files more efficiently. Capture your best ideas anywhere and accomplish more in less time.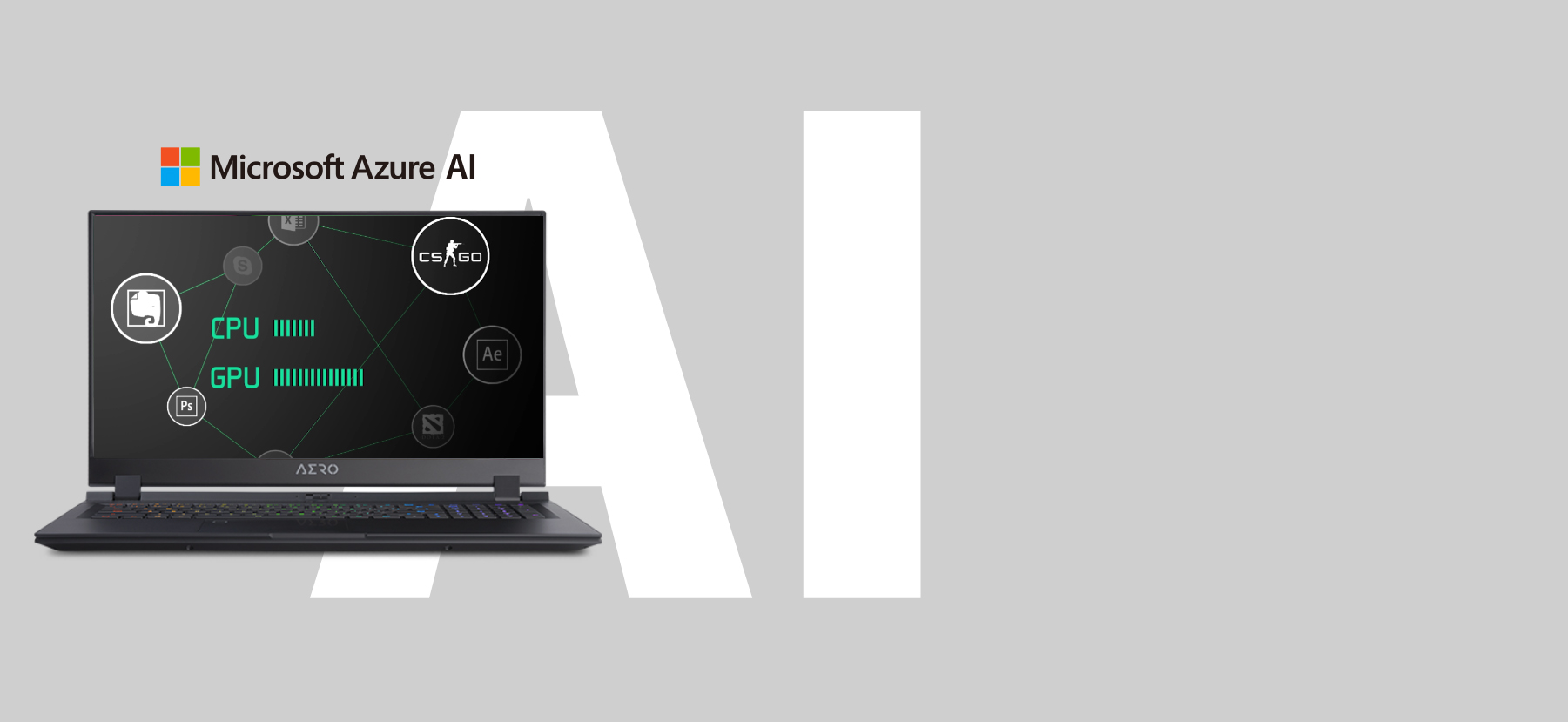 Microsoft Azure AI: Smart Power Manager
Deep learning to improve performance at the flip of a switch. GIGABYTE went the extra mile adapting the experiences of our users and cooperated with Microsoft Azure to bring you the world's first AI laptop - the AERO. As users perform route tasks and individual app use, the Microsoft Azure Machine Learning platform automatically and dynamically adjusts the best CPU and GPU wattage setting for different apps. Users will experience a steady performance without the hassle & additional manual switch whether it is for gaming or content creation.
STake in True Details
That the World Has to Offer
AERO 17 HDR laptop's 4K UHD IPS-level display does not only offer the best resolution density in its class, but also provides extra brightness and matches the VESA Display HDR 400 standard. It further supports 100% Adobe RGB color gamut that brings a wider and more accurate colors than that of a tradition sRGB gamut. Take advantage of the efficiency and vibrant images for every occasion.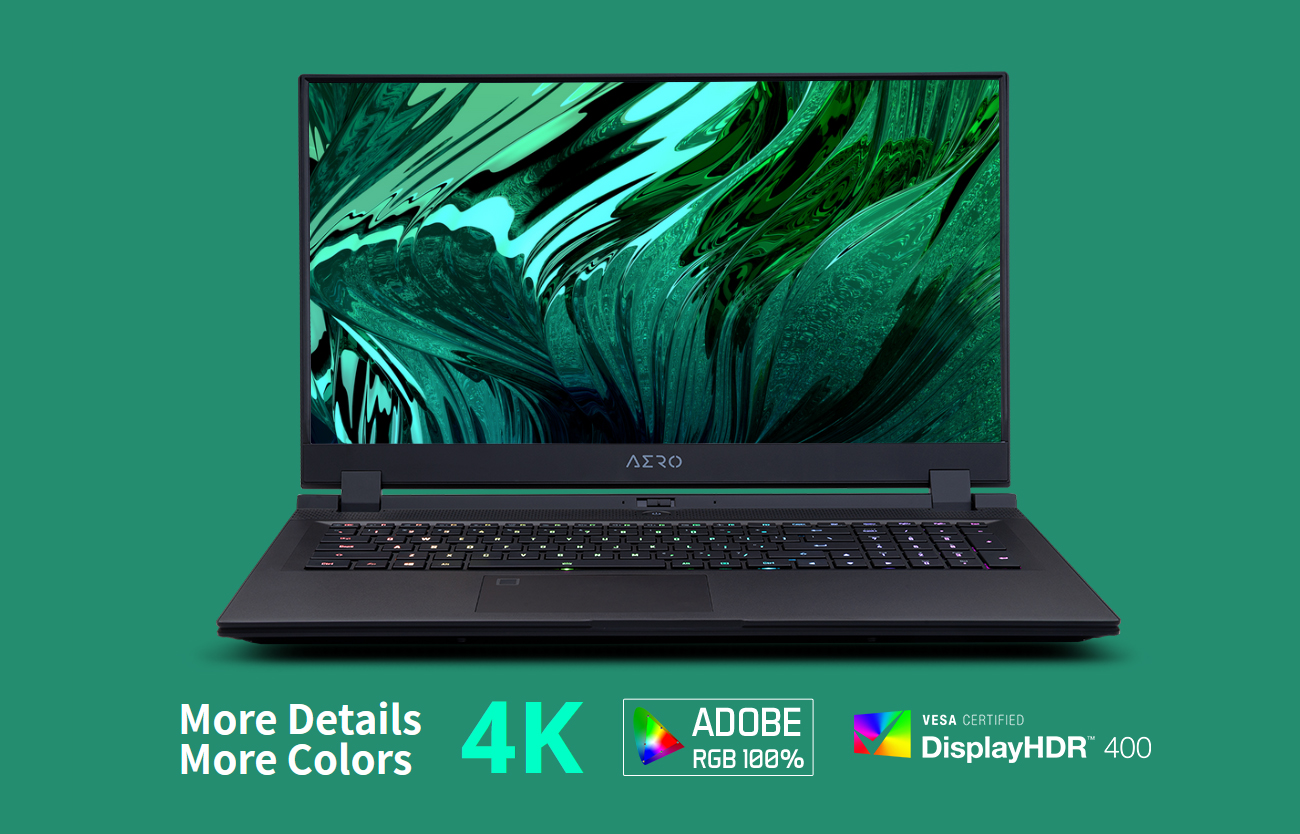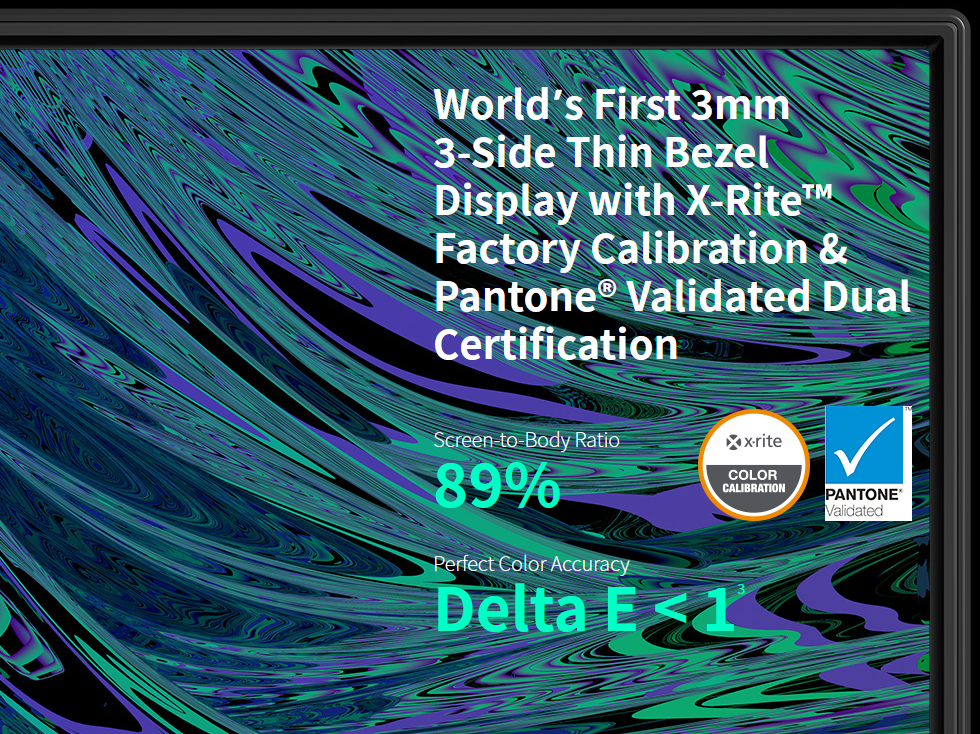 With the world's first 3mm 3 side bezels, you get all the workspace you need. Each and every AERO panel is color calibrated by world renowned X-Rite calibration technology before it leaves the factory. Plus the Pantone Validated certification, experience perfect color accuracy the moment you turn on the AERO.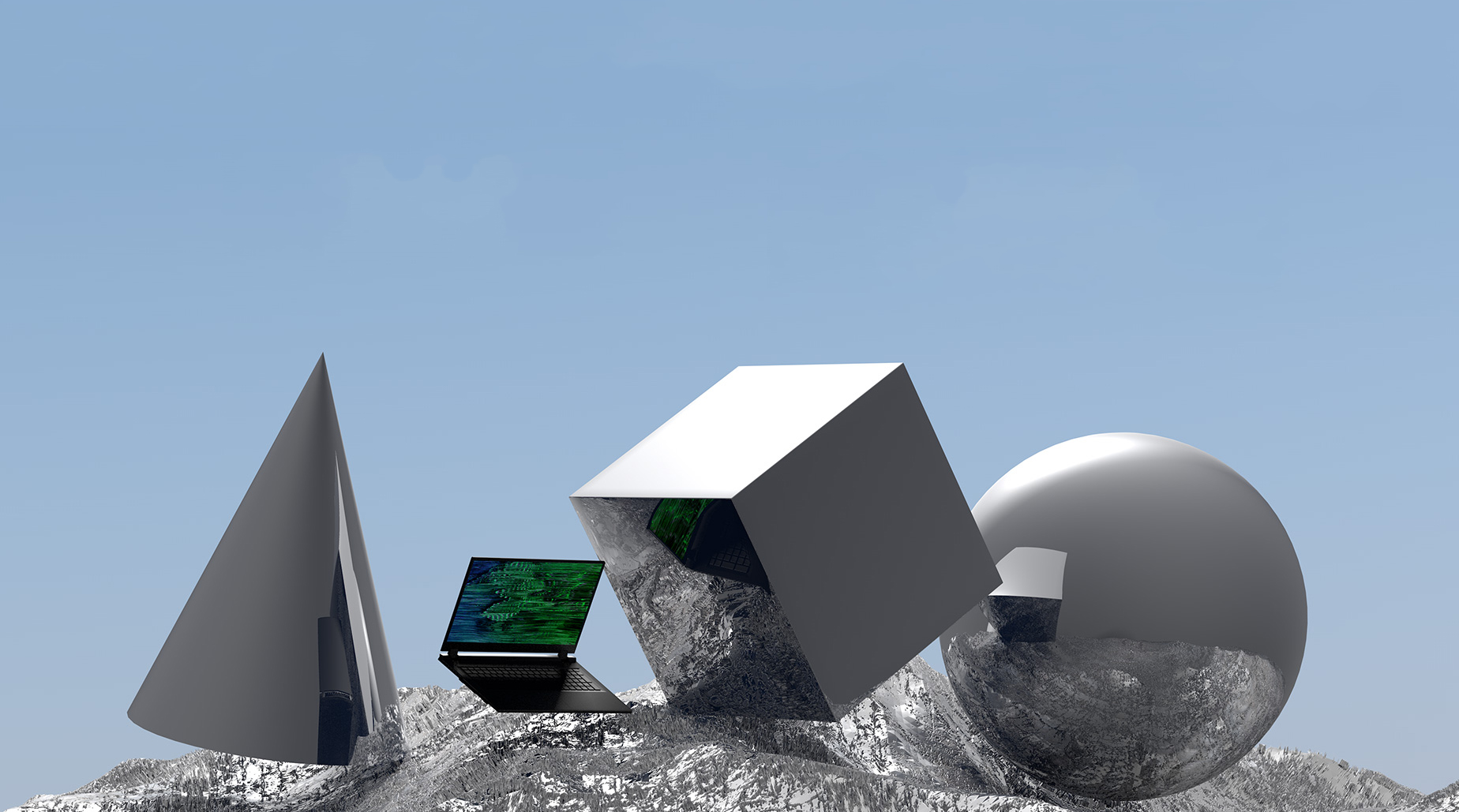 CNC Aluminum Chassis Powerful 99Wh battery, 8 hours of use4
Create Anytime, Anywhere
Don't let limited time limit your creativity! Free your imagination with AERO's 8-hour battery4 housed in a full aluminum, sleek, stylish, thin & light chassis. Anytime, anywhere to let your inspiration flow on the go.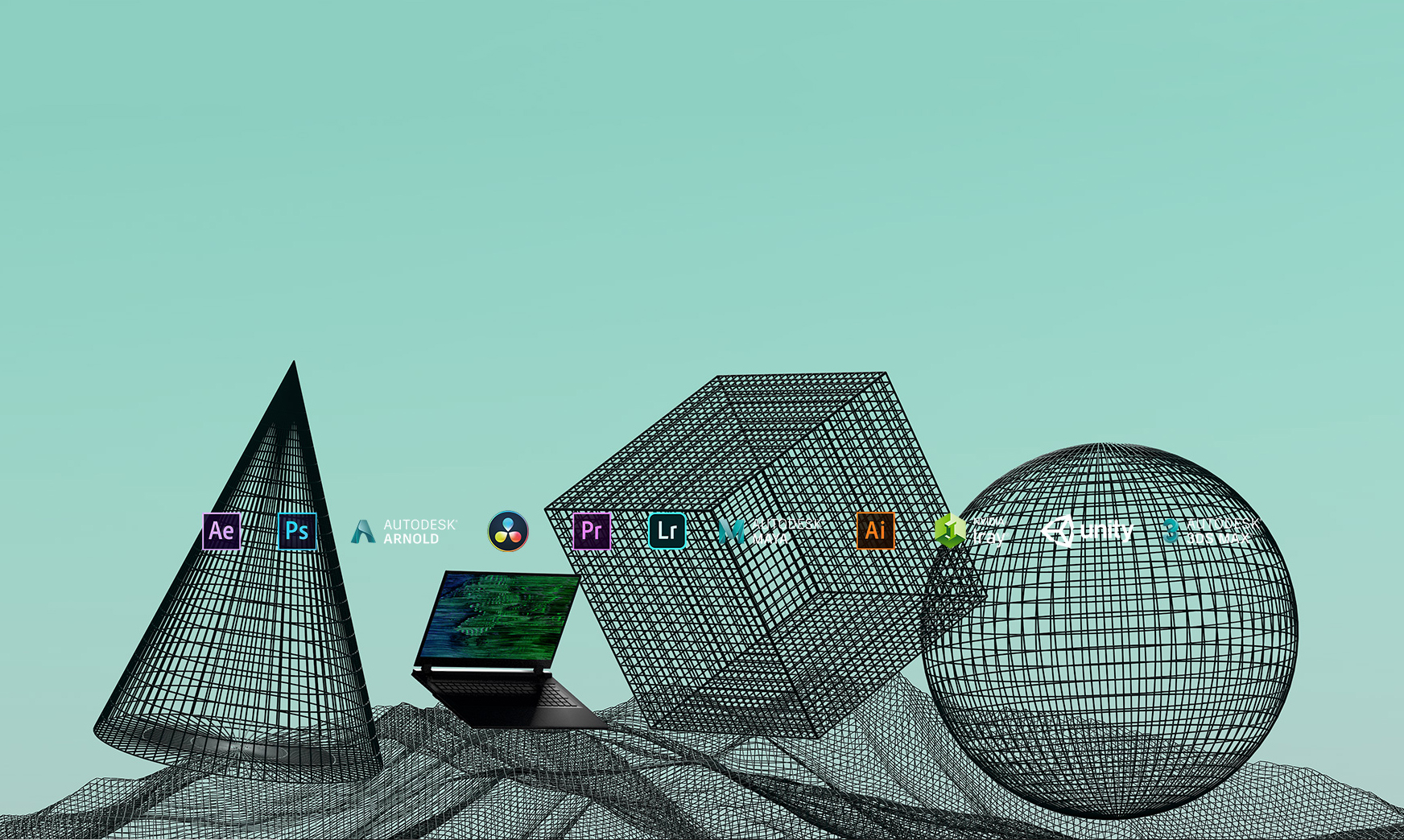 Software/ Hardware Compatibility Test
To make sure our AERO user has a great creating experience, GIGABYTE lab has conducted a series of software compatibility test on AERO. AERO is also fully compatible with all GIGABYTE/ AORUS accessories including monitors, keyboards, mouse and the Gaming BOX external graphics box, creating an intensely powerful creative station.
NVIDIA Studio Driver
Every NVIDIA GPU is backed by exclusive and free Studio Drivers that bring out the best in your creative apps. The drivers are built in partnership with app developers like Adobe and Autodesk to continually improve your experience. Proven. Reliable. And extensively tested to let you embark on your most ambitious projects.
Multiple Varieties of I/O Connect Without Boundary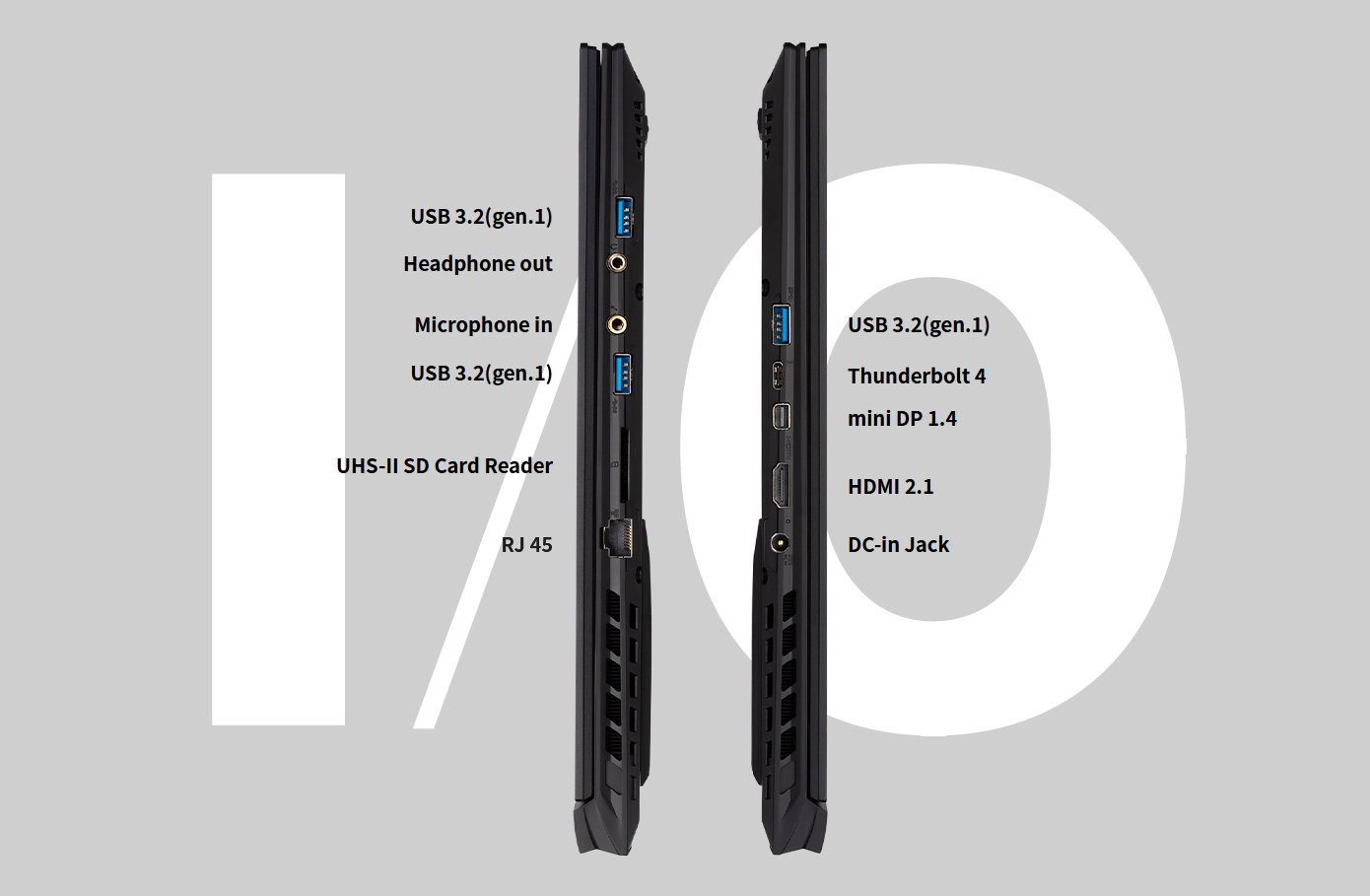 Thunderbolt 4
Transferring data and video display are all done in just one port. The Intel Thunderbolt 4 achieves a transfer speed of up to 40Gbps and 8X faster than USB 3.1, in addition to reversible USB-C transfer port interface. Supports up to 4K video output and get unbridled capabilities, endless possibilities.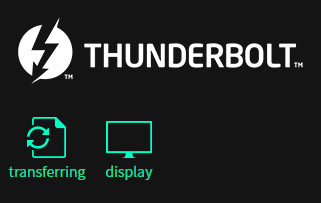 ---
UHS-II Card Reader
The AERO comes with a UHS-II SD card reader that offers a transfer rate of up to 300MB/s, which is 12 times faster than a traditional SD card reader. Don't waste time on staring at the screen waiting for files to be transferred ever again.

---
HDMI 2.1
The HDMI 2.1 port supports image output of up to 8K@120Hz. In addition with Thunderbolt™ 4, you can create a unique multi-display system with the AERO laptop.
Image Output Up To 8K@120Hz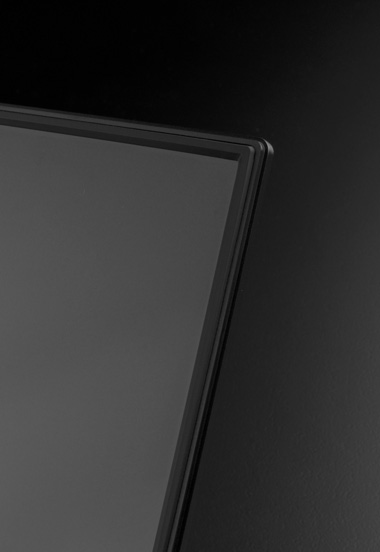 Exclusive Protective Display Bezel Design The Hidden Durability
We added another durability innovation to the AERO 17 HDR laptop through a uniquely designed display bezel bumper that protects the display by dampening different types of impact. Have peace of mind knowing that your new AERO will perform flawlessly anywhere you go.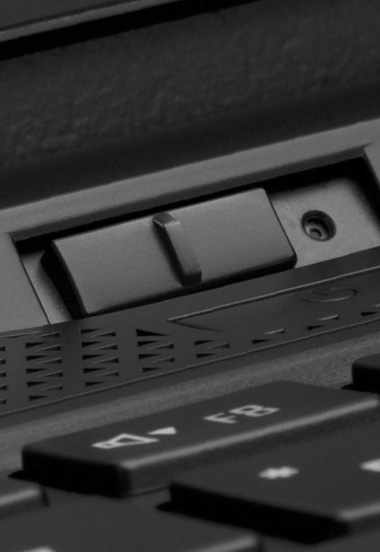 Specially Designed Movable Camera Cover We Care About Your Privacy
GIGABYTE specially designed the AERO with a movable webcam cover, giving you the control over your privacy no matter where you are.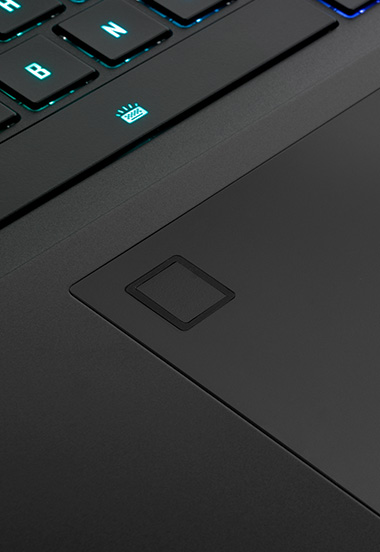 Windows Precision Touchpad for Precise Control
The AERO 17 HDR laptop has Windows Precision Touchpad which supports registering multiple touch inputs. Plus the built-in fingerprint sensor for Windows Hello, offering you high privacy protection.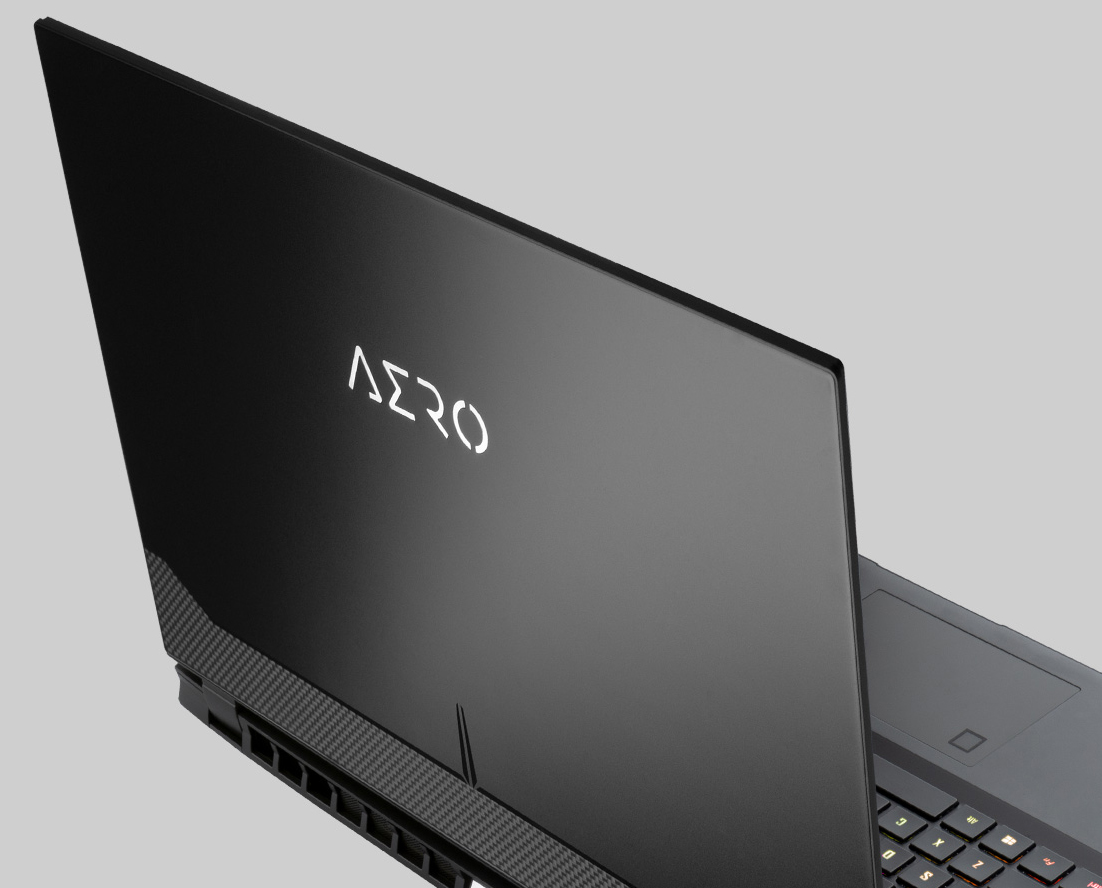 Microsoft Modern PC Modern Light and Thin Laptop Leader
Pushing the limits of design, AERO broke barriers by creating a thin and elegant chassis transforming what it means to be a powerful high-performance laptop. To provide even further value, the all new AERO earned Microsoft Modern PC certification approval, in addition to all the elements of a modern laptop, such as a light and thin chassis, instant power on, Cortana voice command and Windows Hello fingerprint log in security. Experience the operating fluidity and secure user experience with the all new AERO.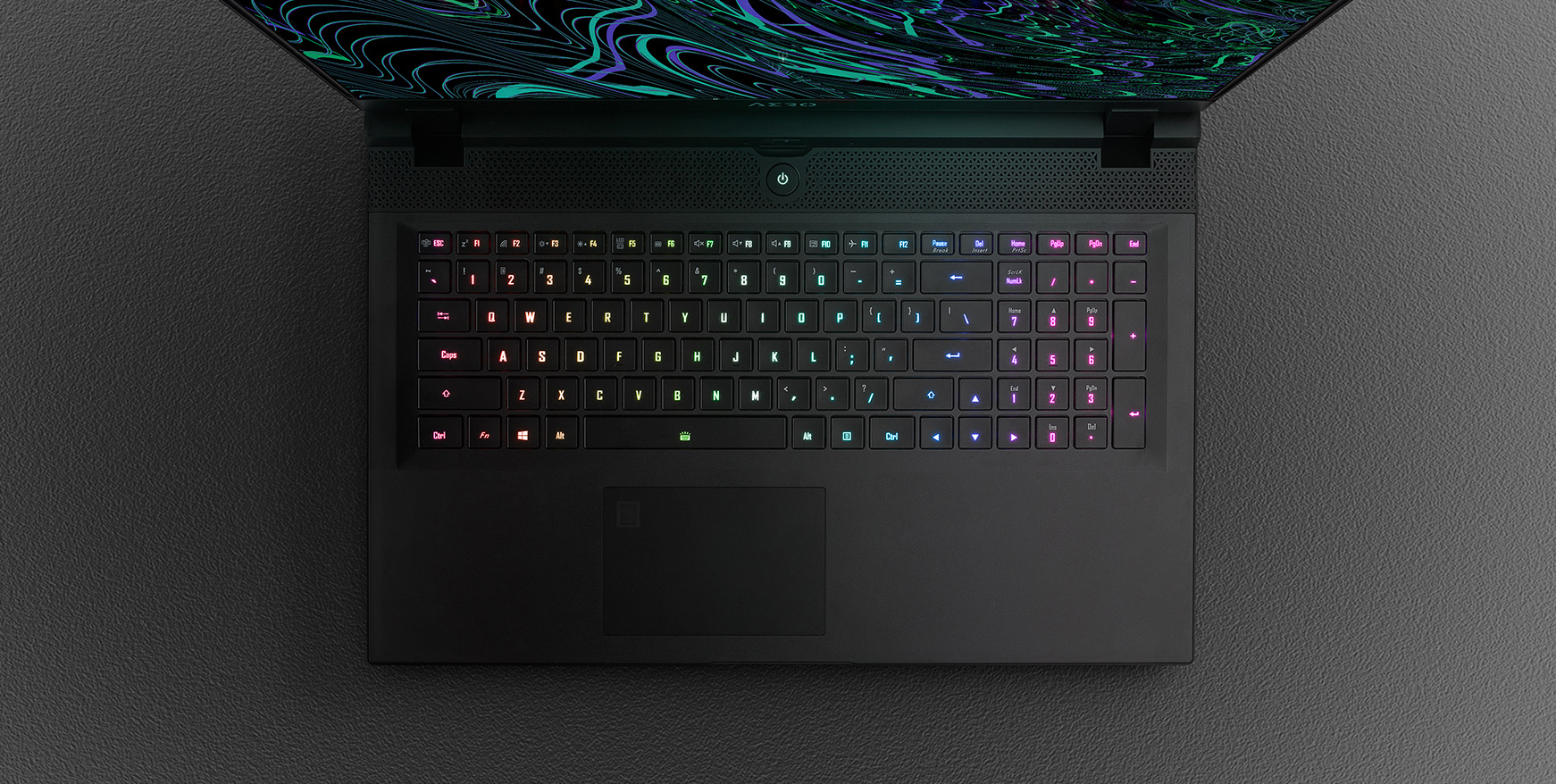 GIGABYTE Fusion Brighter and Greater Feel
The AERO keyboard is upgraded with the all-new GIGABYTE Fusion technology. Not only does the keyboard lighting shine brighter than ever, each key press is now even more responsive. In addition to full macro customization functions, the gaming and multimedia experience has just bumped up to a whole new standard.
16.7M Colors Backlight5
N-Key Rollover6
Per-key Macro Function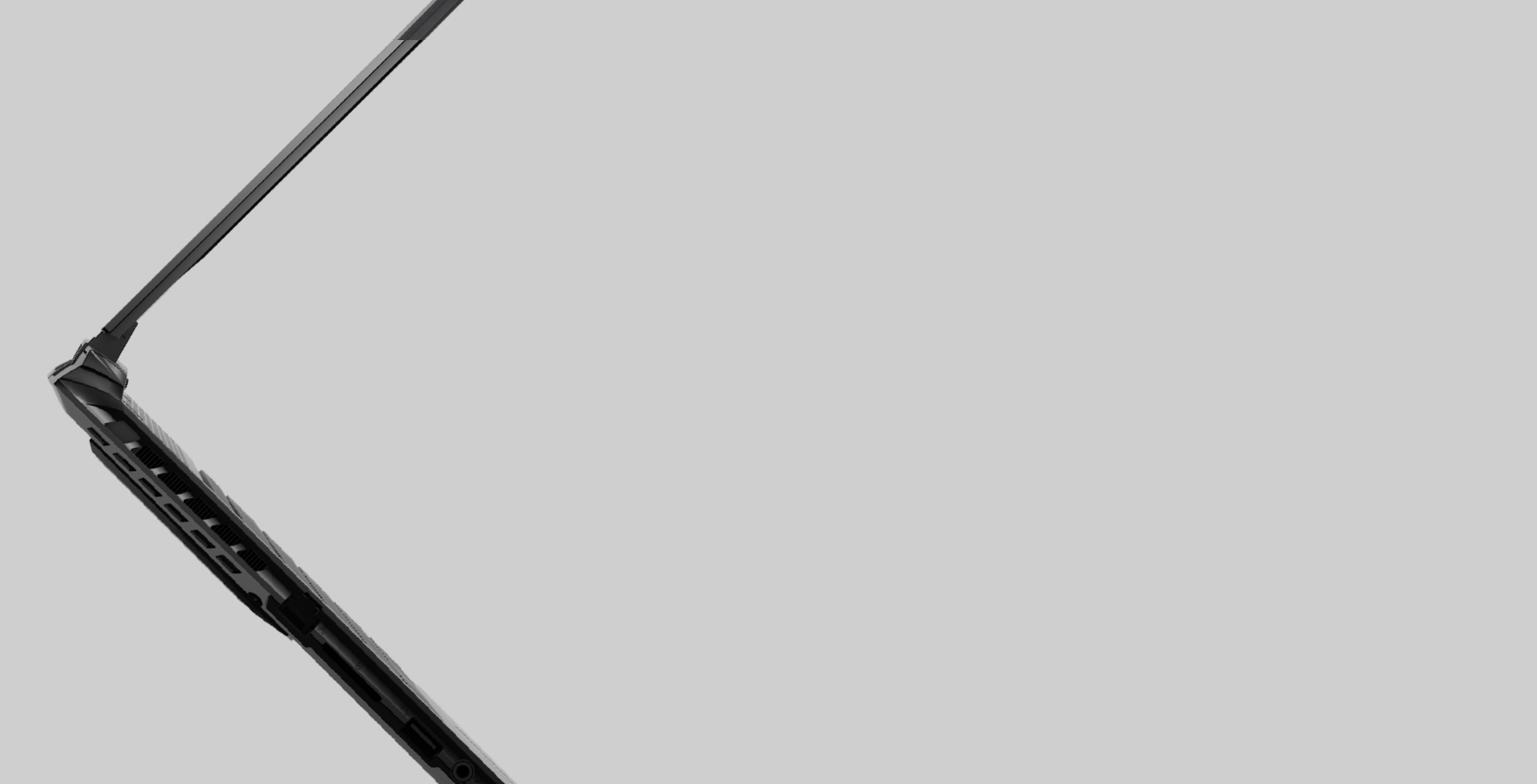 DTS:X Ultra Immerse Yourself in Cinema Grade Sound
The new AERO series adapts the DTS: X Ultra audio technology for the first time and letting you enjoy the full depth of high-fidelity audio. Virtual 7.1-channel surround sound innovation that provides outstanding sound experience and performance. From gaming, watching movies to conference calls, the DTS:X Ultra brings true 3D surround effect and the voice communication is clearer than ever with Two-Way AI Noise Cancelation that removes noise from incoming and outgoing audio.
1. PCI Express Gen4 bandwidth and data rate compared with the previous generatiron PCI Express Gen3.
2. Heat dissipation capacity compared with the previous generation GIGABYTE model.
3. Delta E is a single number that represents the distance between two colors. The lower the Delta E number, the closer the display matches the input color to the display's reproduced color. Average tested result: 4K panel and Full HD panel Delta-E < 1
Calibration environment: Display brightness: 100%
System operation: Windows 10 Home Premium
Calibration device: Provided By X-Rite Pantone, Designed especially for GIGABYTE.
4. Battery test condition: 1080p video playback/ Wi-Fi, Bluetooth: OFF/ Display Brightness: 20%/ Power Plan: Power Saver Battery consumption may differ by different usage environment.
5. Keyboard lighting can be turned off.
6. N-Key Rollover: Supports 80 simultaneous key presses.