No Stuttering, No Tearing, Just Gaming
G2590FX

AOC was Rated the #1 Most Reliable PC-Monitor Brand by PC Mag Readers in December, 2017
Bigger Is Better
The AOC G2590FX takes your gaming up a notch with its sleek looking 24.5" Full HD display and fast response. The 25"-class monitor has ultra-thin bezels with a frameless design on 3 sides for a more immersive look, making it great for multiple-monitor setups. A 144Hz refresh rate paired with AMD FreeSync technology guarantees super-smooth and responsive gameplay and graphics by minimizing screen tearing, display stuttering and input lag. The G2590FX's ultra-quick 1ms (GtG) response time and AOC Low Input Lag technology also make sure you experience fast-action gameplay as it's meant to be played—without lag and ghosting.
Other clever features such as Dial Point and Game Color ensure you see your surroundings and enemies better and are able to aim accurately with an on-screen crosshair overlay. With a plethora of connections such as DisplayPort and HDMI ports, this monitor is ready for your hardcore gaming sessions.
About AOC Gaming
For professional gamers, we redefine awesomeness with our selection of AOC Gaming and AGON gaming displays. We've made sure these monitors not only excel in fast performance, but also in their unique designs and gamer-specific features. Being the official monitors of numerous elite gaming teams worldwide, AGON and AOC Gaming raises the bar and brings out the true potential in you.
Ever since AOC was founded half a century ago, we have been specializing in display technology. It's our goal to provide you with a great display experience that fits your specific needs.
Key Features:
24.5" TN panel with Full HD (1920x1080) resolution
Ultra-thin bezels with 3-sided frameless design
144Hz refresh rate for smooth graphics
1ms response time (GTG) to avoid ghosting
NVIDIA G-SYNC compatible* + AMD FreeSync support to reduce screen tearing for smooth competitive gaming
AOC Dial Point for pinpoint accuracy in FPS games
AOC Low Blue Mode and Flicker-Free technology reduces eye fatigue
VESA mounting with a quick mounting base
AMD FreeSync + NVIDIA G-SYNC and 144Hz Refresh Rate*
Game without tearing or stuttering. Your graphics card pushes images to your monitor as fast as it can, but traditional monitors refresh their images at a set rate. When your graphics card delivers frames outside of that schedule, your monitor shows a portion of one frame and the next frame onscreen simultaneously, resulting in tearing. Tearing is very disruptive in the heat of battle.
AOC G2590FX with 144Hz refresh rate + G-SYNC* & FreeSync technologies synchronizes the display refresh rate with the GPU in your NVIDIA- or AMD-powered PC, eliminating screen tearing, stutter and lag. Objects look sharper and gameplay is super-smooth.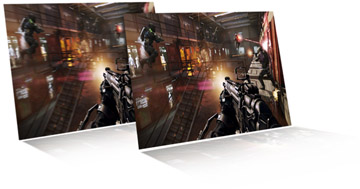 1ms GTG Response Time
A response time of 1ms Grey-to-Grey (GTG) means pixels respond with speed without the smear for an enhanced gaming experience. Fast-moving action and dramatic transitions will be rendered smoothly without the annoying effects of ghosting, a must have for serious first-person-shooter games. Choose the right path to success and don't let a slow display stop you.
AOC Clear Vision and AOC Game Color
Regardless of the input, AOC Clear Vision up-converts SD content to HD for even sharper imagery, making it great for gaming on your favorite retro consoles.
AOC Game Color providing 20 levels of grey-level adjustment for boosting even more details out of your gaming and movie scenes.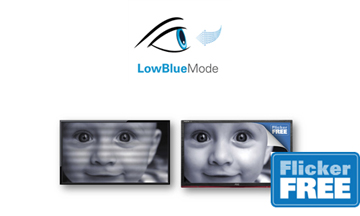 AOC LowBlue Mode and Flicker-Free Technology
AOC LowBlue Mode decreases harmful blue light by controlling color temperature, reducing the amount of blue spectrum of light entering your eyes, reducing muscular degeneration and preventing sleep disorders.
AOC Flicker-Free technology reduces flickering to give you a more comfortable gaming experience. This minimizes the effects of eye fatigue and other damage to your eyes during long, intense gaming sessions! The only tears you will wipe from your eyes will be tears of joy, thanks to AOC Gaming!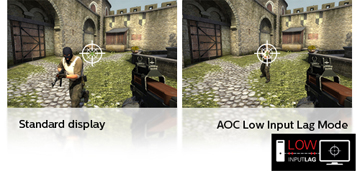 AOC Low Input Lag Mode
Unleash your reflexes by switching to the AOC Low Input Lag mode. Forget graphical frills, this mode rewires the monitor in favor of raw response time, giving the ultimate edge in hair-trigger stand offs.
Announcing Compatibility with NVIDIA G-SYNC technology
By applying the latest NVIDIA graphics card update to your PC (released after January 15, 2019), the AOC G2590FX will become G-SYNC compatible. Enjoy stutter-free gaming on both AMD or NVIDIA powered PCs.