Immersive VR Gaming Experience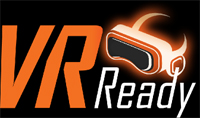 VR requires more performance than Full HD graphics for a steady 90FPS or greater.
Only Gaming PCs can provide the best VR experience.
Recommended configuration for VR Gaming PC
Graphics Card: NVIDIA GTX 1060 / AMD RX 480 or greater, Compatible HDMI 1.4 video output
CPU: Intel i5 equivalent or greater
Motherboard: GIGABYTE Z370 motherboards
Memory: 8GB RAM or greater
USB Ports: 3x USB 3.0 ports plus 1x USB 2.0 port or greater
OS: Windows 10 64-bit or newer
*Please check VR vendor website for full system requirements.

Any copyrighted images or trademarks displayed are the property of their respective owners and are shown for reference purposes only. Reference herein does not constitute or imply affiliation or endorsement of Gigabyte products by the respective trademark owners. VR Gaming photo for reference only.