Sold and shipped by:

TREADALT-TEC
TREADALT-TEC
Are you an E-Blast Insider?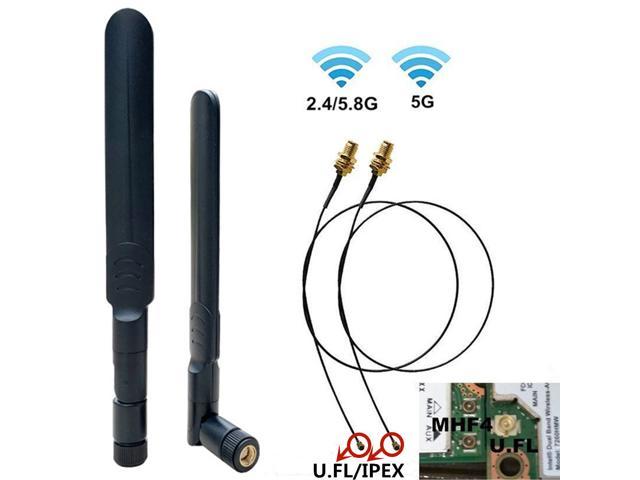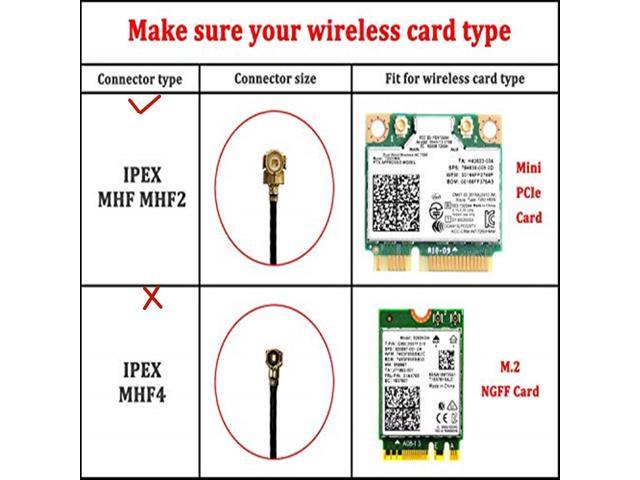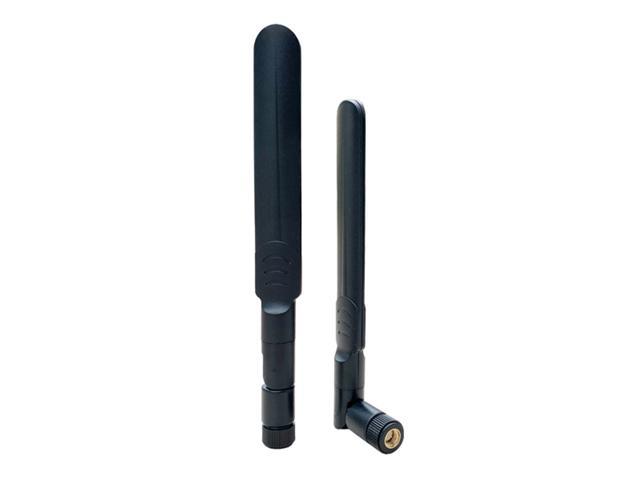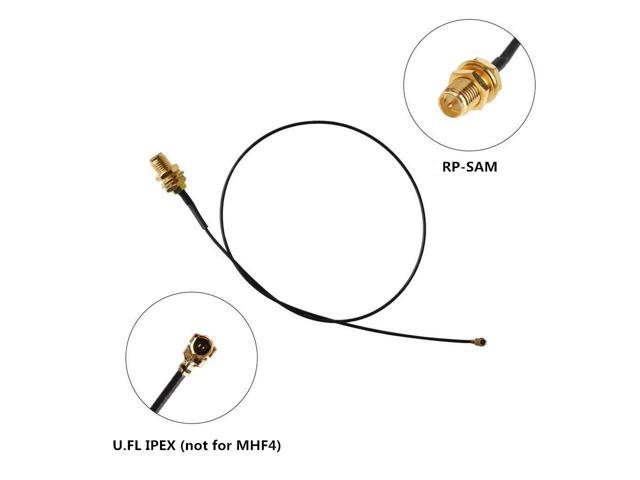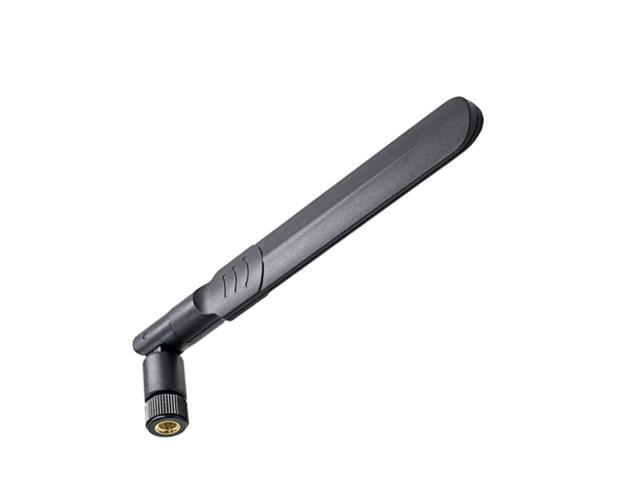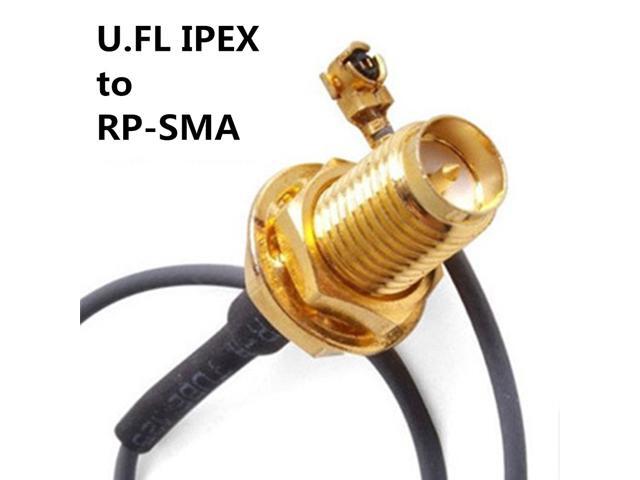 8dBi 2.4GHz 5GHz Dual Band WiFi RP-SMA Antennas RP-SMA Female Connector U.FL Mini PCI to RP-SMA Pigtail Antenna WiFi Cable Internet Bluetooth Range Extender Repeater Antennas for Wireless Card Router
In stock.
Ships from China.
Fees for brokerage and duty included in price. Most customers receive within 4-32 days.
WORK WITH- ufl antenna replacement, outdoor wifi extender, FPV UAV Drone, PS4 Build, home WiFi Card, Wireless Routers, Network PC WLAN Repeater, Desktop Motherboard, Computer Mini PCIe Wireless Card, wifi external long range wifi booster adapter, Camera, wifi 6 router, 802.11ax wifi routers, radio devices such as ZigBee, WIFI, etc. increase boost your wifi coverage with your Home Security System
Also WORK WITH- This wireless antenna works with most wireless devices, such as Mini PCIe Wireless Card Routers / Repeater / Range Extender / Desktop PC / Mini ITX Build / PCI Card / FPV UAV Drone / PS4/ ATT / MIFI Build/FrSky/LattePanda/4G wifi/X4R, X4R-SB ,XSR, XM/XM+ antena para wifi. also work with a wide-range of Linksys, Cisco, Belkin, Netgear, Alfa, and D-Link routers.
for Linksys Cisco E2000 E2500 EA2700 E3000 EA3500 E4200 EA4500 EA6200 WRT310N WRT320N WRT330N WRT400N WRT610N WRT54GS2 Belkin F7D8301 Netgear N600 N750 N900 WN2500RP WNDR3300 WNDR3400 WNDR3700 v.2 v.3 WNDR3800 WNDR4000
2 x 2.4GH z 5GHz Dual Band WiFi RP-SMA Antennas RP-SMA Female Connector + 2 x U. FL Mini PCI to RP-SMA Pigtail Antenna WiFi Cable



Package includes 2x 8dBi RP-SMA Antennas and 2x U. fl/IPEX to RP-SMA Cables
90 degree tilt and 360degree swivel on antennas
IPEX cables have bulkhead gold plated connector
Works with Wi-fi and Bluetooth signals
This kit allows you to add high gain external antennas to many wireless routers that do not normally support removable antennas
RP-SMA Female connector, works with most indoor wireless AP/Router

for Linksys Cisco E2000 E2500 EA2700 E3000 EA3500 E4200 EA4500 EA6200 WRT310N WRT320N WRT330N WRT400N WRT610N WRT54GS2 Belkin F7D8301 Netgear N600 N750 N900 WN2500RP WNDR3300 WNDR3400 WNDR3700 v.2 v.3 WNDR3800 WNDR4000 WNDR4500 WNR834B v. 1 v.2 WNR2000 WNR2200 DGND3700 v.1 v.2 D-Link DIR-655 Buffalo WZR-HP-G450H Mini PCIe Cards Network Extension Bulkhead Pigtail PCI WiFi WAN Repeater
The 2.4GHz 5Ghz 8dBi Antenna (IPEX Connector) is an Omni-directional antenna with an IPEX connector. Its working frequency is 2.4GHz and 5Ghz which meets most requirements of Wi-Fi devices. Its 8dBi high gain makes for better signal reception and transmission. Connector Type for the cable Antenna: U.fl A=2.0mm (U.FL:A=2.0mm B=0.5mm MHF3:A=1.4mm B=0.4mm MHF4: A=1.5mm B=0.45mm)
High gain- This dual band wifi antenna provides broad coverage to extend wireless range to dead spot and make the signal be better and longer range. Compatible with- these omnidirectional Note if you use this antenna for wifi card only compact with MINI PCI-E Interface wifi card with U.FL IPEX antenna connector, Do Not Use for M.2 (NGFF) with MHF4 IPEX antenna connector.
These omnidirectional antennas only use for MINI PCI-E Interface, Do Not Use for M.2 (NGFF) Interface. for example: intel mini PCIe 7260 3160 6300 6100 6235 6230 6205 5300 5100 4956 3945 2230 AR5B22 Broadcom BCM94352HMB etc mini PCIe wifi card

Specifications:
Color: Black
Radiation: Omni-directional
Gain: 8dBi
Frequency Range(MHz): 2400-2500 & 5725-5850
Connector Type: RP-SMA Male (Hole)
Angle Adjustable: 90° 135° 180° Dimension: 16cm/ 6.3"(Unbend) / 13.5cm/ 5.31"(Bend)
Wight: 13.5g / 0.48 oz per antenna
Input Impedance(O): 50
VSWR = 1.5
Compatible with 802.11a,b,g,n and 802.11ac 802.11ax and other Dual Band 2.4GHz / 5.8 GHz applications.

pigtail Cable Specifications:
Length: 35cm / 14''
Wight:4.4g / 0.17 oz per pigtail cable
Connector Type: U.fl / IPEX to RP-SMA Female (Pin)
This Connector Type for the cable Antenna: U.fl A=2.0mm
Compatible with Wireless Routers:
Linksys Cisco E2000 E2500 EA2700 E3000 EA3500 E4200 EA4500 EA6200 WRT310N WRT320N WRT330N WRT400N WRT610N WRT54GS2
Belkin F7D8301
Netgear N600 N750 N900 WN2500RP WNDR3300 WNDR3400 WNDR3700 v.2 v.3 WNDR3800 WNDR4000 WNDR4500 WNR834B v. 1 v.2 WNR2000 WNR2200 DGND3700 v.1 v.2
D-Link DIR-655
Buffalo WZR-HP-G450H
Mini PCIe Cards
Network Extension Bulkhead Pigtail PCI WiFi WAN Repeater
older style Mini PCIe connector wireless cards known as U. Fl or IPEX / IPAX
for DJI drone Mavic Air remote controller
replace Wyzecam internal antennas
for PS4 Slim console, a custom PS4 build, boost PS 4 wifi signal.
Extend the Wyzecam WiFi Range
GPS drone
fsi6 transmitter
home theater receiver
Wireless DMX boxes
Zmodo Outdoor Cam
Yamaha receiver
transmitters for R/C drone
Upgraded the TX and RX of a drone
mini ITX build
Syma X5C-1 transmitter
Warranty & Returns
Warranty, Returns, And Additional Information
Manufacturer Contact Info