Are you an E-Blast Insider?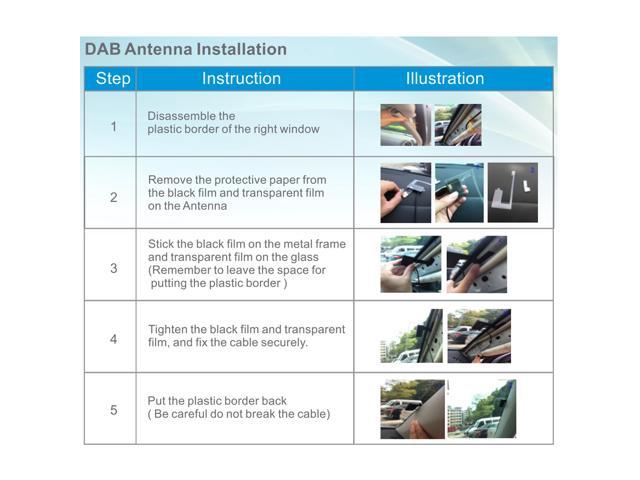 DAB 004 DAB Box Digital Radio Antenna Tuner FM Transmission USB Powered for Car Radio Android 5.1 and Above (Only for Countries that have DAB Signal)
In stock.
Ships from Canada.
Most customers receive within 5-9 days.
* If your android 5.1 and above car multimedia has pre-installed the DAB+ App, just buy this USB powered DAB+ Box to get digital radio.
* It is suitable for Erisin android car multimedia and the most of other Android 5.1 and above unit on the market.
* The included antenna itself is advanced with amplified function, high sensitivity, use the MCX port to connect.
* Plug and play, USB Port supply power for DAB+ Box and the connecting Antenna, no need the extra power cable.
* Delicate Design, with 1 meter USB Adapter Power Cable and 3 meters Antenna Cable, long enough for installing.
What is DAB+? DAB is the third generation broadcast after the traditional analog broadcast AM/FM Digital Audio Broadcasting. DAB+ is an upgraded version of the original DAB technology. It can be compatible with DAB as well. The new radio standard
DAB: Digital Audio Broadcasting allows you multi-regional music with your local well-known and also new channels. CD sound quality and noise-free in excellent transmission make DAB Radio a special experience in the vehicle. DAB+ (Digital Audio Broadcasting) has gradually replaced the traditional analogue broadcast AM/FM. Permanent increase in channels and expansion of the station area soon make DAB accessible to most of Europe.
Features: * If your android 5.1 and above car multimedia has pre-installed the DAB+ App, just buy this USB powered DAB+ Box to get digital radio. * It is suitable for Erisin android car multimedia and the most of other Android 5.1 and above unit on the market. * The included antenna itself is advanced with amplified function, high sensitivity, use the MCX port to connect. * Plug and play, USB Port supply power for DAB+ Box and the connecting Antenna, no need the extra power cable. * Delicate Design, with 1 meter USB Adapter Power Cable and 3 meters Antenna Cable, long enough for installing. How to operate on the DAB+ box?
1. After you connect the DAB+ with the car multimedia (via standard USB port), restart the car multimedia and click on the DAB+ app (this should be installed in advance).
2. Check the DAB+ signal, see upper left corner for the signal status.
3. Click the search icon, it will find the DAB+ stations, and save on the right side.
Note:
1. Car multimedia should support DAB function.
2. Car multimedia should be equipped with Android system (Android 5.1 and avove). 3. DAB App should be preinstalled.
4. Due to the relatively short coverage area of DAB signals, some areas may find fewer radio programs.
5. Only suitable for countries which have
DAB signal: Australia, Belgium, Czech Republic, Denmark, France, Germany, Gibraltar, Hong Kong China, Ireland, Italy, Kuwait, Malta, Monaco, Netherlands, Norway, Poland, Slovenia, Korea, Spain, Sweden, Switzerland, The United Kingdom.
6. If the pre-installed app of the car or the DAB app downloaded from Google Market is not compatible, please contact us to get the APK file. DAB Frequency Table Band III 5A 174.928 MHz 7C 192.352 MHz 10A 209.936 MHz 12C 227.360 MHz 5B 176.640 MHz 7D 194.064 MHz 10B 211.648 MHz 12D 229.072 MHz 5C 178.352 MHz 8A 195.936 MHz 10C 213.360 MHz 13A 230.784 MHz 5D 180.064 MHz 8B 197.648 MHz 10D 215.072 MHz 13B 232.496 MHz 6A 181.936 MHz 8C 199.360 MHz 11A 216.928 MHz 13C 234.208 MHz 6B 183.648 MHz 8D 201.072 MHz 11B 218.640 MHz 13D 235.776 MHz 6C 185.360 MHz 9A 202.928 MHz 11C 220.352 MHz 13E 237.488 MHz 6D 187.072 MHz 9B 204.640 MHz 11D 222.064 MHz 13F 239.200 MHz 7A 188.928 MHz 9C 206.352 MHz 12A 223.936 MHz 7B 190.640 MHz 9D 208.064 MHz 12B 225.648
MHz Specifications: Model
Number: DAB 004
Working Temperature: -20?~+70?
Power Supply: 5V
USB Port Frequency Range: 174-240MHz
Channel Separation: 55dB
Channel Difference: +/-3dB
Input Impedance: 50O Antenna
Input Type: MCX Lenght of USB
Adapter Power Cable: 1.0M Length of Amplified
Antenna Cable: 3.0M
Color: Black
Main Item Size: 4.5 * 4.5 * 1.3 cm / 1.77 * 1.77 * 0.51 in
Main Item Weight: 18g / 0.65 oz
Package Size: 17.3 * 13.5 * 5.0 cm / 6.81 * 5.31 * 1.96 in
Package Weight: 166g / 5.85 oz
Package List: 1 * DAB+ Box 1 * USB Adapter Power Cable 1 * Amplified Antenna 1 * English / German User Manual
Warranty & Returns
Warranty, Returns, And Additional Information
Return Policies
Return for refund within: 30 days
Return for replacement within: 60 days
This item is covered by Dodocool Return Policy
Manufacturer Contact Info