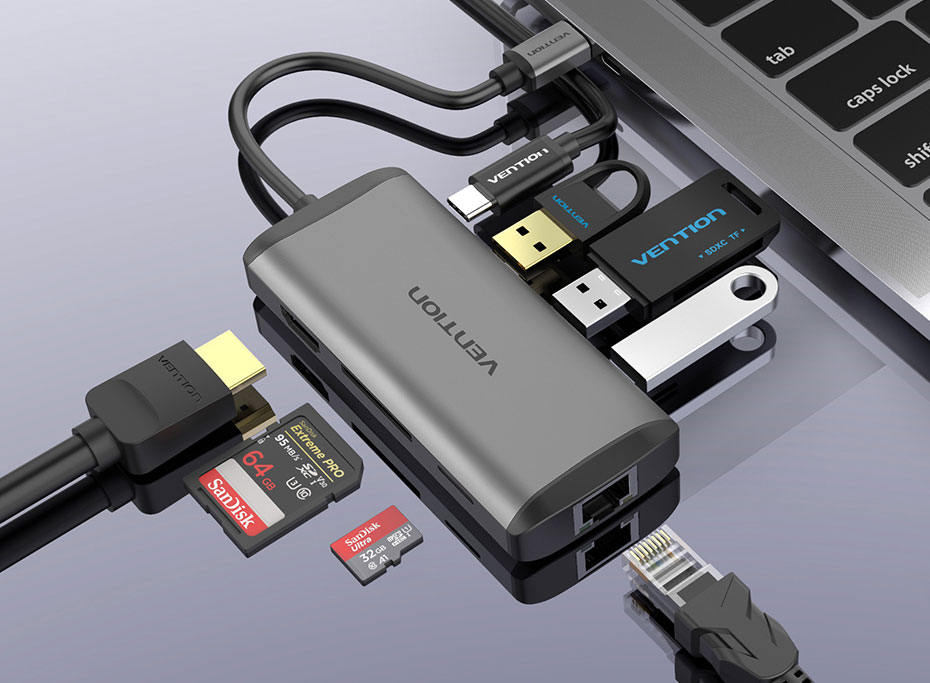 Vention USB-C Converter
With versatile connectivity built in, this gadget allows you to connect USB devices, an HDMI monitor and Gigabit Ethernet network, and charge a USB-C device, all via a single USB-C connection to your computer.* It also has a microSD slot and an SD slot for easy access to flash memory cards. The aluminum construction is solid and stylish, and lightweight and compact to effortlessly fit into your laptop bag and go anywhere you go.
*Full function USB-C port is required.
1). The USB C 8-in-1 adapter is ideal for your USB-C laptop to expand your USB-C laptop connection by USB C port to multiple possibilities of connectivity.
2). Streaming 4K high-resolution videos on your monitor, projector or TV with HDMI port from your laptop.
3). Data transferring speed up to 5Gbps by USB 3.0 ports to connect external hard drives, thumb drives, mouse, keyboard, cameras, printers, scanners, etc.
4). Offer full 10/100/1000 Mbps superfast gigabit Ethernet performance over the RJ45 Ethernet port.
5). Interfaces Details:
1x HDMI Port
3x USB 3.0 Type-A Ports
1x RJ45 Ethernet Port
1x SD Slot
1x TF Slot
1x PD USB-C Charging Port