About ORICO
ORICO Technologies Co., Ltd. is one of the global leading manufacturers of computer peripherals and digital accessories, whose brand ORICO is based on the innovative concept of "Easy Your PC".
At ORICO, we focus on raising the bar and making life easier from the respective of users. Serving and satisfying customers is our forever tenet and our commitment will prove out your preference for us.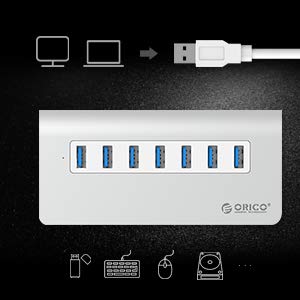 SuperSpeed USB3.0, Amazing Experience
Exclusive and Aluminum Surface Design
Simple and elegant, delicate aluminum surface texture, it is the wise choice to show your taste, this hub is perfectly matched with iMac, MacBook Air, MacBook Pro, MacBook, PCs and laptops, it is sleek yet durable and serves a long working life.
7 ports USB3.0 hub, 32 angle of inclination designed so that you may easily plug your device, which fits for desktop extension.
SuperSpeed USB3.0, Amazing Experience
ORICO SuperSpeed USB3.0 hub built in with a 3rd-gen VL812 USB3.0 controller which provides an easy and reliable connection with a transfer speed of up to 5 Gbps, 10x greater than USB2.0 that allows users to add 7 USB3.0 ports for your computer in seconds, backwards compatible with USB2.0 and 1.1.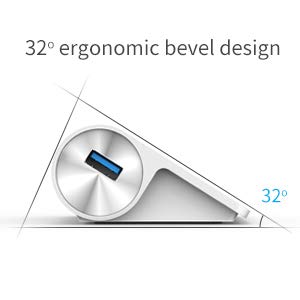 Product Features
Hub can't be used as a charger.
Some USB3.0 devices require direction connection to host ports.
2.4Ghz wireless devices such as keyboard / mouse receivers, bluetooth and WiFi adapters may not work with USB3.0 ports. Try to use USB2.0 connection.
For a stable connection, don't use this hub with high power-consumption devices, such as external hard drives.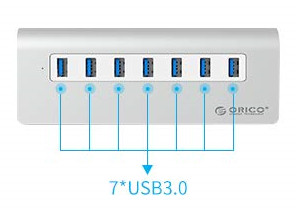 ORICO M3H7-U3
1 x ORICO 7 Ports USB3.0 Aluminum Hub
1 x 3.3Ft. USB3.0 Cord
1 x DC12V Power Adaptor
1 x User Manual
1 x Service Card
ORICO M3H10-U3
1 x ORICO 10 Ports USB3.0 Aluminum Hub
1 x 3.3Ft. USB3.0 Cable
1 x DC12V Power Adapter
1 x User Manual
1 x Service Card
ORICO M3H73P-U3
1 x ORICO 10 Ports USB3.0 Aluminum Hub 3 Charging Ports
1 x 3.3Ft. USB3.0 Cord
1 x DC12V Power Adaptor
1 x User Manual
1 x Service Card