NETGEAR AC750 Dual Band Wi-Fi Router
Powerful Performance. Smoother Streaming.
An 802.11ac simultaneous dual band Wi-Fi router ideal for medium to large home use, with wireless speed of 300 Mbps on 2.4 GHz and 433 Mbps on 5 GHz. Its dual external antennas deliver robust signal strength and great coverage. Four Ethernet LAN ports let you connect wired devices like your game console, TV, and streaming player. You can create a guest network where visitors can access Internet but not your home network. A browser-based installation allows you to get your router up and running in minutes, and a mobile app is also available for easy monitoring and control of your network from your phone or tablet.
AC750 WiFi—Up to 300 + 433 Mbps speeds
Simultaneous dual band reduces interference
External antenna for better range and throughput
AC WiFi compatible with current and future WiFi devices
Nighthawk App—Easily set up your router and get more out of your WiFi
Speed
Speed makes video streaming better. Speed makes online gaming more fun. Speed makes all your devices really go. And any place you need speed, with NETGEAR you got it. Fast download speeds up to 750 Mbps. WiFi with dual band technology providing whole home coverage. Everything you need for a fast connected home.
Faster AC WiFi—Up to 300 + 433 Mbps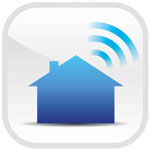 WiFi Range
Homes come in all shapes and sizes. The NETGEAR AC750 WiFi Router provides WiFi connectivity throughout your home for all your Internet-enabled devices.
Range—For medium to large homes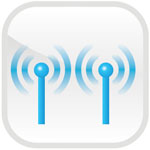 Reliability
Stay connected—with your devices, your media, and your friends. Simultaneous Dual Band WiFi provides two separate WiFi networks—2.4 GHz for legacy devices and 5 GHz which is less interference-prone for media streaming.
Simultaneous dual band—Reduces WiFi interference & doubles bandwidth
Sharing
With NETGEAR, sharing across your network is fun and easy, like accessing stored photos and music.
Wireless-AC—Email, chat, surf, music, video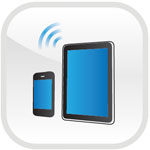 Ease of Use
NETGEAR makes it easy to do more with your digital devices. Or, use Push 'N' Connect to add devices to your WiFi network with a push of a button. And the simple browser-based installation with no CD makes router installation easy using an iPad, tablet, smartphone, or computer.
Easy to install—Easy setup for iPad, tablets, smartphones and computers
Push 'N' Connect—Easy push button WiFi connections (WPS)
WiFi and power on/off—Convenient power savings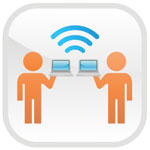 Security
Guest networks create a completely separate WiFi network for your guests' devices so they do not have access to your home network. Secure WiFi connections offer high level WPA/WPA2 security.
Guest network access—Separate and secure access for guests
Secure WiFi connections—High level wireless security with WPA/WPA2