The MSI B350 PC MATE motherboard combines a wealth of features and unmatched quality and stability MSI is renowned for, making it a trustworthy foundation for your new PC build. It supports multi-GPU configuration, features 32Gbps M.2 slot and 10Gbps USB 3.1 Gen1 Type-C port, and is built with Military Class 4 components for the best protection, efficiency and durability. Based on AMD B350 chipset, this gaming motherboard works flawlessly with AMD RYZEN Series processors and 7th Gen A-series / Athlon Processors in AM4 packaging. If you're looking for a powerful, reliable and stable motherboard for building your Ryzen-based powerhouse, look no farther.
Making Your Life Easier
Combining quality you can rely on with top performance and clever business solutions are key aspects of the MSI PRO SERIES motherboards. Engineered to gratify even the most demanding professional, these motherboards will fit in any PC. Making your life easier and supporting your business with super stable, reliable and long-lasting top performance.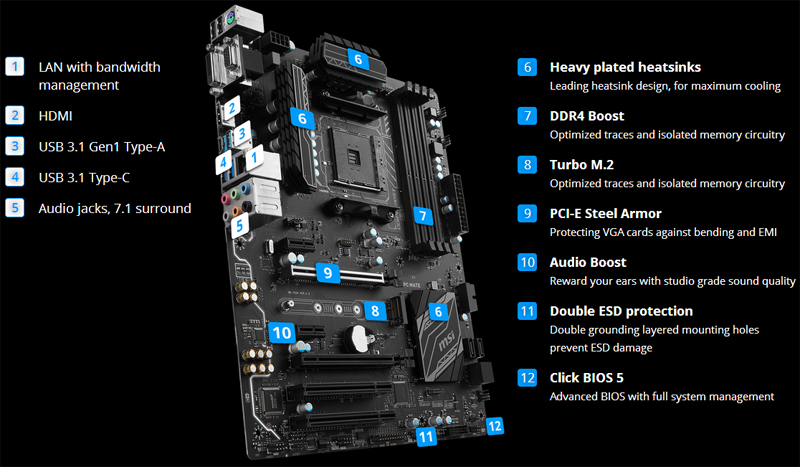 COOLING
Stay Cool
Cooling your PC is essential for reliable performance. 'Enough fan headers with full control are included to allow you to cool your system to the max.
Looking Cool While Keeping Cool
High quality materials and smart fan optimizations contribute to cooling all essential components, which is key to making sure your system runs stable at the best performance during long gaming sessions.

Fully Controllable Fan Headers
MSI motherboards let you manage speeds and temperatures for all your system and CPU fans, giving you full control to set up a cool & silent system. The fan headers are conveniently placed with the most popular CPU coolers in mind.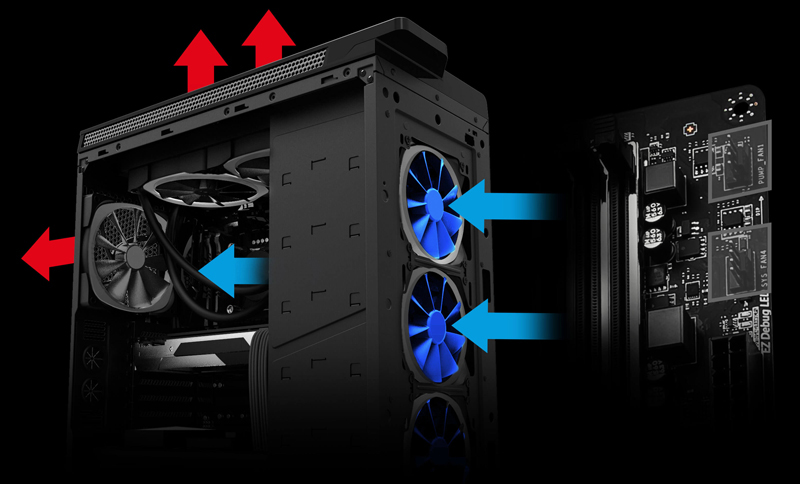 DC or PWM Mode with Hysteresis
MSI fan headers automatically detect fans running in DC or PWM mode for optimal tuning of fan speeds and silence. Hysteresis also makes your fans spin up fluently to make sure your system stays silent, no matter what.
* This feature may vary according to your platform and model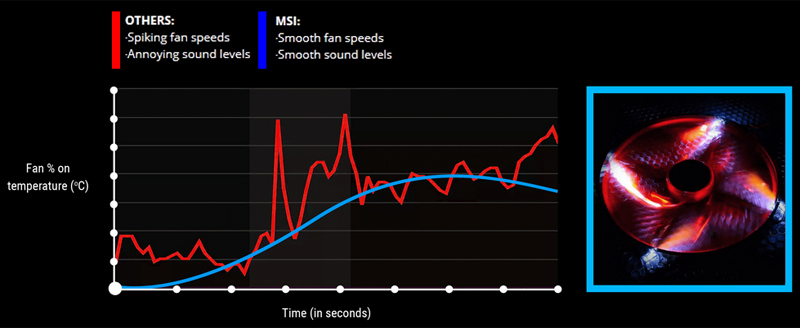 Total Control in BIOS and Software
Total Fan Control allows you to take control of your fans and check your primary system characteristics in a simplified graphical interface. You can also set up to 4 temperature targets for CPU and motherboard, which will adjust the fan speeds automatically.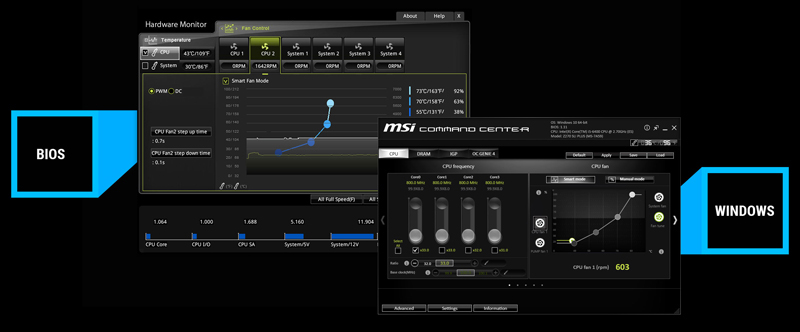 Optimized for Water Cooling
Designed to support the most popular All-In-One & custom water cooling solutions on the market. A dedicated water pump PIN header supports up to 2 amp, giving you full control of the water pump speed. A clearly marked 'keep-out-zone' allows for easy and safe installation and a perfect fit.
Waterpump Header
Up to 2A supported
Speed control from BIOS and OS


DISPLAY
Enjoy the Latest Video Standards
Supporting the latest display connectors for new technologies (OLED, HDR) and legacy connectors for beamers, MSI motherboards are designed to make life easier for any professional user.
Legacy DVI / VGA Video Support
To support professional monitors, TVs, beamers and other displays, this MSI motherboard features DVI and a VGA video output. No matter what screen type you want to connect, using a dedicated graphics card or an onboard connector, MSI motherboards have you covered.

Want More Performance? Try Multi GPU!
Gaming enthusiasts are always looking for more performance to get the ultimate experience. Using multiple graphics cards is a great way to find out just how good it gets. MSI GAMING motherboards fully support multi GPU technologies and have optimal PCI-E slot placement for the best thermal performance.
*works best with MSI graphics cards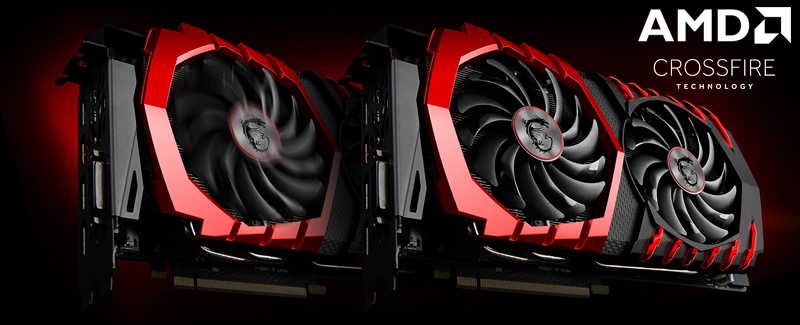 4K UHD
Enjoy awesome 4K UHD (2160p ultra-high definition) video playback with MSI motherboards.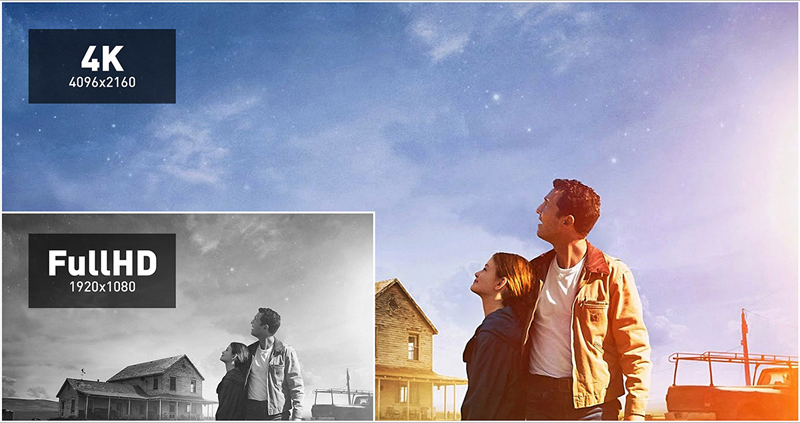 STORAGE
Be the First to Boot Up in the Morning
This MSI product supports all the latest storage standards. This allows you to connect any ultra-fast storage device, giving you noticeable benefits. Start programs faster, load data faster and increase productivity.
Turbo M.2
Enjoy a blazing fast system boot-up and insanely quick loading of applications and data. Delivering speeds up to 32Gb/s per device using Gen3 x4, Turbo M.2 is over 5 times faster than a regular SATA III connection!

XBoost Your Storage Performance
This great little tool is very simple to use and automatically detects your storage devices connected to the system. When enabled, X-Boost optimizes your SSDs to keep your system fast and maximize storage performance, saving you a lot of time when loading or transferring data.

SATA Mass Storage
Each MSI motherboard comes with enough SATA ports to connect loads of HDDs for long term storage of large files and system backups.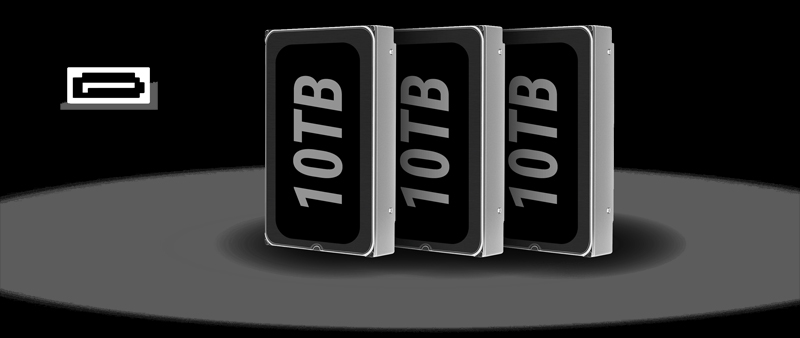 AUDIO
Professional Sound Quality
Get the most immersive sound experience. MSI Audio Boost delivers the highest sound quality through the use of premium quality audio components. This lets you enjoy breathtaking, game-changing sound to create the most dynamic soundscapes.
Amplify Your Game with Audio Boost
Built on years of experience in building motherboards dedicated to giving gamers true Hi-Fi sound. Audio Boost has developed into a high quality audio unit, offering a clear advantage over your opponents when gaming. Locate your enemies with your eyes closed using Audio Boost.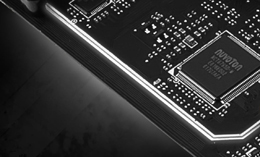 Isolated Audio Design with LED Border
Audio Boost operates like a dedicated soundcard by being physically isolated from the rest of the motherboard circuitry to ensure the purest audio signal possible. A bright border illuminated by LEDs showcases and protects the Hi-Fi audio unit.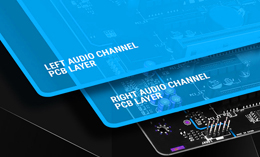 Separated Audio Layers for Clean Left & Right Channels
Using separated layers in the PCB ensures equally pristine sound quality for both left and right audio channels.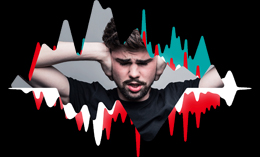 De-Pop Protection
Audio Boost protects your ears by eliminating those annoying loud popping sounds when you plug/unplug devices or turn your PC on/off.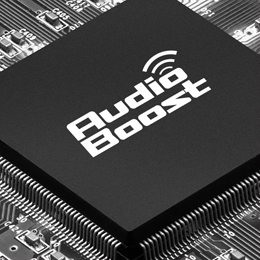 Dedicated High Definition Audio Processor
Audio Boost is powered by an EMI-shielded high quality HD audio processor, making sure you enjoy the purest sound quality in both stereo and surround sound.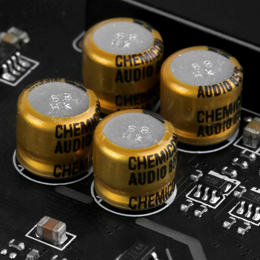 Chemi-Con Audio Capacitors for a Warmer Sound
By dedicating golden audio capacitors to the front output, a high fidelity sound experience with exceptional acoustics and realism for studio level headphones is ensured. The Chemi-Con audio capacitors are widely considered to be one of the great choices for the best sound output.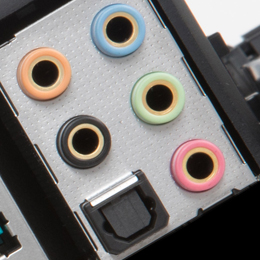 Premium Connectors for Optimal 7.1 Sound Quality
With premium audio connectors you get the best possible signal output with the least chance of distortion. Using gold also prevents any corrosion or oxidation in the long run, which could impact signal quality.
NETWORK
Stable, Secure & Fast Networking
Optimized for professional and multimedia use, this generation comes equipped with a high quality network solution ready to serve you with 24/7 reliability when transferring big data.
Stable, Secure Networking
The Gigabit network adapter on MSI Professional motherboards offers fast, reliable and secure networking.
Featuring Network Genie for easy-to-use bandwidth optimizing
Allows you to change applications' traffic priority
Perfect for cloud computing and data syncing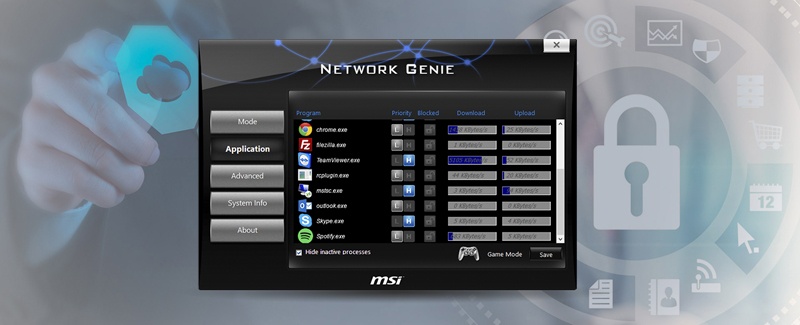 LAN Protect to Shield Your System against Power Surges
Featuring 15KV anti-surge protection to shield your network from lightning strikes and static electricity, the LAN Protect connector is designed to give you a reliable networking experience.
MEMORY
Unmatched Memory Performance
MSI motherboards are crammed with features to fuel your system's memory with more speed, higher overclockability and increased stability.
Enhanced Stability with Optimized Memory Layout
Optimized traces and a fully isolated memory circuitry ensure perfect stability and performance, so you never have to worry about your system crashing.

Memory Speed Impacts Performance
The technical enhancements of DDR4 Boost allow for more stability at higher memory speeds compared to other brands. Enjoy the additional boost in gaming performance or when working with large video and photography files.
* Benchmarks conducted with The Witcher 3 RYZEN, GTX 1080, 1080P, Max settings, Hairworks off.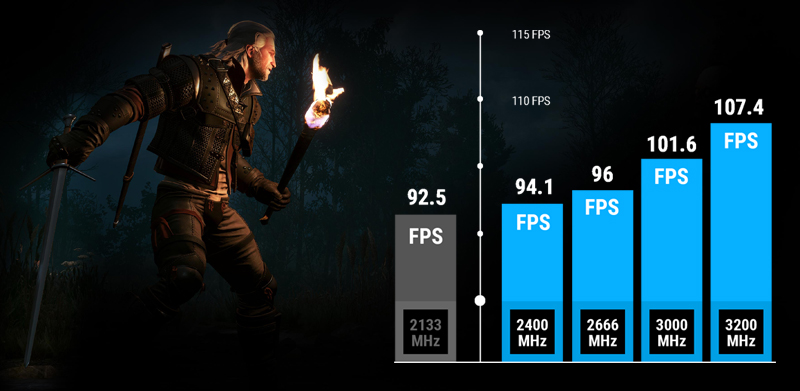 Extreme Stability & Compatibility Testing
MSI conducts thorough memory testing with the most popular memory brands under extreme conditions to ensure your system runs stable no matter what. MSI's memory partners include brands like Corsair, Crucial, Kingston, G.Skill and many more to optimize memory modules, configurations and even improve overclocking.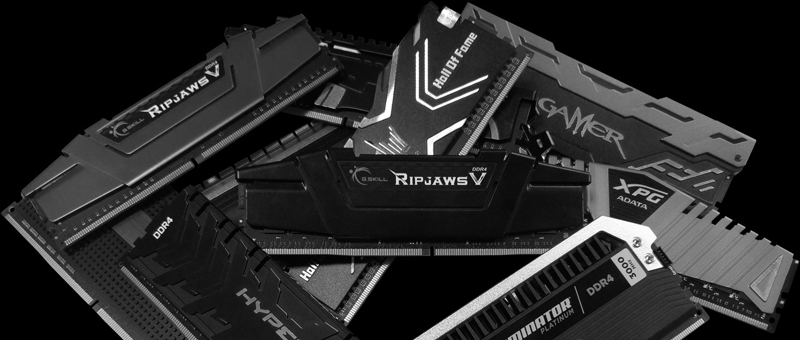 TUNING
Designed for Limitless Tuning
Founded on experience and with a long history of creating the best performing motherboards packed with smart features, you can count on this motherboard to deliver the best performance under the most extreme conditions. Countless system tuning and troubleshooting tools are at your disposal to push your system to new heights and satisfy even the most demanding tweaker.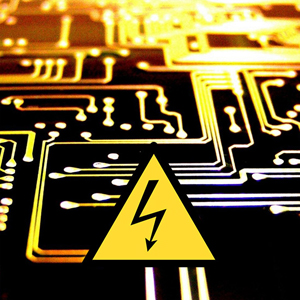 Overvoltage Protection
Prevents potential short-circuit damage to the CPU and other critical components.
EZ Debug LED
Run into trouble? Onboard LEDs for key components will indicate the source of the problem so you know exactly where to look to get up and running again.
USB
Maximize Your USB Device Performance
Transfer lots of data, music and movies over USB faster than ever. MSI offers a wide variety of options to connect and boost your USB 3.1 devices, delivering lightning-fast transfer speeds!
Type-C Reversible Connector for Next-Gen USB
Get all the performance benefits from USB 3.1 combined with the convenience of the USB Type-C connector. This reversible USB connector allows for effortless connecting of USB devices.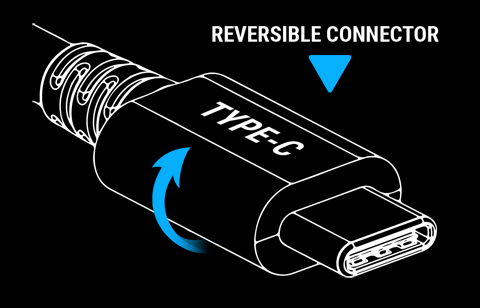 X-Boost Your USB Performance
When enabled, X-Boost optimizes your devices for even better transfer speeds and can provide up to 30% increase in USB performance, saving a lot of time when transferring data. This handy tool is very easy to use and automatically detects & optimizes the USB devices connected to your system.

Super Charge Your Phone & Battery-Powered Gear
MSI Super Charger USB ports charge any connected device faster. It delivers more power than regular USB ports to your smartphone, tablet, USB peripherals or other battery-powered gear.
Front Side USB Faster Than Ever With USB 3.1
Ready for next generation cases and perfect to use with the latest smartphones, the onboard front side USB connector now offers ultra-high speed through USB 3.1 with Type-A.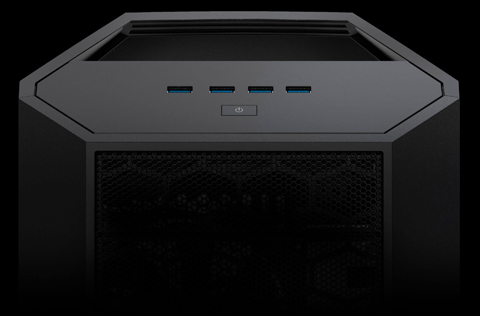 Double ESD Protection
Never worry about damage caused by defective USB devices. The USB ports on MSI motherboards are shielded by a set of protective ICs to prevent damage caused by Electrostatic Discharge (ESD) from plugging/unplugging USB devices.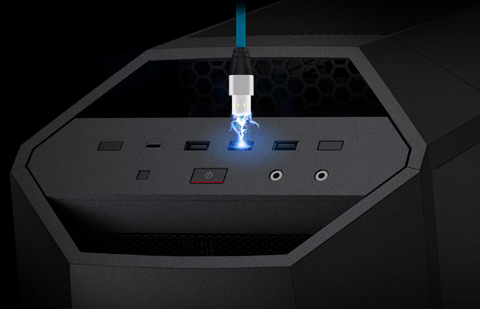 SOFTWARE
Apps to Greatly Improve Efficiency
With years of experience in creating performance enhancing tools that are easy to use, only the highest quality applications are at your disposal. Use these tools to get the most out of your motherboard and achieve victory when gaming.
X-Boost Your Storage
This unique and exclusive software allows you to boost the performance of any storage or USB device connected to your system. Simply use X-BOOST's Easy or Advanced mode to tune your system for up to 20% increased speeds, higher system responsiveness and faster loading of in-game levels.


Take Command of Your System
MSI's Command Center software is the perfect tool to get the most out of your motherboard. With an intuitive interface, Command Center allows you to tune settings to increase system stability, maximize performance and optimize your system's cooling features.

Always Up-to-Date
Never miss out on important updates. MSI Live Update automatically downloads and installs the latest drivers, BIOS and software so you can focus on your game.
"...the best update package available on any motherboard." - Anandtech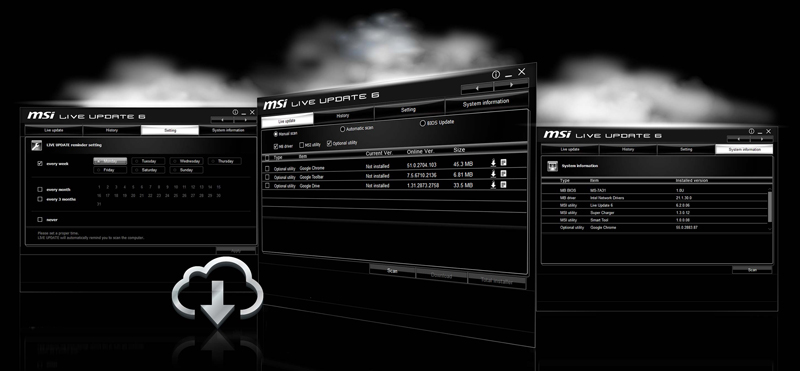 SSD Not Fast Enough? Try MSI RAMDISK
MSI motherboards include RAMDisk, allowing you to create a virtual drive from your system RAM memory. Instantly load your software, speed up your browser or your page file to significantly speed up your system!
Speed up system performance, over 25x faster than a SATA SSD
Speed up games, apps and browser
Increase SSD lifespan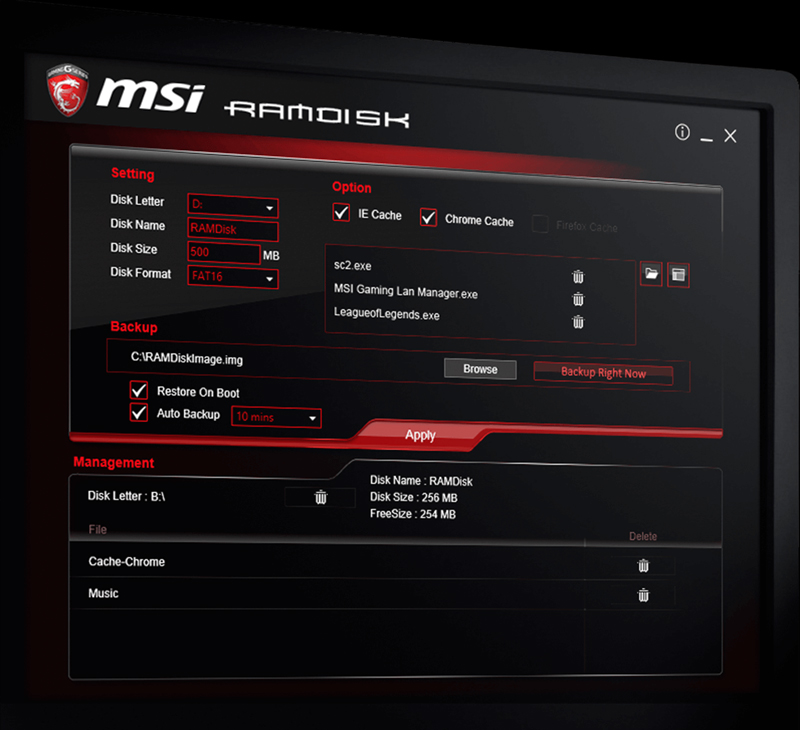 QUALITY & PROTECTION
Built on Everlasting Quality
Using only the finest quality components and integrating the latest technological innovations delivers the best possible professional experience. Rigorous quality testing under the most extreme conditions ensures a super reliable, long-lasting and high performance motherboard.
Fortify Your System with PCI-E Steel Armor
MSI PCI Express Steel Armor slots are armed with more solder points on the motherboard for a stronger hold, preventing any damage due to heavy-weight graphics cards. Steel Armor also protects PCI Express signals against electromagnetic interference to provide a pure and reliable signal for the best performance, even when turning it up a notch.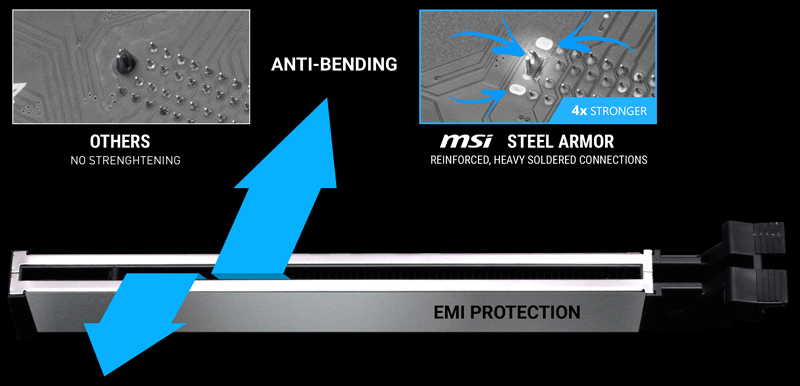 Ultimate Motherboard Protection
Enjoy your system endlessly. MSI motherboards feature Double ESD protection with double layer grounding around the motherboard mounting holes, preventing Electrostatic discharge (ESD) surges from damaging the motherboard.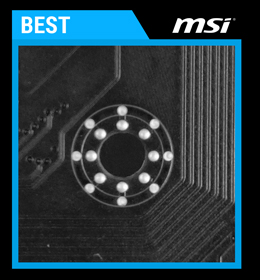 DOUBLE ESD PROTECTION - BEST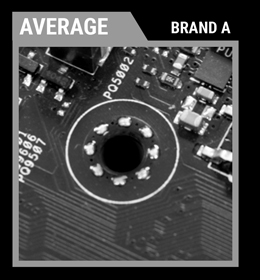 SINGLE ESD PROTECTION - AVERAGE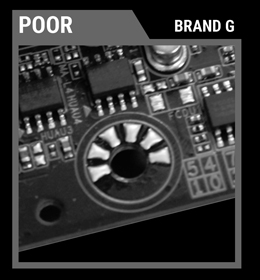 SEMI ESD PROTECTION - POOR
Super Stable with the Highest Quality Components
MSI uses Military Class 4 components, which is the latest evolution of the industries' highest quality standard. These high quality components are shielded by the best protection to make sure your system runs smoothly under the most extreme conditions.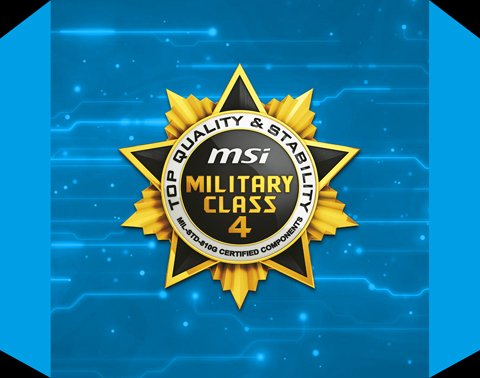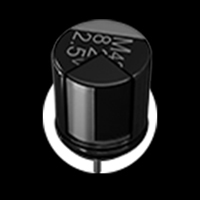 Solid Cap
A key ingredient in high-end motherboard designs, Dark Caps have lower Equivalent Series Resistance (ESR) and an increased lifespan of over 10 years.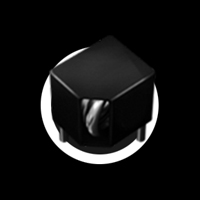 Dark Choke
A special core design allows the Dark Choke to run at a lower temperature offering better power efficiency and stability.

Windows 10 Certified
With MSI you benefit from great compatibility and a worry-free user experience when using Microsoft Windows 10. With a true dedication to performance, MSI's R&D team has made sure everything works as intended when using the latest version of Microsoft Windows on any MSI product.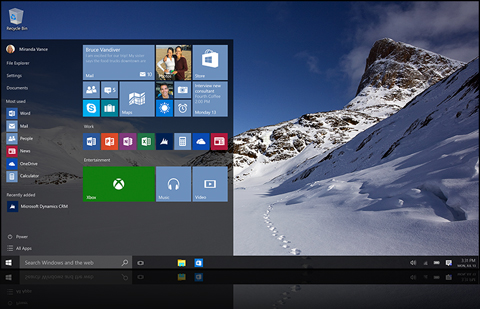 BIOS
A User-Friendly BIOS
The MSI BIOS contains all the latest options and is easy to use for everyone. The extensive features found in CLICK BIOS 5 let you fine-tune your system to deliver reliable maximum performance.
Easy To Read, Hi-Res Bios Font
An award-winning, high-resolution, scalable font is used to make CLICK BIOS 5 easy to read, no matter what type of screen you use. The clean design layout, together with this great font, makes CLICK BIOS 5 a true next gen UEFI BIOS.

OTHERS
Low res, non-scalable

CLICK BIOS 5
Sharp, hi-res, scalable design
Easy Mode for Quick Tweaks
When you just want to get back to work, EZ-mode presents you with basic BIOS settings and functions for some quick adjustments. If you feel like spending more time fine-tuning options to boost your system's performance, the Advanced mode is the way to go.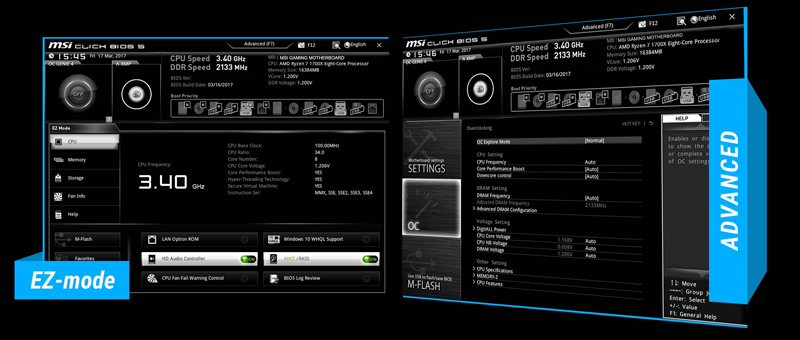 Hardware Monitor with Fan Control
Hardware monitor lets you take control of your system and check your primary system vitals in a simplified graphical interface. You can also set up to 4 temperature targets for CPU and motherboard, which will adjust the fan speeds automatically.
Make Your SSD as Fast as New With Secure Erase+
When using an SSD, its performance will slowly decrease over time as more and more data is written onto it. This will slow down Read/Write speeds and increase access times of your SSD, making your system feel sluggish. Using an optimized formatting algorithm, Secure Erase+ lets you enjoy your SSD at maximum speed, making your system feel brand new!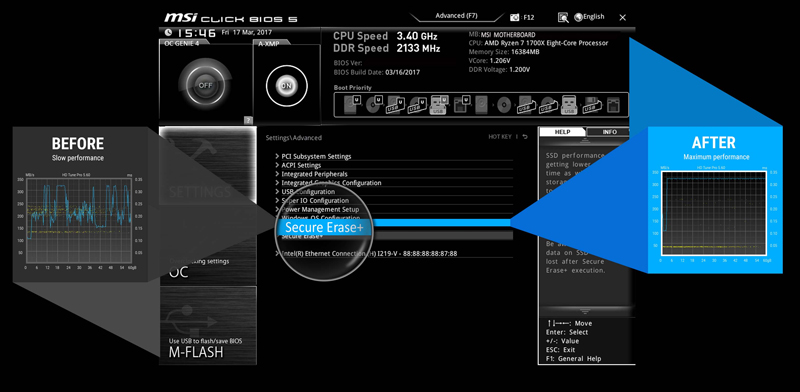 Instantly Optimize and Boost Your Performance
CLICK BIOS 5 provides easy access to XMP memory profiles to optimize your system's memory timings and speeds for maximum stability and performance. Safely overclock your CPU with a single button for more performance using MSI OC Genie.
* Features may vary according to your platform and model.