MSI PRO B365M PRO-VDH
Powered by Intel B365 chipset, this motherboard seamlessly works with 9th/8th generation Intel Core processors, which have up to 8 cores. Its micro ATX form factor boasts quad memory slots, a PCIe x16, dual PCIe x1, and an M.2 PCIe slot, enough for you to build a gaming or home/office PC. And manufactured with premium quality components and excellent circuit design, this board offers solid foundation for your next powerhouse. VGA, DVI and HDMI outputs are built onboard*.
PRO Series motherboards combine stable functionality and high quality assembly for clever business solutions. Designed to satisfy any professional workflow, PRO Series motherboards are ideal for any business.
* Processors with integrated graphics are required for these video outputs to function.
Supports 9th / 8th Gen Intel Core / Pentium Gold / Celeron processors for LGA 1151 socket
Supports DDR4 Memory, up to 2666 MHz
Turbo M.2: Running at PCI-E Gen3 x4 maximizes performance for NVMe based SSDs.
Core Boost: With premium layout and fully digital power design to support more cores and provide better performance.
Audio Boost: Reward your ears with studio grade sound quality.
EZ Debug LED: Easiest way to troubleshoot.
X-Boost: Software that auto-detects and allows you to boost the performance of any storage or USB device.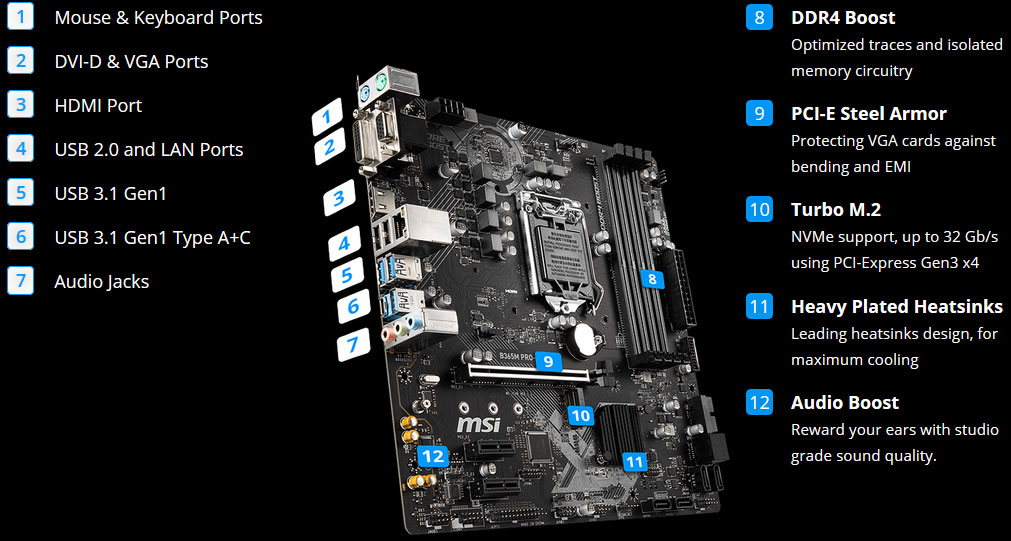 9th and 8th Processors Support
MSI B365 motherboards perfectly support Intel 9th and 8th processors, so you can still enjoy latest MSI motherboard technology if you use 8th processors. Combining MSI Core Boost, you can release maximum performance no matter what CPU you use.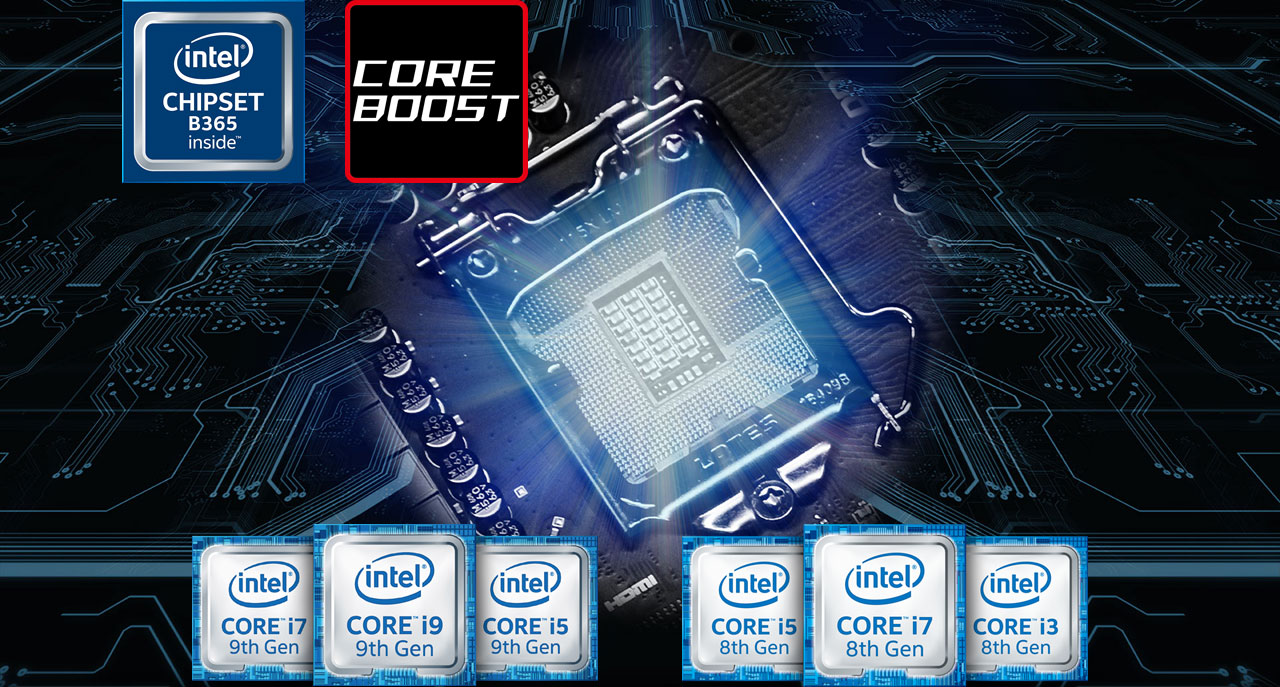 Extreme Stability & Compatibility Testing
MSI conducts thorough memory testing with the most popular memory brands under extreme conditions to ensure your system runs stable no matter what. Our memory partners include brands like Corsair, Crucial, Kingston, G.Skill and many more to optimize memory modules and configurations.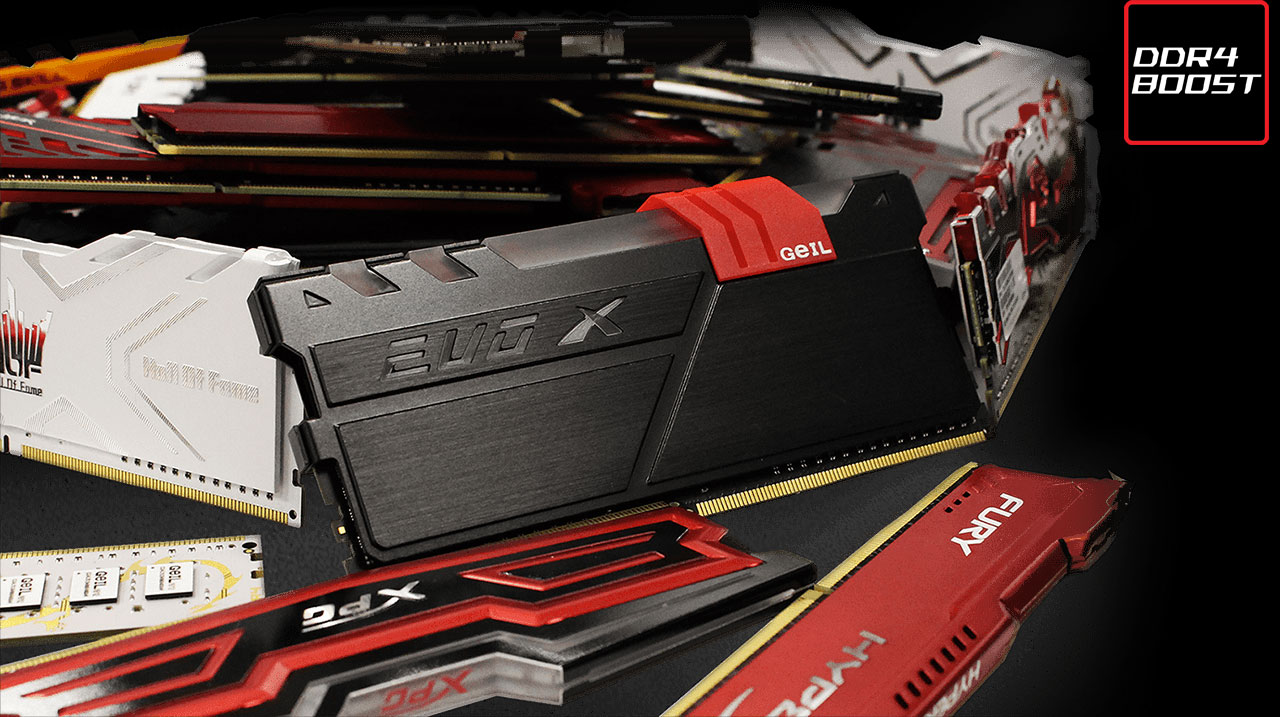 Fortify Your System with PCI-E Steel Armor
MSI PCI Express Steel Armor slots are armed with more solder points on the motherboard for a stronger hold, preventing any damage due to heavy-weight graphics cards. Steel Armor also protects PCI Express signals against electromagnetic interference for a pure gaming experience and even higher overclocking.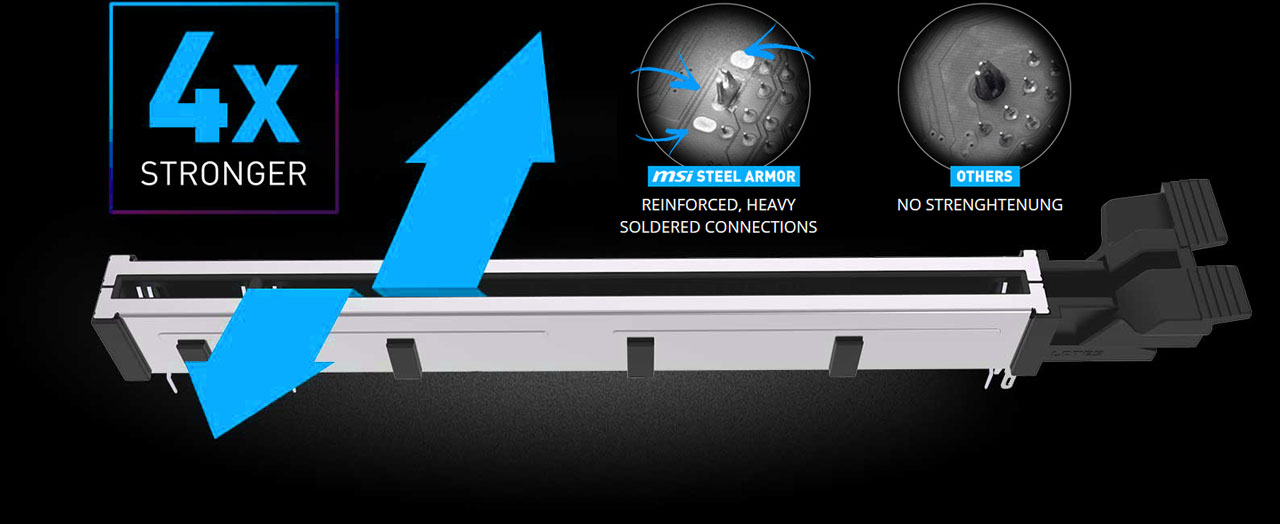 Super Stable Gaming with the Highest Quality Components
MSI uses the high quality components , which are shielded by the best protection to make sure your system runs smoothly under the most extreme conditions.
Solid Cap
With their aluminum core design and Japanese made quality, Solid CAPs are made for high-end design motherboard. Not only do Solid CAPs could provide lower Equivalent Series Resistance (ESR), but also work firmly for over-10-year.
Dark Choke
A special core design allows the Dark Choke to run at a lower temperature offering better power efficiency and stability.

Ultimate Motherboard Protection
We've made sure you can enjoy your system endlessly. MSI motherboards feature Double ESD protection with double layer grounding around the motherboard mounting holes, preventing Electrostatic discharge (ESD) surges from damaging the motherboard.
DOBUBLE ESD PROTECTION
BEST (MSI)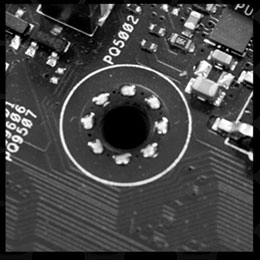 SINGLE ESD PROTECTION
AVERAGE (BRAND B)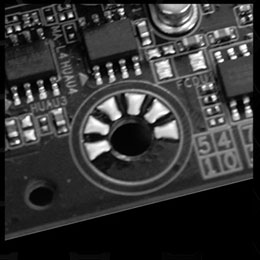 SEMI ESD PROTECTION
POOR (BRAND G)
Unmatched Memory Performance
Optimized layout design and a fully isolated memory circuitry ensures perfect stability and performance. You never have to worry about your system crashing during games with MSI DDR4 BOOST.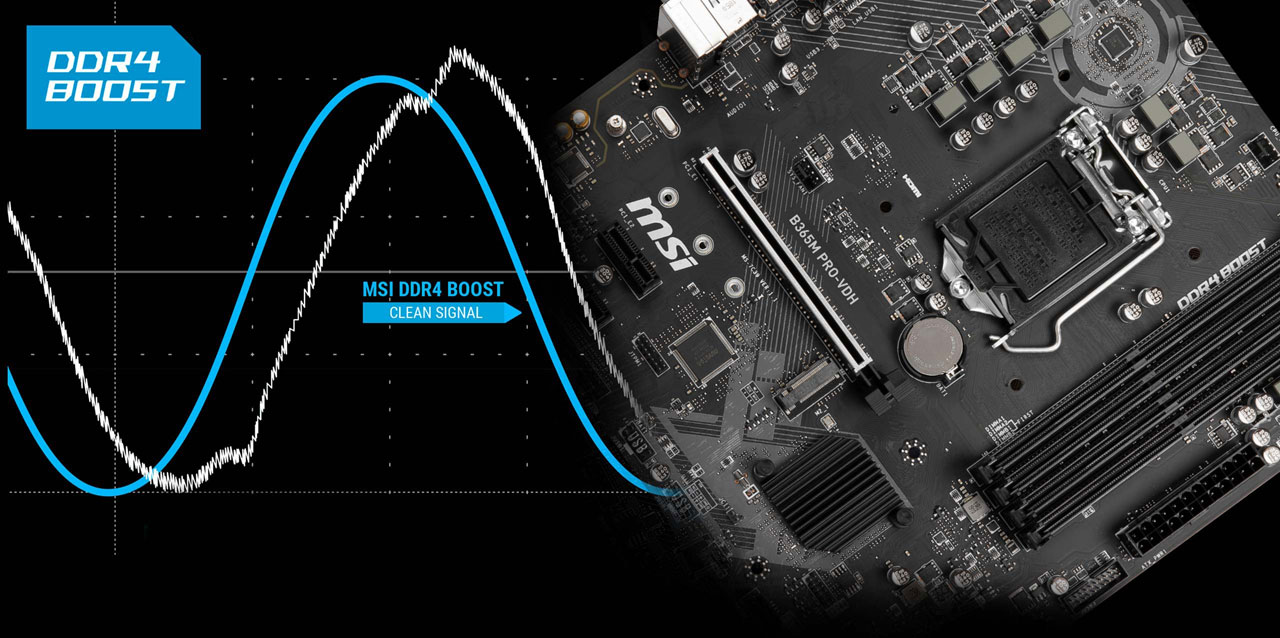 Easy XMP
Enable Intel Extreme Memory Profile with ease using a single option in the BIOS to gain performance and create a perfectly stable system.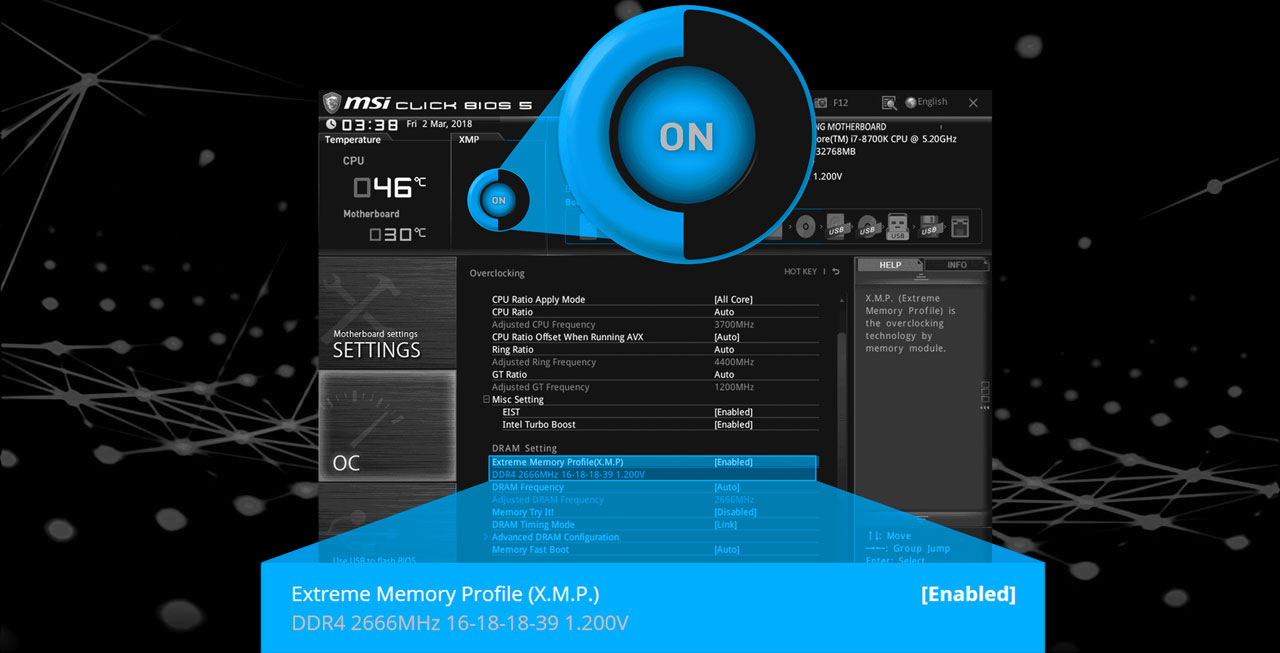 Autodetect DC or PWM Mode with Hysteresis
MSI fan headers automatically detect fans running in DC or PWM mode for optimal tuning of fan speeds and silence. Hysteresis also makes your fans spin up fluently to make sure your system stays silent, no matter what.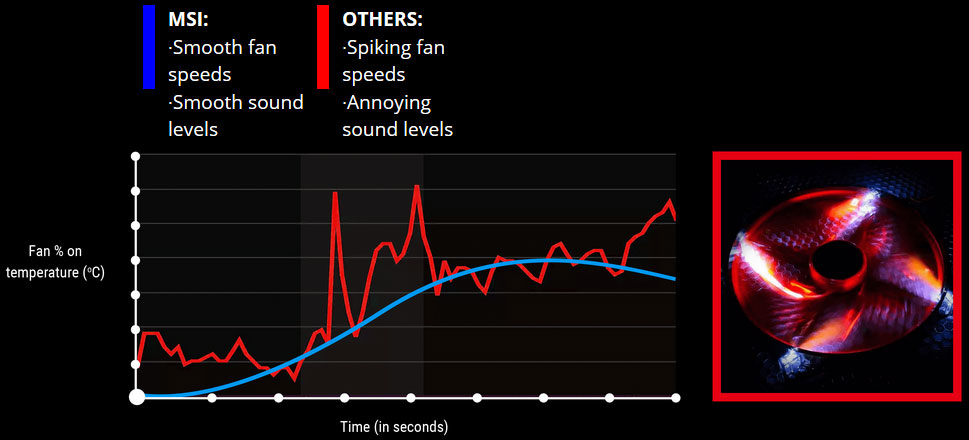 Keep Out Zone
MSI motherboards circuitry ensures the case standoff keep out zones are pure and clean, preventing any component contact or damage to the motherboard.
* Please ensure to remove the unnecessary mounting stand-off when installing the motherboard into the case.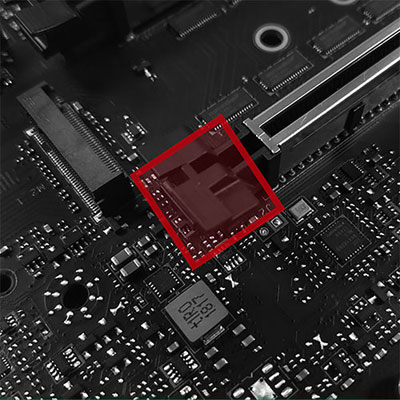 XL Clip
The enlarged PCI-E clip helps you swap or remove your devices easier. Keep the PCI-E slot stronger and safer.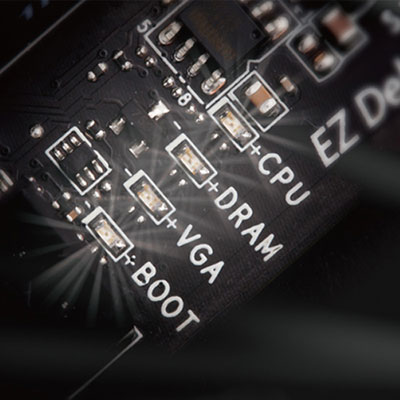 EZ Debug Led
Run into trouble? Onboard LEDs for key components will indicate the source of the problem so you know exactly where to look to get up and running again.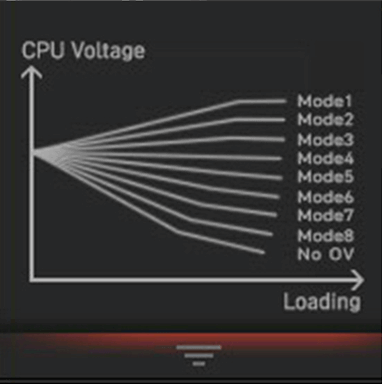 Load-Line Calibration
What you set, is what you get. LLC makes sure your CPU voltage remains 100% stable under any load. This greatly improves stability when demanding more CPU performance.
Overvoltage Protection
Prevents potential short-circuit damage to the CPU and other critical components.
Sound That Pulls You into the Game
Reward your ears with studio grade sound quality. MSI Audio Boost delivers the highest sound quality through the use of premium quality audio components. This lets you enjoy breathtaking, studio quality sound to create the most immersive sound experience.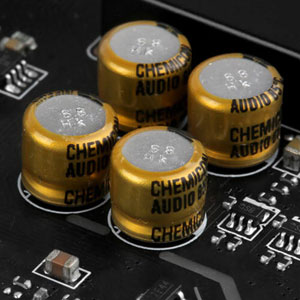 High Quality Audio Capacitors
A high fidelity sound experience with exceptional acoustics and realism for studio level headphones is ensured.
HD Audio Connectors
Keep your sound perfect by transmitting your audio with pure digital signal.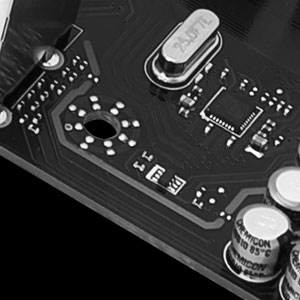 Isolated Audio Design
EMI-shielded HD audio processors let you enjoy the purest sound quality in front and rear connectors.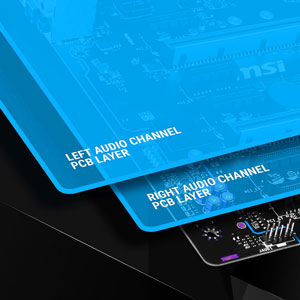 Separated Audio Layers for Clean Left & Right Channels
Using separated layers in the PCB ensures equally pristine sound quality for both left and right audio channels.
De-Pop Protection
A de-pop filter eliminates loud popping noises that occur when devices are plugged/unplugged or when the PC is turned on/off.
Click Bios 5
We made sure our BIOS contains all the latest options and is easy to use for everyone. The extensive features let you fine-tune your system to deliver reliable maximum performance when gaming.
XMP
Extreme Memory Profiles which simplify RAM overclocking on Intel motherboards.
M-Flash
Allows user to conveniently flash, or upgrade the BIOS from the CMOS Setup Utility.
Hardware Monitor
Shows you critical hardware information in real-time, such as temperature, usage, clock speed, and voltage.
Total Fan Control
Check and manage speeds and temperatures for all your system and CPU fans.
Secure Erase+
Using an optimized formatting algorithm, lets you enjoy your SSD at maximum speed, making your system feel brand new!
Memory Try It
Best way to get maximum speed out of your system memory and gaming performance.
M.2 Genie
Brilliant feature to make setting up RAID 0 for M.2 and U.2 much easier and less time consuming.
Search & Favorites
A permanent search & favorite option in the top right corner can be used to find what you need.