$124.99
Sale Ends in 13 Hours -
Are you an E-Blast Insider?
Wavlink USB 3.0 Universal Docking Station, Vertical Aluminum Laptop Docking Station, Dual Monitor Display USB3.0 Dock For HDMI/DVI/VGA, Gigabit Ethernet, 6 USB 3.0 Ports, Audio, For Windows & Mac
Limited time offer, ends 05/15 By Wavlink Technology Marketplace
Dock built in dual screen support through 1080P HDMI and DVI ports, HDMI port supports resolutions up to 2560x1440 and DVI/VGA port supports display resolutions up to 2048x1152 / 1920x1200, if dual displays are connected, each will be limited to a maximum resolution of 1920x1200, DVI to VGA adapters are supplied for added flexibility.
Gigabit ethernet port gives access to superfast network speeds, provide a rapid guest networking for you. Backward compatible with 10/100 ethernet.
Easily add 6xUSB 3.0 SuperSpeed ports to your PC and enjoy data transfer rates of up to 5Gbps for faster sync times.
System Support: Windows 10, 8, 7,& legacy XP systems,Chrome OS R55. Attention: Surface RT, Mac OS (10.13.4 - 10.13.6)/Linux/Unix are not supported. Docking station is suggested for use with web and productivity software; not recommended for gaming
Primary / Extend / Mirror Video Mode
Unique Aluminum Vertical design, certified by DisplayLink.
Working online and Online class companion
Vertical Stand USB 3.0 Universal Docking Station
With one laptop, you can perform a wide variety of functions such as multi-monitor, Gigabit Ethernet Adapter, Hub, Audio, which is designed to bring a different user experience. WAVLINK company is dedicated to meet any customer requirements in reality scene. Here comes the Vertical Stand docking station ---UG39DK7!
Simple cable connection to your computer, you can have access to large screen displays, stereo speakers,Gigabit Ethernet network, external hard drive, optical disk drive, printers, USB keyboard, mouse and other USB devices. All in one !
With this Universal laptop docking station, you can connect up to 11 devices !
4 USB 3.0 device + 2 USB C device + 1 Gigabit Ethernet + Audio/Mic device + 2 monitors (expandable up to 6 monitors with additional equipment) using just one USB cable connected to your laptop, pc or Surface Pro! One Dock For All !


* Build in USB 3.0 GPU certified by DisplayLink
* HDMI and DVI Dual video interface ports support up to 2048 x 1152 resolutions
* 5.1 Channel surround sound through HDMI interface
* 4 x USB 3.0 transfer speed up to 5 Gbps
* 2 x USB-C 3.1 port support 5Gbps data transfer and 5V/3A charging
* Hot plug and play
* Compatible with windows Vista/ 7/8/10 and Mac OS , Android 5.0 and higher.
* Primary / Extend / Mirror / Rotation Video Mode
* Expandable up to 6 Display units
Get all the benefits from this docking station, create the "home base workstation"
Strong Aluminum Construction
Unbreakable and durable use, which will bring a good news to the families with children without worrying about the naughty children to break it any more.
Vertical Stand - Space Saving Design
Maximize the space on your desk and enhance your productivity. It creates an organized and full-sized workstation with less clutter, which is great for your laptop, Macbook, Ultrabook.

4 x USB 3.0 type A ports + 2 x USB 3.1 Type C ports
With super speed 4 USB 3.0 ports transmission rate up to 5Gbps, the dock ensures compatibility with a vast array of peripherals such as external hard drives, printers and scanners. In addition, this high performance docking station add 2 USB-C port, The reversible USB Type C allows you to access your data using your latest version of USB C and gives you greater bandwidth and speed with file transfer rates of up to 5Gbps which can fast charge and transfer data simultaneously.
Multi-monitor Display
Adopted DisplyLink chipset, This Dock supports HDMI and DVI / VGA ( DVI to VGA adapters are supplied for added flexibility ) , provides the ultimate multi-monitor productivity and hot desk expansion. It allows you to easily connect extra monitors ( TV ) to your Laptop PC Ultrabook Tablet, a brand new visual feast for you.
Super Strong Certified GPU Performance
• An HDMI and a DVI port for connecting two external monitors and supports resolutions up to 2560×1440* (HDMI) and DVI / VGA to 2048×1152 / 1920×1200 & 1920 X 1080 (DVI-to-VGA adapter also included) NOTE :2560×1440 output only available when using a single HDMI display connected through the dock.
• Comes with 12V/3A AC power adapter, USB 3.0 Type-B male to Type-A male cable, and DVI-to-VGA passive port adapter.
• USB to Display supports distinct mode, rotate to 90/180/270 degree, extend mode, mirror mode
Blazing-fast Gigabit Ethernet
Coming with a RJ-45 port over 10/100/1000Mbps speed, you can quickly download large files, stream movies, and more.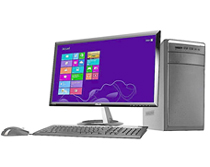 System requirement
Processor: 2.0Ghz Core2Duo or better
RAM: 1GB
Recommended Requirements (Full-Screen Video Playback)
Processor: Core i3 i5 or i7 2+GHz
RAM: 4GB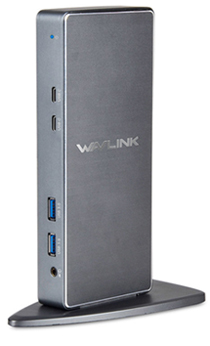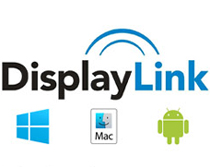 System Support
DisplayLink software can be used on PC's and available for PCs running operating systems Support for Windows 10, 8.1, 8, 7, XP & Mac OS. Android 5.x(Above) Tablet or phone
Audio Output
With audio output and MIC input into one hole, you can talk endlessly on your PC, or iPad.
What's in the package?
1x USB 3.0 Universal Dock
1x Super Speed USB 3.0 Cable
1x DVI convert to VGA Adapter
1x Quick Start Manual
1x Software Installation CD
1x DC12V Certified Power Adapter
Note:
• Does not provide power to attached host laptop or tablet, the host system will still require its power cable/charger. (DO NOT support USB-C 2-Way Data + Charging for Laptops.)
• This Laptop Docking Station is an Aluminum High performance one.
Warranty & Returns
Warranty, Returns, And Additional Information
Manufacturer Contact Info