Newegg TV Tuner & Video Device Learning Center Library
Table of contents
What does a TV Tuner do for me?
Do you want to watch HDTV any time when you are at your PC or laptop?

Do you want to take HDTV anywhere with your laptop?

Do you want to have a full-function experience for HDTV on your display?

Then a TV Tuner is exactly what you need. They come in variety of devices, including PCI/PCI-e card, USB stick or external TV Tuner box. You'll enjoy HDTV on your computer and be able to pause, record and burn content onto a DVD for your collection. Working with Windows Media Center will  make it easier to enjoy HDTV programs and manage your collection on a Windows PC. TV Tuner for Mac users are also available.

What type of TV Tuner should I purchase?
In the current market there are three types of TV Tuners: TV Tuner Cards, External TV Tuner Boxes and USB Tuner Sticks.

TV Tuner cards usually have a PCI or PCI-e interface. So you have to install it into the slot on  the  Motherboard before using it.

External TV Tuner Boxes have interfaces like VGA, DVI or HDMI that allow you to connect to your display directly without a PC.

With USB TV Tuners, you can plug into a USB port on your laptop or desktop, then bring HDTV wherever you go.

What specifications should I consider when purchasing a TV Tuner?
Interface:
PCI/PCI-e for desktop use, must plug into motherboard expansion slot.
USB for laptop and desktop, must plug into any USB 2.0 (or above) port .
VGA/DVI/HDMI, must be connected to display (TV or monitor).
TV Transmission Type:
Analog Signal -- NTSC
Digital Signal -- ATSC/Clear QAM
TV Standard :
Analog Tuner -- Single Tuner that only supports analog signal.
Digital Tuner -- Single tuner that only supports digital signal.
Hybrid Tuner -- Single tuner that supports digital and analog signals.
Combo Tuner -- One Digital Tuner and one Analog Tuner that can operate separately.
Dual Tuner -- Two Hybrid Tuners that can operate separately.
FM Tuner -- Single Tuner that supports FM radio on a PC.
Remote:
Regular Remote -- Same as a TV set remote that allows control of play back, volume, channels, etc.
MCE Remote -- Certified with Windows Media Center.
Low Profile:
If yes, you can install the device in a small form factor PC case, such as an HTPC. If no, the device should be installed in a regular form factor case.
Hardware Encoding:
If the device supports hardware encoding, less of the CPU will be used when recording HD video.
What are the differences between ATSC and Clear QAM?
There are a few different broadcast standards for HDTV in North America. Here are the differences.
ATSC:
These broadcasts are OTA (over-the-air, also called 'terrestrial') HD digital TV. ATSC is the new TV standard for over-the-air TV broadcasts. If you live in the U.S., you are familiar with the TV commercials which were run by the FCC in June of 2009 alerting U.S. residents to the switch over to HD TV. which is the new digital TV standard for North America.
The highest definition format for ATSC is 1080i. But many ATSC broadcasters transmit lower resolution TV, as low as 480i. Prime time sports programs, such as the Superbowl and the Olympics, are broadcast in 720P since this format is better for fast moving sport events.
If you are using a roof top antenna or rabbit ears in the U.S., after June 2009 you  will get ATSC over-the-air HD TV broadcasts (as long as you are using an HDTV ready TV tuner.
Clear QAM:
Clear QAM TV are free HDTV channels transmitted by cable companies. These are typically limited to local broadcasts only, (re-broadcasted ATSC channels.) Sometimes cable providers may pass some other channels in the clear as well, however you will not receive any premium or 'pay' channels with clear QAM. In general, the highest definition clear QAM channels are 1080i.  
Around the world, different regions have different TV broadcast standards.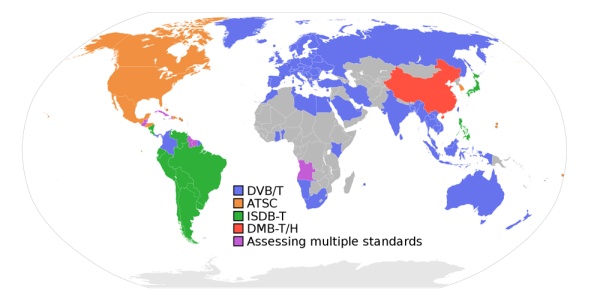 TV Tuner I/O Ports and Interfaces
VGA

This 15-pin VGA output port finds widespread usage and is responsible for connection to CRT monitors and LCD monitors that support analog input. Digital signals must go through RAMDAC conversion before being sent through the D-Sub port as it is capable of only analog input.
DVI
LCDs operate on digital signals, but some older graphics cards output only analog signals through the analog D-Sub port. This causes compatibility problems. To sidestep this problem, many LCDs are equipped with integrated ADC (Analog to Digital Converter).
This means, according to what has been said in the D-Sub section, that a digital signal is converted to analog and then reconverted from analog to digital again. It is a taxing process that does not produce the best final results. To solve this issue, many graphics processors feature integrated TMDS transmitters for direct digital output through the DVI port to ensure a pure, lossless digital signal all the way to the LCD screen. Many video cards are also being built with external TMDS transmitters onboard for the same purpose.
DVI ports complying with the DVI1.0 standard are the DVI-I, DVI-D and DVI-A types. Among them, the DVI-I port is capable of supporting both digital and analog output. The DVI-D, on the other hand supports pure digital output, while the DVI-A port supports pure analog output.

The DVI port most often seen on graphics cards is the DVI-I port, which, direct connection to LCD DVI port aside, will support a DVI to D-Sub converter in order to provide analog output. The DVI-D port is rather rare, but can still be found on a few video cards. DVI-A ports are almost non-existent on video cards.

Composite Video




The composite video port is built into home electronic devices including television sets and video recorders. The yellow RCA type connector is responsible for analog video signals, and the luminance (Y) and chrominance (C) signals are combined in a single channel. Older graphics cards often featured the composite video port for connection to AV devices.

The composite video port is gradually being phased out in favor of the S-Video port. With the help of a converter cable, an S-Video port can also be used to support composite video output.
Component Video

The component video signal is split and compressed into separate luminance ("Y") and (two) color values including red minus luminance (R-Y) and blue minus luminance (B-Y). The value for green is not transmitted. For color values that are neither red nor blue, the display device automatically "fills in the required color". A variant of this format is YPbPr. Component ports are being aggressively adopted by a growing number of video cards with the primary intention of HDTV output. They are typically seen bundled on modular adapters as the video card I/O bracket has limited space for three additional ports.
HDMI



Buy Media Players & TV Tuners at Newegg.ca