MP3 Player Buying Guide
Table of contents
Want music anywhere any time? An MP3 player or digital media player is the ultimate in portable digital music – it not only holds but offers playback of your MP3, video files, and/or pictures depending on its feature set.

With the vast availability of digital media content today it makes sense to have an MP3 player with more than just MP3 playback. The latest generation of digital media/MP3 players provide amazing functionality, so much so that the name "MP3 player" can no longer accurately describe what a device can do. "Digital media player" is a more accurate name, but as most are used to the term "MP3 player", we will use the term in place of "digital media player", which is essentially what the MP3 player has become.


There are currently four major types of MP3 players classified by storage type:
Hard drive-based Players
Capable of offering between 10 and 100GB capacity, hard drive-based MP3 players offer the best bang for the buck when it comes to cost per-megabyte of storage. This type of MP3 player often utilizes 1.8-inch (or 2.5-inch) hard drives, and almost always come with a rather large color LCD screen as well as image and video playback capabilities.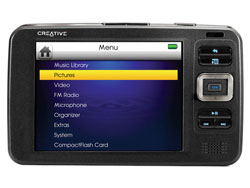 Since the hard drive used in this type of player is relatively large, the size and weight of the player are less ideal. However, you will be able to store a greater number of media files and data in these tiny monsters, and the huge LCD screens are typically very good and clear to look at.

Micro/Mini hard drive-based players
Micro/Mini hard drives are 1-inch (or smaller) hard drives, which are significantly smaller than the 1.8-inch drives used in Hard Drive based players. The capacities of most mini hard drive-based MP3 players are often between 4 and 8GB. Although this is not a huge amount compared to hard drive-based products, the storage is usually more than enough for most users.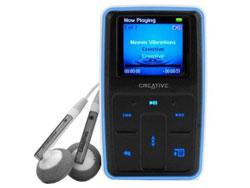 Mini hard drive-based MP3 players are relatively light and compact products, and are priced very competitively against flash memory-based products with similar capacities.

Flash memory-based players
Extremely compact flash memory chips are utilized as storage in these MP3 players. Due to the smaller size of the flash chips (especially when compared with hard drives), flash memory-based MP3 players are often extremely compact and light and lend themselves to more stylish and creative designs.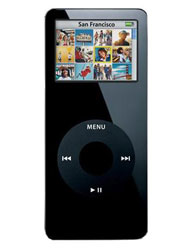 The capacity of contemporary flash memory-based MP3 players varies from 128MB (or lower) to 4GB (or higher). Since there are no mechanically moving parts in this type of MP3 player shock and vibration protection becomes less important as skipping is no longer likely to occur. The power consumption of flash memory is also lower than that of hard drives, thereby making possible longer playback times.

There are also certain MP3 player products that feature no built-in memory/storage, and require the user to insert their own flash memory card (SD/MMC card most often) or flash drive to operate. These players are often more affordable and will allow you to make the most of your existing flash memory products.

CD-based players
CD-based MP3-capable players are generally classified as a type of CD player.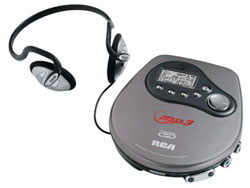 A CD-based MP3-capable player is essentially a common portable CD player with MP3 playback support (may also support other digital audio formats). It is actually pretty hard to find a portable CD player that doesn't support MP3 format these days. You can burn your MP3s to your CD-Rs or CD-RWs with the help of a CD/DVD burner for playback with a CD-based MP3 player. The popular 12cm CD-R/RW disc has a capacity of 650MB-700MB per disc.

Things to Consider When Choosing a Player
With so many choices available, pinpointing the right MP3 player for you or a friend or family member can be quite a headache, so let's find out what the most important things to look at are first:
Design, Size and Weight
Since the MP3 player is a portable device that goes wherever you go, the design of the player, which covers appearance, size and weight, is definitely one of the most important issues to take into consideration. The size and weight will matter depending on the way you use your player - if you carry the player in your pocket, you want something compact enough to not be uncomfortable. If you prefer hanging the player around your neck you will want something that weighs as little as possible. For aesthetic considerations, just follow your heart and choose what appeals to you the most.
Capacity
Storage capacity is one of the most important factors to consider when choosing an MP3 player as it determines how much data, songs or other media files can be stored in the player. The higher the capacity, the more files you can store in the MP3 player. This number is also affected by the bitrate the audio file is using - the same MP3 song encoded at 256Kbps CBR is twice as large as that encoded at 128Kbps.

Digital media players capable of video playback require much higher storage capacities than audio-only players. For example, a 2-hour DivX movie can take between 700MB (or less) and 1.4GB (or more) to store depending on video quality.

The following table shows a general relationship between storage and the number of audio files that can be stored:

Based on 128Kbps CBR encoding (MP3, WMA, AAC or other formats), about 3 minutes per song.
Interface
Most contemporary MP3 players feature a USB port for computer connection. The USB 1.1 (or full-speed USB 2.0) and the high-speed USB 2.0 ports provide maximum transfer rates of 12Mbps (about 1.5MB/s) and 480Mbps (60MB/s) respectively.

There are other interfaces/ports available on MP3 players, such as a headphone jack, line-in port (for recording from external audio sources such as a CD or cassette player) and even TV-out (for video playback or image viewing).

Battery Life and Playback Time
There are two kinds of batteries used in MP3 players: standard AA or AAA size batteries and built-in/removable rechargeable batteries. The latter often provides higher power capacities, while the former are easily replaced standard disposable batteries of the same size.

The playback time or battery life describes the maximum music playback time of an MP3 player on a fully charged battery. The actual playback time may vary from that stated in the product's specifications since playback settings (such as volume, LCD on/off or brightness) may differ. An audio playback time of more than 6 hours is recommended as more frequent recharging or battery replacements can be a headache.

Display/Screen
Notice: There are some MP3 players that do not feature displays/screens.

LCDs and OLEDs are the most popular MP3 players screen types in use today. LCD screens require a backlight to work while OLED screens do not, so they are considered to be more power efficient than LCDs. As of today, the LCD is still more widely used than the OLED, and most large size screens (especially those used on video players) are still LCD units.

What you should look for in a display/screen is the resolution (such as 128 x 128, 320 x 240 and 640 x 480), the size (such as 2", 3" and 4") and the number of colors it can display (such as 256, 4096 and 260K). A higher resolution means more simultaneously onscreen content/detail, and a larger size is always better and more comfortable for image viewing or when viewing a video. The number of colors the screen can display is a vital component of image quality - the more colors a screen is able to reproduce, the more vivid the image/video you will see.

Audio Format/File Format
Not all players work with all audio/file formats. You will need to look at the types of files you use most often and decide which you want your digital media player to handle.

MP3, Ogg, ATRAC3, WMA, AAC, FLAC
MPEG-1 Audio Layer 3 is widely known as MP3, which is the most popular digital audio encoding and lossy compression format in use today. The MP3 format can greatly reduce the audio file data size and still deliver faithful reproduction of the original audio.

Other lossy audio file formats are commonly used as well, such as AAC (Advanced Audio Coding), ATRAC3 (and ATRAC3 plus), Ogg (Ogg Vorbis) and WMA (Windows Media Audio). There are lossless audio formats that are able to deliver exactly the same quality as uncompressed audio contents, including PCM WAV(uncompressed audio), FLAC (Free Lossless Audio Codec), Apple lossless and WMA lossless.

CBR, VBR
In digital multimedia, CBR or constant bitrate means that the bitrate of the multimedia (audio and/or video) stream is constant. No matter how content complexity changes, the same amount of bits are transferred in a given time.

VBR or variable bitrate is a different story; the VBR file's bitrate varies according to the complexity of the content – a higher bitrate for more complex segments of audio and/or video stream and a lower bitrate for simpler segments. VBR files can deliver almost the same quality contents using less space than CBR.

MP3, WMA, Vorbis, and AAC files can all be encoded in either CBR or VBR.

DRM Concern
In digital multimedia, DRM or Digital Rights Management refers to technologies used to protect and securely deliver content for playback on computers, portable devices and network devices. It is often implemented by enforcing pre-defined policies for controlling access to the content (such as music and movies). Protected content can only be played by DRM compatible devices.

What Else Can an MP3 Player Do?
Many of the latest MP3 players are not just simple audio playback devices - there are a lot of additional features provided by the manufacturer, and some of them can be really useful as we will discover below.
Audio Recording
There are two types of audio recording (excluding FM recording) functions provided by certain MP3 players. The first is digital voice recording via a built-in microphone. Some MP3 players also feature line-in ports that connect and record audio from other audio source devices such as CD players, cassette players and even LP players.
Video Playback
Video-playback-capable players are also called "MP4 players". A variety of different video formats such as AVI, MPEG-1/2, MPEG-4 (H.264, XviD and DivX) and QuickTime (.mov) can be supported depending on the player. Of course, video playback consumes much more power than audio playback, so battery life is typically much shorter, and generally no longer than 3.5 hours in players sporting large screens (3" or above).

Photo Display
Many MP3 players now provide photo viewing functions through their color LCD screens. The most popular image file formats such as JPEG, GIF, TIFF, JPEG2000, BMP and PNG are supported by certain players.

FM Radio
Lots of MP3 players provide built-in FM radio tuners, so you can listen to radio programs too. Unfortunately for AM lovers, there are rarely MP3 players that feature an AM radio function (if any). Most FM-capable MP3 players feature FM recording to allow you to record any program you like with ease.

PIM Functions
A few high-end MP3 players provides PIM (Personal Information Management) features such as to-do lists, clocks, alarms, calendars, address books, phone books and schedules. Some of the data can be synced with Microsoft Outlook or other PIM programs. While these PIM features are rather simple and limited in functionality, and cannot be used as a replacement for a PDA (Personal Digital Assistant), they can be very useful if you decide against owning a PDA.

There are hundreds of different MP3 players with differing designs at any one time, and there typically isn't a one-size-fits-all product. Therefore, it helps to narrow down the model that fits you best based on the applications or features you want, followed by the external design you desire. Here we provide some basic examples of the typical usage types and what these types of users are usually looking for.

Note: Since most contemporary MP3 players use the USB port to interface with a computer, connectivity shouldn't present a problem. Please note, however, that USB 2.0 capable players are able to transfer files more quickly than players utilizing the older USB 1.1 ports.
Commuter
Most commuters want something to listen to during the daily charge through crazy traffic or however it is they get to work. In this case, whether you commute by car or by foot/subway/bus can make a difference in the type of MP3 player you want to buy. If you commute by car, the size and weight of the MP3 player is negligible, but if you have to catch the subway or bus, then size and weight need to be minimized.

For someone that will spend lots of time in the gym or other kind of exercise, a compact size and light weight MP3 player is the best choice. Also keep in mind that a flash memory-based player is preferable for this particular application since there are no mechanically moving components in the machine that can cause skipping and damage to the player. With a flash memory based player you can run, jump, or even do aerobics and still listen to the music you want.

With the image quality of color LCD screens available on some MP3 players (digital media player), it's no wonder more and more people are finding it a joy to watch videos (TV shows, music videos or movies) on their portable media players. To play videos or even movies, a player must have enough storage capacity to hold large, high quality video files. As video playback is a power hungry application, a long battery life is recommended as well.

The term Audiophile refers to individuals with an insatiable appetite for high quality sound. Since MP3 (and many other common audio formats such as AAC, Ogg Vorbis and WMA) is a lossy compression audio format, the sound quality may not meet an audiophile's requirements. A player that supports lossless audio formats is recommended, or you can also utilize higher bitrate MP3 encoding (for example, 320Kbps instead of commonly used 128Kbps) or other formats that support better sound quality.

Although most MP3 players do not feature high-quality/high-sensitivity internal mics, the little mics provided by certain products can still perform lots of voice recording work. In addition, many MP3 players provide line-in input ports, which can be used to record audio from other devices, such as CD players and cassette players. Some MP3 players also allow you to record FM radio as well, and the recorded audio quality is typically at an acceptable level.





Buy MP3 / MP4 Players at Newegg.ca