The mouse is a handheld input and pointing device for computers and is one of the devices that make using the PC so easy and PC gaming so delightful. The first mouse was invented by Douglas Engelbart of the Stanford Research Institute in 1963, and today the mouse has become the most important and popular input device on our computers.
When inside the computer's operating system, a large proportion of all work and play comes down to hand-guided mouse inputs. Good mice not only make work and play more convenient and comfortable, they also boost efficiency. In this buying guide we will talk about what to look at and what to consider when selecting a suitable mouse.

The world's first mouse tracked mechanically using track wheels. Technological development since then has allowed for four new tracking methods to be introduced:
Ball
The ball tracking method was evolved from the original track wheel mouse. This design uses a ball and a set of rollers for the X and Y axes for motion tracking. There are currently very few new mice still produced using the ball tracking method. This type of mouse is relatively bulky and provides average tracking performance.

Optical
Optical tracking mice are very popular today. They combine an LED and a sensor to detect the movement of the mouse and send the tracking info to the computer. Optical mice provide very good and accurate tracking performance for everyday use and gaming, and can be used on most surfaces (avoid transparent surfaces!).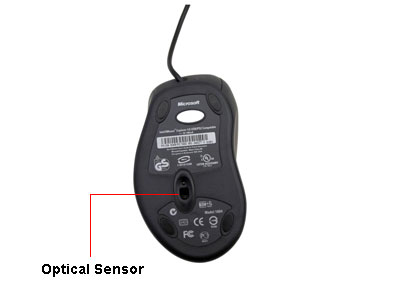 Laser
The latest in optical tracking technology is laser. Laser mice utilize a laser instead of an LED to provide top-level tracking performance, especially in First Person Shooter (FPS) games. Most hi-end mice currently use the laser tracking method.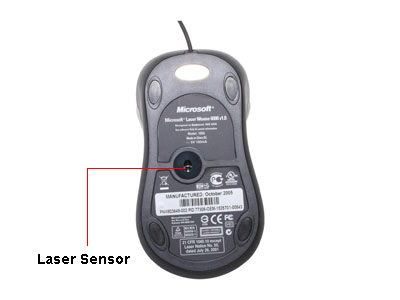 TrackBall
Featuring a prominent red tracking ball, the TrackBall reduces hand movement and is a space saving design that requires only thumb and finger movement. Trackball mice are mainly used for drawing thanks to their accuracy.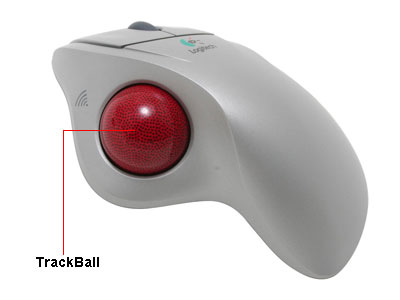 Interface
The USB and PS/2 ports are the two most used interfaces on modern mice. Most desktop computers provide both ports, but older motherboards or computers may require you to go with the PS/2 port in the absence of the USB port. On the contrary, most notebooks are not equipped with the PS/2 port. This requires a mouse equipped with a USB connector (notebook computers usually include at least one USB port). One of the benefits of the USB port is hot swapping - this allows you to plug or unplug a mouse any time when the computer is running.
Buttons
Most mice will have at least two buttons and one wheel for scrolling (except certain mice designed for Macintosh computers). A mouse with more buttons offers better functionality. For example, the addition of the back and forward buttons aids in the navigation of the web. Many mice with more than 2 buttons also provide software that allows you to program the additional buttons to your liking. For example, you can map buttons to perform the copy and paste function.
Wheels
Wheels are by now considered standard features in modern mice. A wheel can be used for vertical scrolling in lots of applications for a more delightful usage experience and greater efficiency. These applications include Internet Explorer, Mozilla FireFox, and Microsoft Word among others. In certain high-end mice, the wheel may come in the form of a "Tilt wheel", which allows tilting from side to side for horizontal scrolling (by default - some can also be programmed). Certain mice are also offered with two wheels - one for vertical scrolling and other for horizontal scrolling.
Wireless Support
There are about two main connection mode with mouse, wired and wireless. Needless to say, there are many benefits to wireless mice including no tangled wires and some freedom of movement, but the drawback is limited battery life.
Wired mice utilize electric cables to connect to the computer and feature either the PS/2 or USB interface. The length of the cable is typically about 6 feet, but notebook mice may feature shorter cables of about 2-3 feet in length.

Wireless mice

Wireless mice connect wirelessly – all that is needed is a wireless receiver connected to the computer.

There are two major wireless technologies in use at the moment:

The benefits of Bluetooth wireless technology is long range operability and higher protection against interference. Bluetooth generally provides an operating range of up to 30 feet, but some special models are able to provide an extended range of up to 60 feet.

RF is short for Radio Frequency. RF wireless will typically provide an operating range of 15 feet, but the new 2.4GHz RF standard can provide an extended range of up to 30 feet.
Hand Orientation
Left-handed users are encouraged to pay close attention to the hand orientation of the mouse they are considering as there are many mice that are designed specifically for right hand use and comfort. Symmetrically designed mice are recommended.