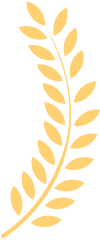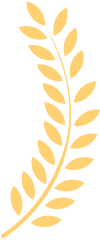 Best Sellers
In Wireless Routers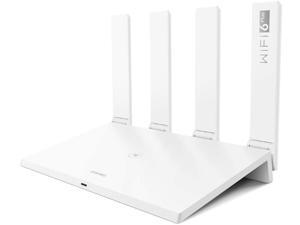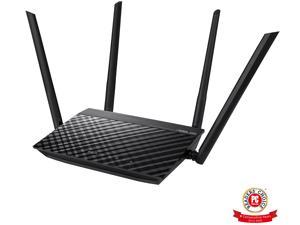 ASUS RT-AC1200GE AC1200 Dual Band WiFi Router, Parental Control, MU-MIMO, 4 x Gigabit LAN ports, VPN, Gaming & 4K Streaming
Wireless Data Rates: 802.11a: 6,9,12,18,24,36,48,54 Mbps 802.11b: 1, 2, 5.5, 11 Mbps 802.11g: 6,9,12,18,24,36,48,54 Mbps 802.11n: up to 300 Mbps 802.11ac: up to 867 Mbps
Frequency Band: 2.4 GHz / 5 GHz
WAN Ports: 1 x RJ45 for 10/100/1000 BaseT for WAN
Interface: USB 2.0
Model #: RT-AC1200GE
Item #: N82E16833320411
Return Policy: Standard Return Policy
$69.99

 
$59.99 

–

Save:

14%

Free Shipping
"Setup automatically configured to my motorola cable modem. Very high speeds. Dual band allows me to put different devices on different channels to keep them from interfering w each other. i liked it so much i bought a second one so i can blanket each floor of the house with signal. I thought the price was very reasonable for the great performanc..."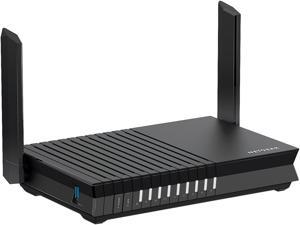 "Good Speed and distribution of bandwidth. Best to login via web browser for full configuration options. Good that they have you register with the Netgear web page when configuring. Easy firmware definitions updates. The mobile app convenient for periodic checkups."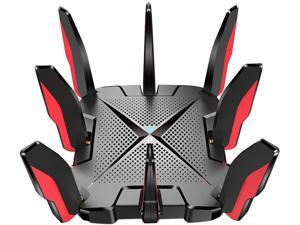 "-Super fast network speeds -Never experience an internet drop-off -Plenty of ethernet plugs for hard-wire connection -Ultra easy to setup with the app"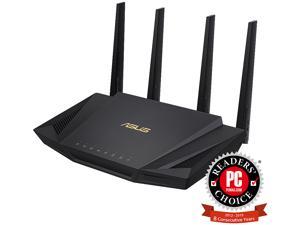 "- In my 1100 sq. ft apartment, my old router had a weak signal at the other end of the living room, but this router reaches there with nearly 5 bars. - Open VPN support (up to 10 users) - a/b/g/ac/ax all in one box - Excellent multi-WAN, or bridging support - Telnet/SSH login for the script happy tech-heads to have access at the OS level"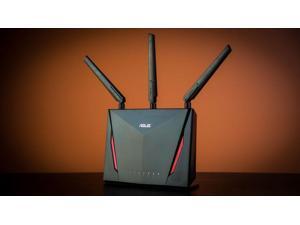 "Easy to setup. Great range on 5g. Through two walls and 5g out to a cell at corner of yard (hammock) 65 feet from the house. Full 60mbps of ISP speed. With auto 2.4/5g, all devices in house ended up on 5g radio just fine. Only my ECObee lite thermostat had issues and had to be linked to a 2.4g only guest account, as it would connect on 2.4, get bum..."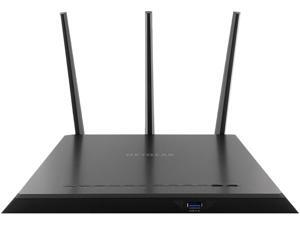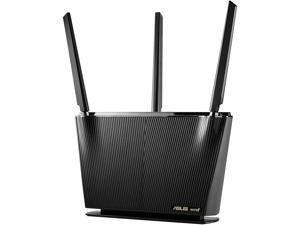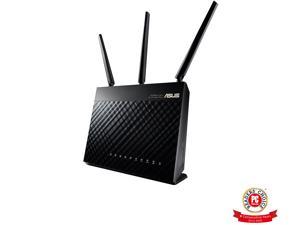 "This router is phenomenal! Easy to setup despite a lot of options. Great layout and grouping of functions. And FAST!!! Admittedly I only have 3MB DSL, but I can stream HD movies over WIFI with this baby!! Throw away any router you have and get this one if you want true greatness!"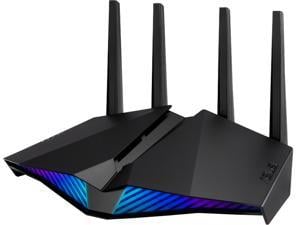 ASUS RT-AX82U/CA AX5400 Dual-Band WiFi 6 Gaming Router, Game Acceleration, Mesh WiFi Support, Dedicated Gaming Port, Mobile Game Boost, MU-MIMO, Aura RGB
Wireless Data Rates: 802.11a : 6,9,12,18,24,36,48,54 Mbps 802.11b : 1, 2, 5.5, 11 Mbps 802.11g : 6,9,12,18,24,36,48,54 Mbps 802.11n : up to 300 Mbps 802.11n (1024 QAM) : up to 500 Mbps 802.11ac (1024 QAM) : up to 4333 Mbps 802.11ax (2.4GHz) : up to 574 Mbps 802.11ax (5GHz) : up to 4804 Mbps
Frequency Band: 2.4 GHz / 5 GHz
WAN Ports: 1 x 10/100/1000M
Interface: USB 3.2 Gen 1
Model #: RT-AX82U/CA
Item #: N82E16833320507
Return Policy: Standard Return Policy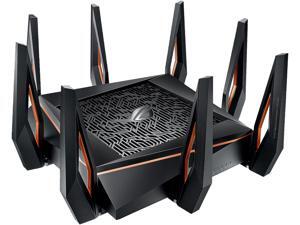 ASUS GT-AX11000 Tri-band Wi-Fi Gaming Router
Wireless Data Rates: 2.4GHz AX: 4x4 (Tx/Rx) 1024 QAM 20/40MHz, up to 1148Mbps 5G-1Hz AX: 4x4 (Tx/Rx) 1024 QAM 20/40/80/160MHz, up to 4804Mbps 5G-2Hz AX: 4x4 (Tx/Rx) 1024 QAM 20/40/80/160MHz, up to 4804Mbps
Frequency Band: 4 x 2.4 GHz 4 x 5 GHz-1 4 x 5 GHz-2
WAN Ports: 1 x 10/100/1000M
Interface: 2 x USB 3.1 Gen 1 1 x Multi-Gig Ethernet port 2.5G/1G
Model #: GT-AX11000
Item #: N82E16833320324
Return Policy: Standard Return Policy
$529.99

 
$499.99 

–

Save:

6%

Free Shipping
"- Fast - Long range - Good customization options - Future proof - No regret, got it in sale"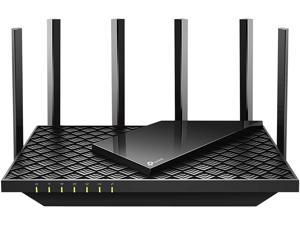 "Wide range signal - used to use an extender, no longer a need. Very easy/quick to set up - took maybe 10min including peeling off the fingerprint protectors Multiple LAN ports Automatically moves devices between 5ghz and 2.4ghz based on performance Wifi 6 (might matter 5 years from now?) Multiple antennae to make me think I can point them at the ar..."