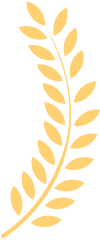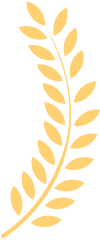 Best Sellers
In Professional Video Devices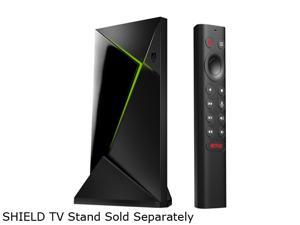 NVIDIA SHIELD Android TV Pro - 4K HDR Streaming Media Player - High Performance, Dolby Vision, 3GB RAM, 2 x USB, Google Assistant Built-In, Works with Alexa (945-12897-2500-101)
Type: Digital Media Streamer
Color: Black
Specifications: Weight & Size: Weight: 8.80 oz. / 250 g Height: 3.858 in / 9.800 cm Width: 6.26 in / 15.900 cm Depth: 1.02 in / 2.593 cm Storage: 16GB* * Portion of storage occupied by system software Expandable using USB flash or hard drives. Wireless: 802.11ac 2x2 MIMO 2.4 GHz and 5 GHz Wi-Fi Bluetooth 5.0 + LE Captive Portal support Software Updates: SHIELD Experience Upgrades directly from NVIDIA Voice Assistants: Built in Voice Control The Google Assistant Hands-free Voice Control* Google Home compatible (Google Assistant)** Amazon Echo compatible (Works with Alexa)** * Requires SHIELD Controller or Google Home Mini or Amazon Echo. ** Google ecosystem includes the Google Assistant, Google Play Movies and TV app, Google Music app, Google photos, and access to Google calendar. Amazon ecosystem include...
Model #: 945-12897-2500-101
Item #: 9SIAATCBNU2855
Return Policy: View Return Policy
"Much more responsive and faster than the previous model. I like the remote control because it is not so small that I can't hold it, and it has standard triple A batteries and not these button batteries that need a special trip (with the exact code number) to the store to buy. The old volume control was always a problem, only worked some of the ti..."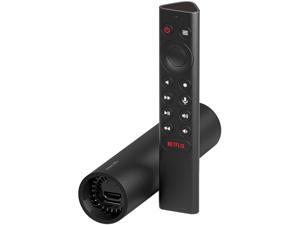 NVIDIA SHIELD Android TV - 4K HDR Streaming Media Player - High Performance, Dolby Vision, Google Assistant Built-In, Works with Alexa (945-13430-2500-000)
Type: Digital Media Streamer
Color: Black
Specifications: Weight & Size: Weight: 4.83 oz. Height: 1.57 in Width: 1.57 in Depth: 6.50 in Storage: 8GB* * Portion of storage occupied by system software Expandable via microSD Wireless: 802.11ac 2x2 MIMO 2.4 GHz and 5 GHz Wi-Fi Bluetooth 5.0 + LE Captive Portal support Software Updates: SHIELD Experience Upgrades directly from NVIDIA Voice Assistants: Built in Voice Control The Google Assistant Hands-free Voice Control Google Home compatible (Google Assistant) Amazon Echo compatible (Works with Alexa) Power: Built-in power supply Gaming Features: NVIDIA GeForce NOW game streaming service (compatible game controller or keyboard/mouse is required) NVIDIA GameStream (requires compatible GeForce RTX or GTX-powered PC) Android gaming via Google Play Store Included Apps: NVIDIA Games Netflix YouTube...
Model #: 945-13430-2500-000
Item #: 9SIAATCBNV2143
Return Policy: View Return Policy
"Very fast and responsive, plus the remote is awesome. Same idea as a fire stick but so much better in every way. Worth every penny!"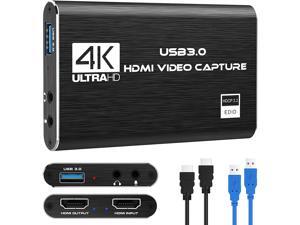 "-Very easy to set up-Good, functional default video settings"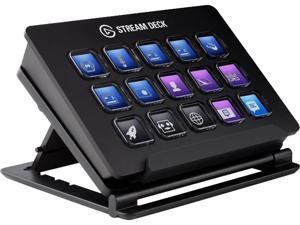 Elgato Stream Deck - Live Content Creation Controller with 15 Customizable LCD Keys, Adjustable Stand, for Windows 10 and macOS 10.11 or Later
USB Port: USB 2.0
System Requirements: macOS 10.11 or later Windows 10 (64-bit)
Specification: Dimension: 0.80" x 4.60" x 3.30" Weight: 0.42 lb. Keys: 15 x customizable LCD keys
Feature: Break Boundaries You're creating quality content backed by the best tech on the planet. But you want to do more. With Stream Deck, unleash your creative genius and make waves across Twitch and YouTube. All while focusing on what matters most: your audience. Take Control 15 LCD keys poised to launch unlimited actions eliminate the need to map and memorize keyboard shortcuts. One-touch, tactile operation lets you switch scenes, launch media, adjust audio and more, while visual feedback confirms your every command. Traditionally this level of control was exclusive to mainstream entertainment broadcasters. Now, it's at your fingertips. Streamline Your Setup E...
Model #: 10GAA9901
Item #: 9SIAATCBT84321
Return Policy: View Return Policy
"Easy to set up and customize. Nice full resolution lcd screens behind the buttons Sturdy stand with several options for different viewing angles"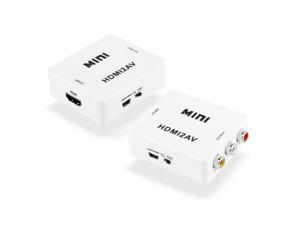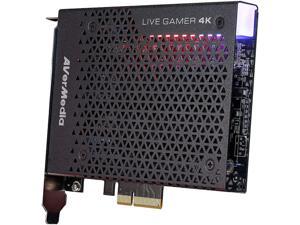 AVerMedia Game Streaming Capture Card Live Gamer 4K (GC573)
Interface: PCI-Express x4 Gen 2
Format: Record Format: MPEG 4 (H.264+AAC) or (H.265+AAC)* * H.265 Compression and HDR recording is supported by RECentra
Resolution Support: 2160p, 1440p, 1080p, 1080i, 720p, 576p, 480p
Camera Resolution: 2160p60 HDR* / 1440p144 / 1080p240 * H.265 Compression and HDR recording is supported by RECentra
Model #: GC573
Item #: 9SIA7BB7GE3772
Return Policy: View Return Policy
"HDR works! HDCP works! (with "the cats" 4k capture card, had to turn it off for it to work) Latency so low that you don't necessarily need a 2nd display."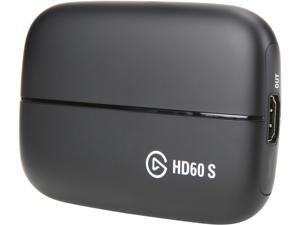 "Portable, easy to setup, works right out the box when you download the necessary drivers."
"Honestly it was a good product but it thought it was bigger but for its size it's still insanely good"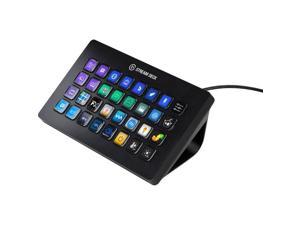 Elgato Stream Deck XL - Advanced Stream Control 10GAT9901
System Requirements: Works with: Windows 10 (64-bit), macOS 10.13 or later
Specification: Keys: 32 x customizable LCD keys Interface: USB 3.0
Feature: Advanced live production: easily control your favorite tools and platforms. 32 customizable keys: instantly trigger unlimited actions with a tap. Powerful integrations: Elgato Game Capture, OBS, Streamlabs, Twitch, YouTube, Twitter, Mixer, Spotify, Philips Hue, Vmix, VoiceMod, and more. One-touch operation: change, scenes, launch media, switch cameras, tweak lighting, adjust audio, post tweets - anything. Visual feedback: know that your command has been executed. Easy setup: drag and drop actions onto keys in the Stream Deck app, and make them yours with custom icons. Optimum access and versatility: non-slip magnetic stand and detachable USB-C to USB-A cable. Endless expansion: download new integ...
Model #: 10GAT9901
Item #: N82E16815131044
Return Policy: Standard Return Policy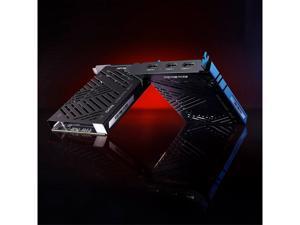 AVerMedia GC570D LIVE GAMER DUO Dual Full HD Video Capture Card
Interface: PCI-Express x4 Gen 2 * Some PCIe x4 Gen 2 and M.2 slots may share bandwidth with graphics card, please consult your motherboard's user manual.
Format: Record Format: MPEG 4* * H.264 & H.265 encoder is provided by GPU; Audio codec is provided by OS - LGD Supports 7.1 / 5.1 Ch. LPCM surround sound pass-through - LGD does not support viewing / recording / streaming of HDCP protected signals
Resolution Support: Input 1: 2160p, 1440p, 1080p, 1080i, 720p, 576p, 480p Input 2: 1080p, 1080i, 720p, 576p, 480p
HDMI: Input 1: HDMI 2.0 * 1 Input 2: HDMI 1.4 * 1 Output 1 (Pass-Through): HDMI 2.0 * 1
Model #: GC570D
Item #: 9SIA7BBCA07636
Return Policy: View Return Policy
"Easy to install. Great software included"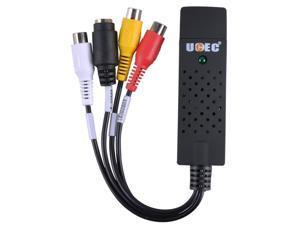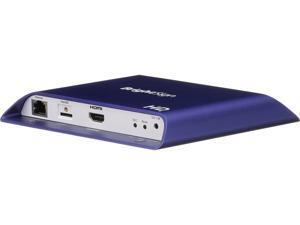 BrightSign HD224 Standard I/O Digital Signage Media Player, H.265, 4K/Full HD, HTML5, Gigabit Ethernet, GPIO
Power Supply: Power: 12V / 1.5A (18 Watts)
Specification: HTML5: X (Mainstream) Ethernet: X (Gigabit) Status LEDs: Power, Error, Busy, Update HTML5: hardware-accelerated engine that plays modular HTML assets fawlessly alongside high-bandwidth video: X (Mainstream) Interactivity: connect virtually any type of interactive device to a multitude of interactive ports: X (GPIO, UDP)
Feature: H.265 Decoding: smaller file sizes and lower bitrates than H.264 HTML5 (Mainstream): hardware-accelerated engine that plays modular HTML assets flawlessly alongside high-bandwidth video BrightBeaconTM: 2-way Bluetooth/Beacon communication between mobile devices & signage (requires: wireless/ Bluetooth module) BrightWall: synchronized playback across multiple displays AutoWall: embraces the power of HTML5 to create unique multimedia video walls Zones: playback m...
Model #: HD224
Item #: 9SIA5SC9465103
Return Policy: View Return Policy