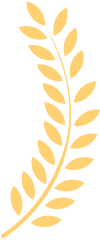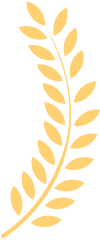 Best Sellers
In Hubs
"Works great on PS4"
"Sleek with a small form factor Plugs are well placed with good spacing in between so as to accommodate wider devices USB C plug seems to be sturdy with a mildly reinforced wire at the end of the plug"
"Plug it in, then add your usb devices, turn them on/off with push of a button. I can connect a mouse and 3 back up devices. Easy peezy"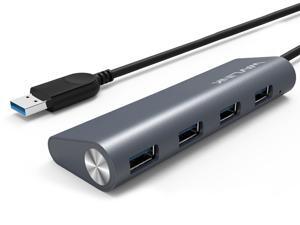 Wavlink USB Hub, 4-Port USB 3.0 Portable Aluminum Hub ,USB Extension Multi-function USB Dock Hot Swapping Support for iMac, MacBook, MacBook Pro, MacBook Air, Mac Mini, or any PC [Silver] Model :3048
Limited time offer, ends 10/31
Type: USB
Standards: USB 3.0/2.0
Max Devices Supported: 127 USB devices, 63 FireWire devices
Ports: 1 x USB Type-A , 4 x USB Type-A
Model #: WL-UH3048
Item #: 9SIACU957H2710
Return Policy: View Return Policy
"Everything works fine at USB 3.0 speeds (you have to plug it into a USB 3.0 port). It will still work with older USB ports."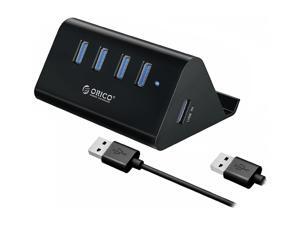 "Usb on front of case broke so I was able to plug this in the back port and got back to file transfers to multiple external drives."
WAVLINK USB C Hub 65W Charger, USB 3.0 Hub Powered Mini Dock for Laptop, 4K@30Hz HDMI, 1080P VGA, Gigabit Ethernet, SD/TF Card Reader, 2xUSB 3.0, 1xUSB C Charging for Mac, Windows, Chrome OS, Linux
Limited time offer, ends 10/31
Type: USB C Hub, PD 8-in-1 USB C Adapter, with 60W Laptop Power Delivery, 4K 30Hz HDMI Port, 2K 60Hz VGA Port, 2 USB A Ports, Gigabit Ethernet Port, microSD and SD Card Reader, for MacBook Pro and More
Standards: USB 3.0/2.0/1.1
Color: Gray
Package Contents: Wavlink USB-C 8-in-1 Hub, 1x User Manual, 12-month worry free warranty
Model #: WS-UHP504
Item #: 9SIACU9DSU9182
Return Policy: View Return Policy
"Worked great on my laptop"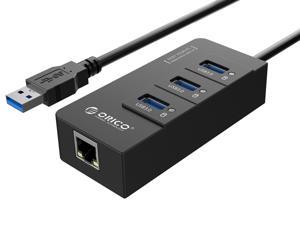 "-Works flawlessly -Has indicator lights for each plugin -Can even charge my iphone. -Ethernet adapter works well if you are using a laptop without one."
Powered USB HUB, ORICO USB3.0 10 Port HUB With 36W (12V/3A) Power Adapter & 3.3Ft. USB Date Cable for MacBook, Mac Pro/Mini, iMac, XPS, Surface Pro, Laptop, iPhone, Galaxy Series, HDD SSD, and More
Type: USB
Standards: USB 3.0
Ports: 10 x USB 3.0
Transfer Rate: Up to 5 Gbps
Model #: P10-U3-V1-US-BK-BP
Item #: 9SIAAMW42C2161
Return Policy: View Return Policy
"The included "power brick" AC adapter has a 4 amp output, which should be enough to power all ten ports unless you have a bunch of spinning disks. The case is plastic, but not cheap-looking. There is a single on/off switch, and "device present" indicator lights for each port. Throughput is consistent with USB 3.0 specifications with all ten port..."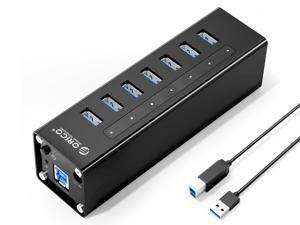 "Unlike most of the other hub makers, Orico usually supplies status light to show positive activity. I like to glance at the hub to make certain I have a good working connection. I have quite a few Orico hubs. I am not certain if this one has the status lights. I usually won't buy one without the status lights."
"It is light weight and built well"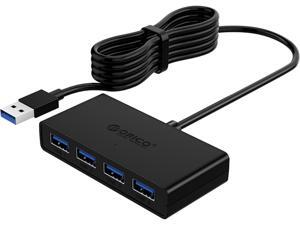 "A great way to add a few extra USB 3.0 ports to your laptop while travelling Good cable length gets the ports away from the back of the laptop for models like mine which do not have side ports White color allows you to add your own identification for when you are away from home where many people bring their laptops and accessories....."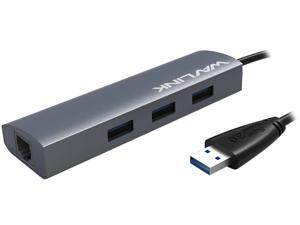 "It woks well"