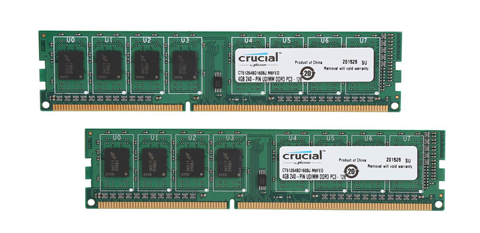 Crucial DDR3L Memory
A blend of performance, quality and reliability, the Crucial DDR3L memory is a great choice for a new build or system upgrade. It's built with top-notch components and Crucial's decades of expertise in manufacturing and engineering, giving you a memory module you can purchase with full confidence. It operates at speeds up to 1600 MT/s and has a CL11 latency, delivering up to 12.8GB/s bandwidth per channel to meet today's needs of the OS and applications. This model also supports dual voltage and can operate at 1.35V or 1.5V.
Micron Quality—A Higher Level of Reliability
From the original DDR technology to DDR4, Crucial has engineered the memory technologies that have powered the world's servers for 35 years and counting. Purchase Crucial memory with full confidence!