Thermaltake View 71 Tempered-Glass Edition Full-Tower Chassis
Designed to expand the legacy of the View Series lineup, Thermaltake's View 71 Tempered-Glass Edition full-tower chassis features unrivaled cooling support and expandability surrounded in tempered glass for a one of a kind view. Swing open the full-window, tempered-glass panels for easy access that's all properly spaced for optimal airflow. Pre-installed with two 140mm Riing fans, a vertical GPU mount and support for 3-way radiators , the only limitation is your imagination.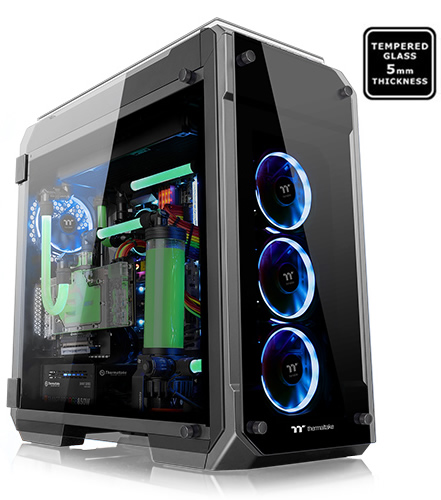 Image is for reference only. The Thermaltake View 71 comes with two Riing 14 fans.
TT Premium
To continue achieving the corporate mission of delivering the perfect user experience, Thermaltake developed "TT Premium" with the essence of combining supreme quality products with a new logo design. TT Premium is far more than just a guarantee of quality. Behind the name, it represents a passion for DIY, modding and Thermaltake's desire to be the most innovative brand in the PC-hardware market. To satisfy the demand of high-end PC users, TT Premium follows its core values of producing excellent quality, unique designs, diverse combinations and boundless creativity to provide a high-performance PC product for every enthusiast.
Tt LCS Certified
Tt LCS Certified is a Thermaltake-exclusive certification applied exclusively to products that pass the design + hardcore enthusiasts' standards that a true LCS chassis should be held to. Tt LCS certification was created in order to let all power users know which cases have been tested to be best compatible with extreme liquid-cooling configurations to ensure you get the best performance from the best features and fitments.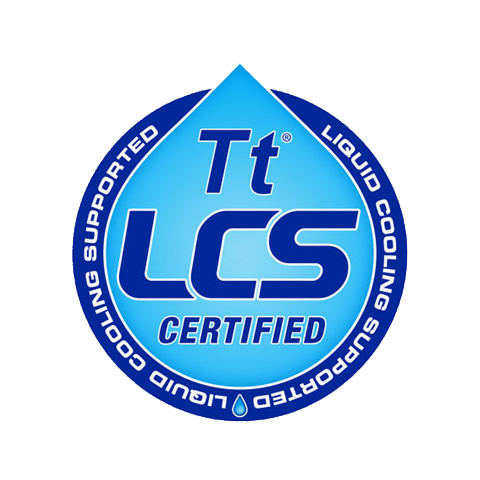 Four-Sided 5mm Thick Tempered-Glass Panels with Swing-Door Design
Premium-quality 5mm-thick tempered glass guarantees window durability while also adding overall strength to the chassis. Having swing doors on either side allows users to demonstrate their DIY spirit while enjoying the ultimate way to display internal components. Take on easy-to-install building with a fully modular design and easy removal of the swing door for full access.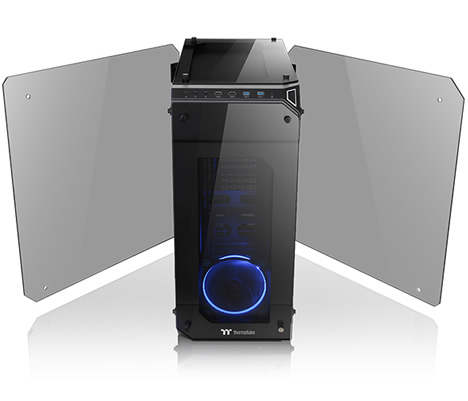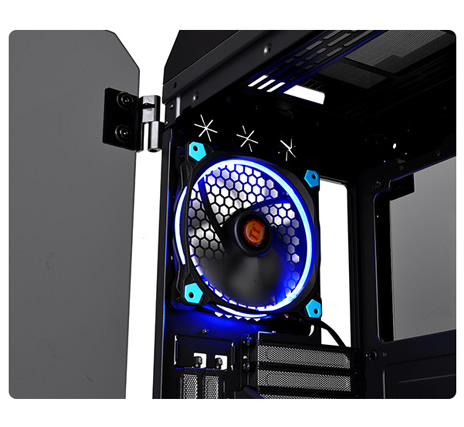 Make the Move to a Modular Design
The View 71 TG Edition enables users to freely build their system from the ground up with modular panels, racks, brackets and pre-design mounting arrays. Now, there are no more unreachable screw corners or gaps so you can enjoy even more space for your precious parts during installation or maintenance.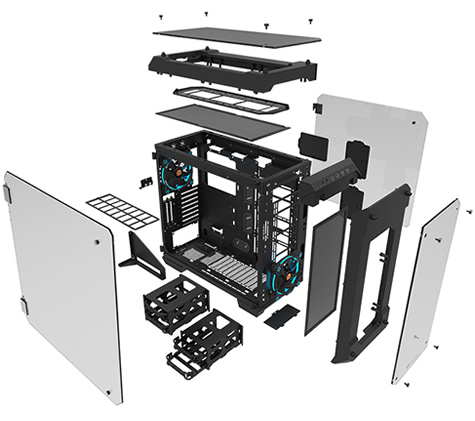 Tool-Free Installation
The innovative 3.5" and 2.5" tool-free drive-bay design minimizes the hassles of installation/removal, allowing users to freely interchange the 3.5" and 2.5" storage drives to secure and store with ease.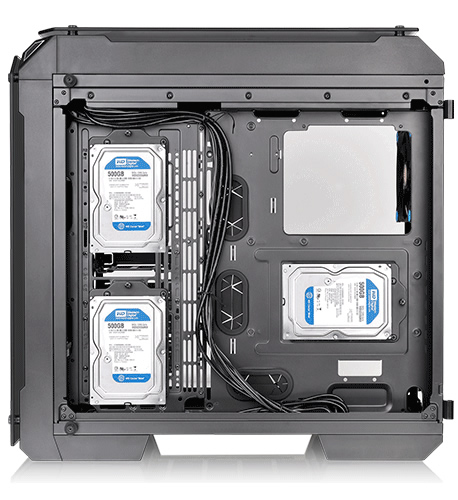 A Complete High-End Solution
The View 71 TG Edition allows users to build a complete high-end system that supports motherboards up to a standard E-ATX with a high-wattage PSU up to 220mm in length. With extended graphics card support (up to 410mm), the case simultaneously protects hardware pieces and increases the CPU's overclocking potential for users looking to get the most out of their hardware. Using a modular HDD-cage design offers more flexibility for custom cooling loops to take advantage of high-end, maximum capacity cooling allotment without the reduction of GPU-length when incorporating enthusiast-grade liquid-cooling systems.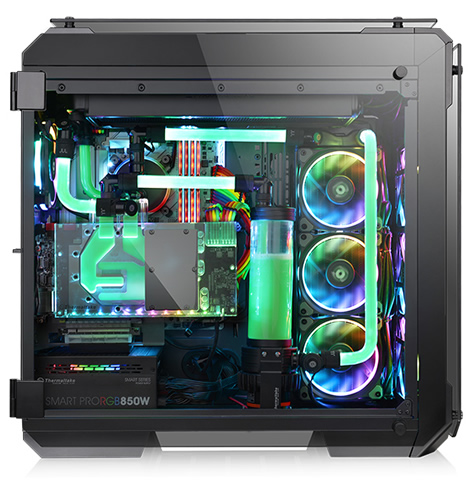 Riser-GPU Support Bracket
Specially designed for dual GPU placement options, the View 71 TG Edition supports a vertical graphics-card layout with its dual PCI-E slot design. The integrated riser GPU support bracket prevents the graphics card from sagging and also helps reduce its weight on the motherboard's PCI-E slots.
The Thermaltake TT Premium PCI-E 3.0 extender (optional) supports a wide range of GPU solutions with ultra-excellent quality. Features like the extreme high-speed cable with its highly-routable design and EMI shielding with a conducting polymer have been crafted to meet the most demanding of systems. This product comes available in 300mm, 600mm and 1000mm lengths.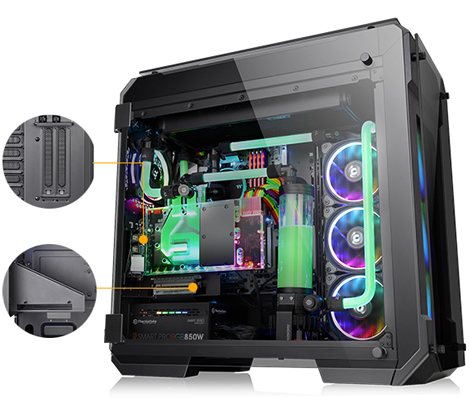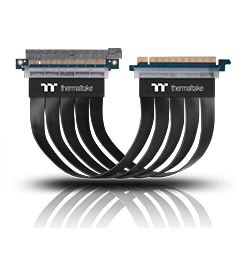 PCI-E riser cable is optional. VGA width limitation when using with GPU bracket is 68mm (3.4 expansion-slot reference).
AIO/DIY Liquid Cooling Capable
The View 71 TG Edition features extra installation space for advanced AIO/DIY liquid-cooling components. The case natively supports all types of AIO liquid-cooling solutions and has the capability to house up to a triple 420mm DIY liquid-cooling radiator fitment and up to 360mm AIO liquid coolers. Most importantly, the case design is optimized for provide users a quick way to access the drain valve without having to turn around the entire PC when evacuating coolant from the loop.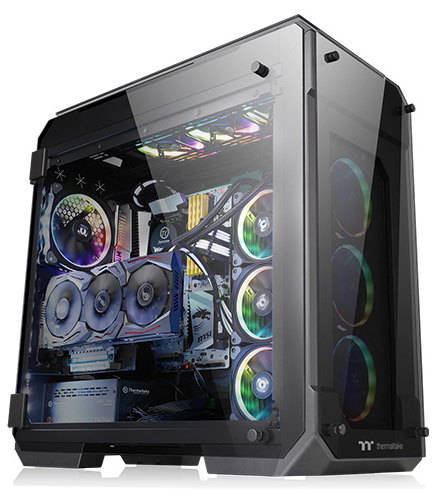 Radiator configurations and compatibility may vary depending on radiator size and thickness.
Vertical Radiator View (VRV)
Turn the tides on traditional radiator mounting and bring out the glorious view of custom-loop or all-in-one radiator applications with vertical radiator viewing. Supporting proper placement for 120mm and 140mm radiator applications up to 420mm in length, View-71 users gain more compatibility when pairing up both CPU and GPU cooling solutions. Take on even more with custom-loop options for enthusiast-grade cooling, fitments and flow.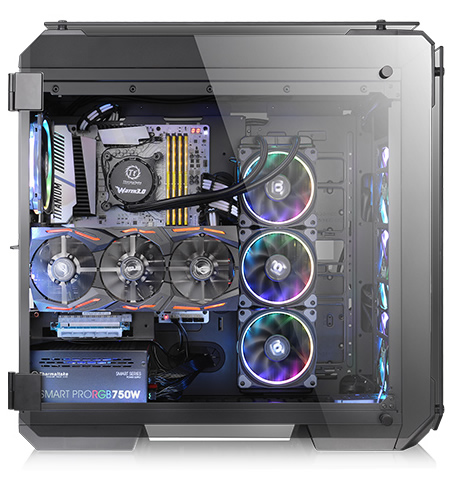 It is recommended to use Thermaltake's all-in-one liquid cooler when applying vertical AIO radiator mounting.
Advanced Ventilation
With wide top-to-bottom side ventilation grills, the View 71 TG Edition case maximizes airflow with two built-in 140mm Riing Blue fans. It also includes the option to add up to three 120mm or two 140mm front fans combined with two bottom-mount 120mm fan locations for maximum fan-space compatibility. Dissipate heat properly with one rear fan and three sectional top mounts to manage proper airflow in and out.
The Thermaltake Riing 14 LED Blue is a 140mm high-static pressure fan with a patented 256-color LED ring.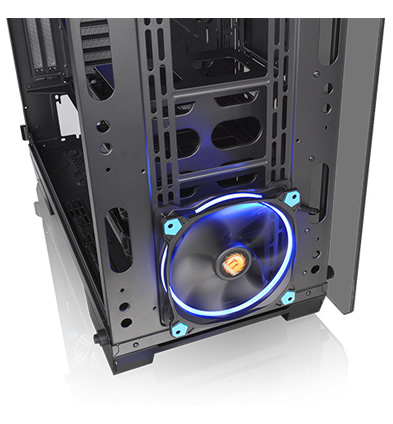 Image is for reference only, only two Riing 14 Blue fans are included.
View 71 TG Edition Radiator Supporting List
View 71 TG Edition Radiator Supporting List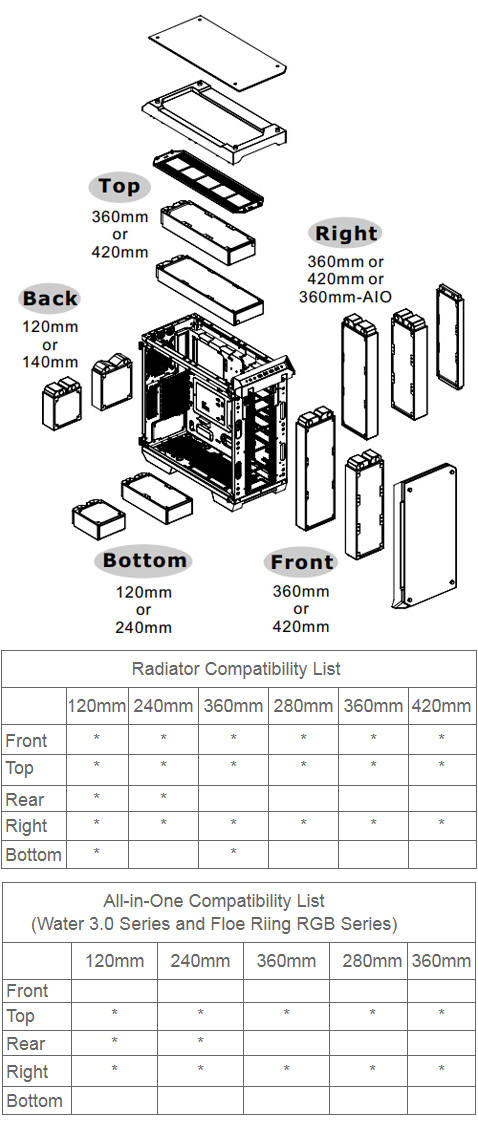 Specificatiosn
P/N
CA-1I7-00F1WN-00
Case Type
Full Tower
Dimension (H x W x D)
592 x 274 x 577mm (23.3 x 10.8 x 22.7 inches)
Net Weight
18.9kg / 41.66lbs
Side Panel
4x 5mm Tempered Glass (Left, Right, Front & Top)
Color
Exterior & Interior: Black
Material
SPCC
Cooling System
Rear (exhaust): 140 x 140 x 25mm Riing Fan (1400rpm, 28dBA)
Front (intake): 140 x 140 x 25mm Riing Fan (1400rpm, 28dBA)
Drive Bays
4x 2.5" or 4x 3.5" (HDD Rack)
2.5"x 6 or 3.5" x 3
Expansion Slots
8+2
Motherboard Support
6.7" x 6.7" (Mini ITX), 9.6" x 9.6" (Micro ATX), 12" x 9.6" (ATX) and 12" x 13"(E-ATX)
I/O Port
2x USB 3.0, 2x USB 2.0 and 1x HD Audio
PSU
Standard PS2 PSU (Optional)
Fan Support
Front: 3 x 120mm , 2 x 140mm
Top: 3x 120mm or 3x 140mm
Rear: 1x 120mm or 1x 140mm
Bottom: 2x 120mm
Radiator Support
Front: 1x 360mm or 1x 420mm
Top: 1x 360mm or 1x 420mm
Rear: 1x 120mm or 1x 140mm
Right: 1x 360mm or 1x 420mm
Bottom: 1x 240mm
Clearance
CPU Cooler-Height Limitation: 190mm
Graphics-Card Length Limitation: 310mm (With HDD Rack)
410mm (Without HDD Rack)
PSU-Length Limitation: 220mm (Without Bottom Fan)