I1659FWUX
Stunning portable USB-powered monitor with foldable stand
16" Class USB powered IPS monitor, sleek design and fast USB 3.0 connection
USB monitor
Discover the freedom and flexibility of AOC's myConnect USB monitors. A single USB cable connects your laptop to the directly to the display, completely eliminating the need for extra media cables and a power supply. The USB cable transfers data to the screen, plus acts as an energy-efficient power source. For work or play, these monitors offer optimal portability. Besides ultra-easy connectivity, the innovative stand offers you a variety of viewing options.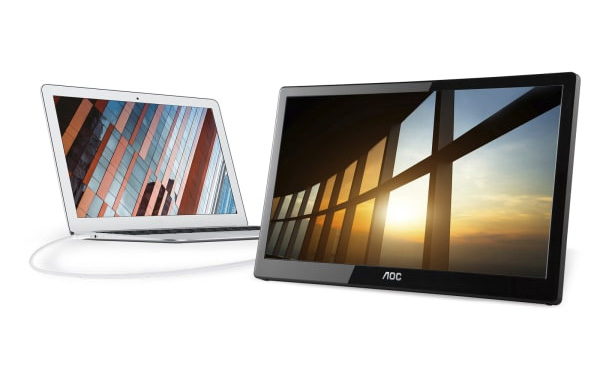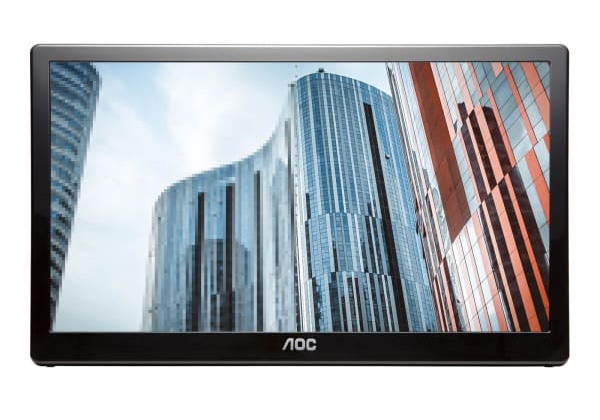 Full HD Resolution
Want to watch a Blu-ray movie in full quality, enjoy games in high resolution or read crisp text in office applications? Thanks to its Full HD resolution of 1920 x 1080 pixels, this monitor lets you do just that. Whatever you are viewing, with Full HD it will be displayed in rich detail without requiring a high-end graphics card or consuming a lot of your system's resources.
IPS Panel
No matter if you are viewing photos, videos, a magazine layout in InDesign or playing your favourite game – we want your content to look excellent from whatever angle you are seeing it. That is why this display comes with an advanced IPS panel, which produces brilliant colours and offers wide viewing angles. This way, images always look excellent and accurate, regardless from which angle you – or your friends and co-workers sitting or standing next to you – are looking at the screen.
Productivity anywhere you go
More screen real-estate significantly increases productivity. With I1601FWUX, connected to your laptop you can be efficient even outside your home or office – when travelling or, visiting customers.