AOC C32V1Q
Immersive Work & Play
A large 31.5-inch curved narrow-border display, the ACO C32V1Q offers more room to wrap around you for big ideas and victories. Its VA panel boasts 20M:1 dynamic contrast ratio and produces vivid, sharp images no matter which angle you are viewing from. The monitor supports both HDMI and VGA inputs for maximum compatibility. It also features FlicerFree and LowBlue Mode technologies to offer better protection for your eyes.
Vivid Colors and Sharp Imagery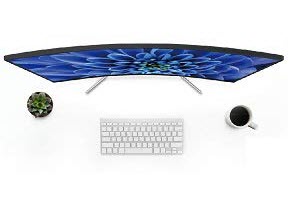 Center of Action
Work and watch movies with a whole new perspective with the AOC C32V1Q curved monitor. The 32-inch screen is curved at an 1800R radius curvature, close to the natural field of view, allowing you to see more at once. This monitor wraps its vivid colors and sharp imagery around you, putting you in the center of action for an all immersive viewing experience.
VA Panel Technology
No matter if you are viewing photos, videos or playing your favorite game – you want the content to look vivid and bright from whatever angle you are seeing it. That is why this AOC display comes with an advanced VA panel, which produces brilliant colors and offers wide viewing angles. With a wide viewing angle, images always look excellent and accurate, regardless from which angle you – or your friends and co-workers sitting or standing next to you – are looking at the screen.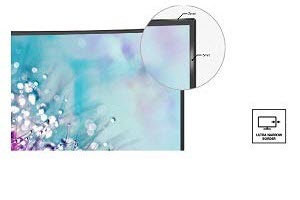 Ultra-narrow Bezels and Borders
AOC C32V1Q employs an ultra-narrow border and bezel design that allows you to see more of the screen with a sleek appearance. When putting multiple monitors side-by-side, the images transition even more seamlessly.
Comfortable Viewing Experience
Multimedia-Ready
C32V1Q is multimedia-ready with its advanced DisplayPort input supporting up to 75Hz at Full HD resolution, while HDMI input also allows easy connection with a wide range of multimedia devices such as gaming consoles and media players. Also available is a D-Sub (VGA) port that ensures compatibility with your analog output devices.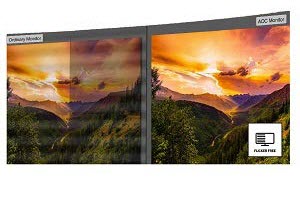 AOC FlickerFree Reducing Eye Fatigue
The normal LED-backlit monitors adjust brightness using PWM (Pulse Width Modulation). This causes flicker although human eyes can't see it easily, and still causes discomfort over long periods of time. AOC Flicker-free technology is using DC (Direct Current) backlight system to provide more comfortable viewing experiences for your eyes.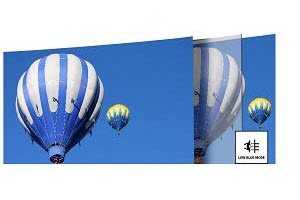 Healthier Eyes with LowBlue Mode
AOC LowBlue Mode technology is a software solution that decreases potentially irritating blue light waves by controlling color temperatures without compromising the naturally vivid colors of the VA panel.