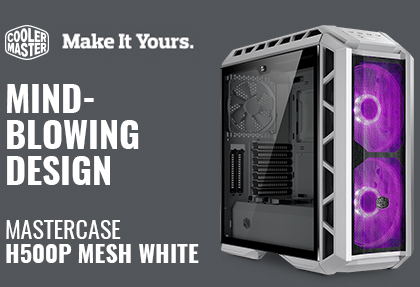 Mind-Blowing Design
The MasterCase H500P Mesh White will blow you away with its looks and performance!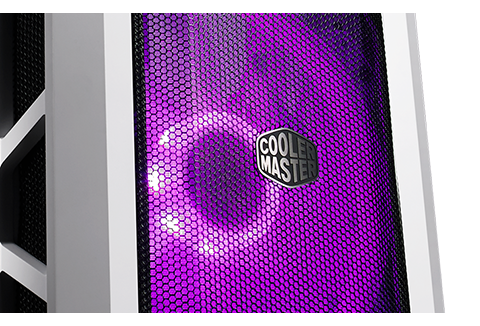 A Completely Mesh Front Panel
Optimized airflow is guaranteed behind a completely mesh front panel—designed with apertures that allow your PC to breathe all while filtering out dust.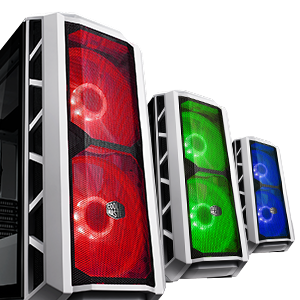 Two 200mm RGB Fans
Two pre-installed 200mm RGB fans are on full display behind the mesh front panel.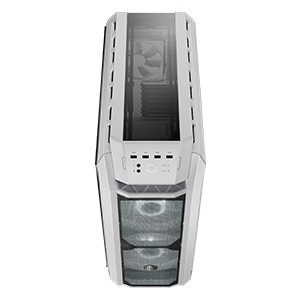 Liquid Cooling Ready
Up to 360mm radiator support, on the top and front of the case.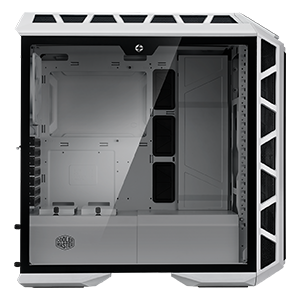 Edge-to-Edge Tempered Glass Side Panel
Show off your build through the edge-to-edge light grey-tinted tempered glass side panel.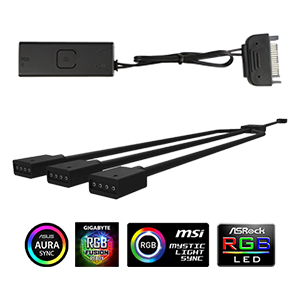 RGB Controller and 1-to-3 Splitter Cable for RGB LED Fans
The included RGB controller can be connected to the Reset Switch to manage the case's two 200mm RGB fans. The RGB splitter and 4-pin male-to-male adapters are included.
Covers for Clean Building
Cable covers1, a CPU cutout cover2, and PSU shroud3 take cable management to the next level. Assemble clean builds like a pro!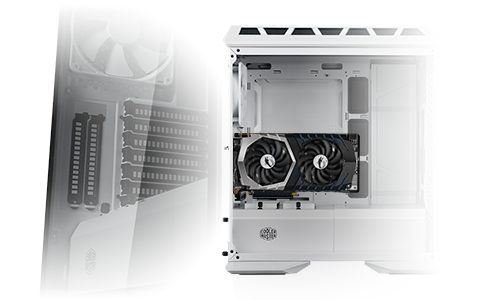 Show Off Your Graphics Card
Two additional PCI slots at the rear enable you to show off one graphics card in the vertical position (riser cable sold seperately).
Compare
MasterCase H500P Mesh
White
MasterBox Pro 5 RGB
MasterBox Q300P
Product Number
MCM-H500P-WGNN-S00
MCY-B5P2-KWGN-01,
or MCY-B5P2-KWGN-02
w/ RGB Controller
MCB-Q300P-KANN-S02
Available Color
White
Black
Black
Materials
Exterior
Plastic, Steel Mesh
Plastic, Mesh Bezel
Plastic
Body
Steel
Steel
Steel
Side Panel
Tempered Glass, Steel
Tempered Glass
Tempered Glass
Dimensions, L x W x H
544 x 242 x 542mm
500 x 223 x 475mm
450 x 230 x 450mm
Motherboard Suport
E-ATX up to 12" x 10.7", ATX,
Micro-ATX, Mini-ITX
E-ATX, ATX, Micro-ATX, Mini-ITX
Micro-ATX, Mini-ITX
Expansion Slots
7 + 2 with support
for vertical GPUs
7
4
Drive Bays
5.25"
0
0
0
2.5"/3.5"
2
2
1, 3.5" only
2.5" SSD
2, or 5 w/Drive Bay
2
2
I/O Port
USB 3.0 x 2, USB 2.0 x 2,
HD Audio In/Out
USB 3.0 x2, Audio In/Out
USB 3.0 x2, Audio In/Out
Installed Fan(s)
Front
200 x 25mm RGB x2, 800 RPM
120mm RGB x3*
120mm RGB LED x2
Rear
140 x 25mm x1, 1200 RPM
120mm Black x1
120mm x1
Fan Support
Front
120 / 140mm x3, or 200mm x2
120mm x3 / 140mm x2
120 / 140mm x2
Top
120 / 140mm x3, or 200mm x2
n/a
120mm x2
Rear
120 / 140mm x1
120mm x1
120mm x1
Bottom
n/a
n/a
120mm x1
Radiator Support
Top
120 / 140 / 240 / 280 / 360mm**
n/a
n/a
Front
120 / 140 / 240 / 280 / 360mm
240 / 280 / 360mm
120mm x1 / 240mm x1
Rear
120 / 140mm
120mm x1
120mm x1
Clearances
GPU
412mm
410mm
360mm
CPU Cooler
190mm
167mm
157mm
Cable Routing
Behind MB Tray
17.9mm
25–35mm
28mm
Dust Filters
Front, Top, Bottom
Front, Bottom
Front, Top, Bottom
Power Supply Support
Bottom Mount, ATX PS2
Bottom Mount, ATX
Bottom Mount, ATX PS2
EAN Code
4719512068526
4719512063941,
4719512068939
4719512065518
UPC Code
884102041037
884102036613,
884102041440
884102038037
Net Weight
11.3 kg
8.66 kg
5.2 kg
Gross Weight
14.7 kg
10.42 kg
6.4 kg
Carton Dimensions, L x W x H
640 x 345 x 650mm
580 x 280 x 565mm
510 x 277 x 527mm
* Additional controller or compatible motherboard required for RGB functionality
** Maximum thickness clearance of 55mm