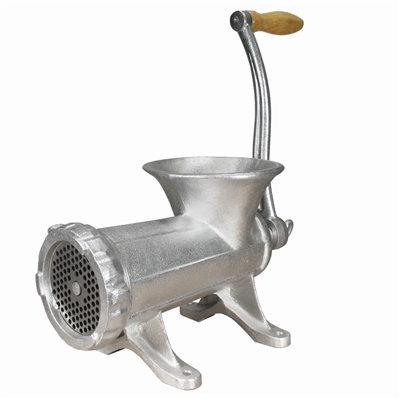 Weston Deluxe Manual Tinned Meat Grinders
Take control over your food! Manual meat grinders by Weston are economical and reliable tools in home meat processing. Make your own sausages, burgers, and more with hand processed ground meat prepared fresh in your own kitchen! Processing your own deer, wild game, and domestic meats has never been simpler. Plus, all Weston Manual Meat Grinders come with a sausage stuffing accessory kit.
Important Note Prior to Use A protective coating is applied to this unit prior to shipment. This coating protects the unit in shipment and during its shelf life. It is very important to thoroughly clean the unit before using it, especially around the edges or areas that have been soldered or welded. Completely disassemble and thoroughly clean all parts with hot water, dish detergent and a soft cloth. Rinse with clean water and dry thoroughly. DO NOT use any harsh or abrasive brushes, chemicals or detergents. (Avoid using detergents or cleansers containing high percentages of free alkali or acid.) DO NOT clean any parts of this unit in a dishwasher. Coat all metal parts with a Food-Safe Silicone Spray after cleaning and before storing. Be certain to store the unit in the original box in a cool, dry location. Run a small "Test Batch" through the unit before initial use.