The MSI 24GE 2QE 4K-004US all-in-one gaming PC delivers awesome performance, features and expandability, without the bulkiness or clutter of the traditional desktop PCs. Packed with cutting-edge components, 4K Touch display, gaming-enhancing audio and Killer game networking, it adds a competitive edge to your next daring adventure. And with a sleek design and a typical black and red color scheme, this 24" all-in-one will look great on any desk.
Windows 10 Home
The 4th generation Intel Core i7 Processor
23.6-inch UHD 4K (3840 x 2160) resolution
The latest NVIDIA GeForce GTX 960M
Speaker & Amplifier empowered by Yamaha
MSI Anti-Flicker technology and Less Blue Light Technology
Killer E2200 game networking
Intel 802.11ac WIFI
Military Class 4 components
MSI Instant Display Technology
MSI Super Charger Technology
MSI Headset Master Technology
Bundle XSplit Gamecaster (Preload with OS)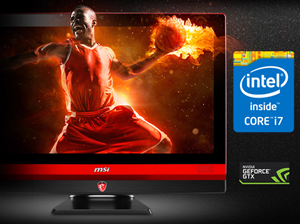 Performance in a Package
The MSI 24GE 2QE all-in-on comes equipped with the 5th generation Intel Core processor that are capable of bringing all the power you need in your system. The 5th Generation Intel processor provides both performance and energy efficiency to help maximize your gaming performance.
Experience desktop-class gaming with the cutting-edge NVIDIA GTX 960M GPU. The GeForce GTX 960M GPU brings smooth, high-definition PC gaming performance, driving impressive 1080p gameplay at high settings.
Close collaboration with a wide variety of developers under the GameWorks Program incorporate techs such as PhysX, HBAO+, and VXGI into popular titles such as Dying Light, Witcher 3 and Shadows of Mordor for more realistic, cinematic gaming.
Sharp as a Knife, Clear as a Whistle
With a 24" 4K display equipped with a 10-point capacitive touch panel, you can experience super sharp and crystal clear graphics quite literally at your fingertips.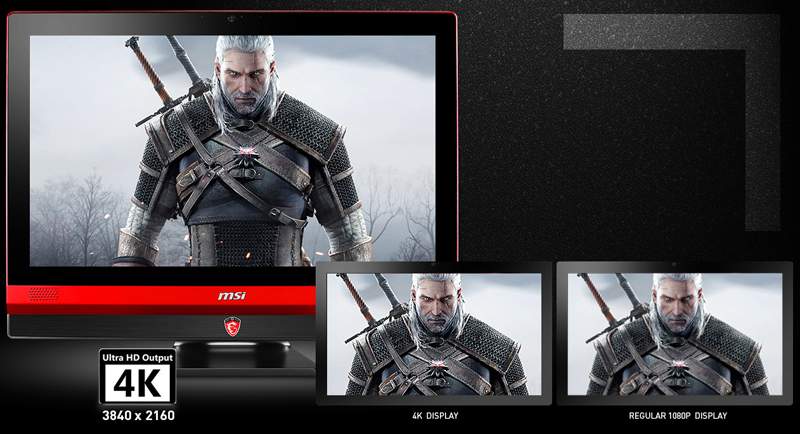 Eye Candy
With a super-wide viewing angle of 178°, the display offers decent full HD graphics for your eyes to feast on even at extreme angles. It tilts 3° forward and 20° backward to give you a comfortable viewing.
Anti-Flicker with Less Blue Light
The Anti-Flicker technology integrated into the GAMING All-in-One display stabilizes the power current and prevents flickering invisible to the naked eye under normal conditions. The Anti-Flicker display also effectively reduces blue light, whose wavelengths can be dangerous to the human eye, reducing eyestrain and improving productivity when used for extended periods of time.

Expand Your Space
With two HDMI outputs, expand your desktop real estate with two additional monitors and enjoy the benefits of watching movies, gaming, and browsing all at the same time.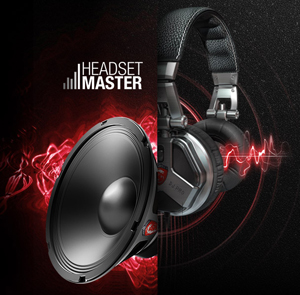 Headset Master
Usually when you plug in a headset into a PC, the internal speaker's sound output is normally disabled.
With MSI Headset Master you can take control and easily switch between internal speaker audio output and headphone audio output at any time.
The speakers can be enabled independently without having to unplug the headset.
Nahimic Audio Enhancer
Known for cutting-edge innovation in audio, Nahimic sound technology is renowned for its quality by the military and aeronautics industry. Now, MSI is making some serious noise by bringing this technology into the world of gaming. Nahimic is all about user experience right at the heart of their software, offering the best in audio technology:
Virtual Surround
HIGHLY IMMERSIVE 7.1 VIRTUALIZATION

Brings an ultra realistic 360° sound stage.
Bass Boost
POWERFUL AND DEEP BASS

Emphasizes the sub frequencies of explosion shockwaves and brings vibrancy to the gaming soundtracks.

Voice Clarity
DIALOGS EXTRACTED AND ENHANCED

Clarifies the voices and makes dialogs dialogues understandable within an intense audio scene.
Noise Gate & Noise Reduction
REMOVES 90% OF THE NOISE

Removes the noise from your communications. The result is a crystal clear in-game voice com in any situation.

Voice Leveler
AUTOMATICALLY ADJUSTS THE VOLUME OF YOUR VOICE

No matter how far or close you are from your microphone, the Voice Leveler keeps your voice unsaturated and intelligible.

HD Audio Recorder
HD AUDIO RECORDER

This function will enable you to enjoy studio quality sound to immortalize your streamed games - all in one click.
Killer Game Networking
The Killer E2200 Intelligent Networking Platform is built for maximum networking performance for online games and high-quality streaming media. Featuring Advanced Stream Detect, Killer E2200 automatically detects and accelerates game traffic ahead of other network traffic for smoother, stutter-free in-game performance and a competitive edge. With this exclusive, automatic traffic prioritization, games and real-time chat get priority over low-level system chatter, giving you the lowest latency for game data on the most controllable network hardware available.
Military Class 4 Components
The 24GE 2QE is equipped with highly-stable and high-quality military-grade parts and components with SFC, Dark CAP capacitors, and Hi-c Cap, which provide excellent stability, power efficiency, and performance. These three key components have passed U.S. Military Standard MIL-STD-810G certification and provide extra protection to ensure the system's stable operation.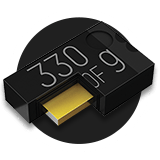 Hi-C Cap
A Hi-c CAP is a very small, but super-efficient capacitor. Besides ensuring enough spacing around a CPU socket to install large coolers, it also allows for 93% energy efficiency. Thanks to Hi-c CAP's MSI mainboards are the most energy efficient in the market.
Super Ferrite Chokes
Super Ferrite Chokes use a Ferrite core that is Super-Permeable. This allows the Super Ferrite Chokes to run at a 35 degree Celsius lower temperature, have a 30% higher current capacity, a 20% improvement in power efficiency and better overclocking power stability.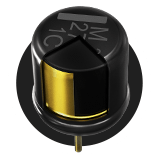 Dark Cap
With their aluminum core design, Dark CAP's have been a staple in high-end design mainboard designs and provides lower Equivalent Series Resistance (ESR) as well as its over-10-year lifespan.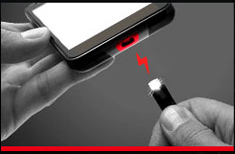 Super Charger
Shut down and game on! With MSI Super Charger you can easily deliver MORE power to your smartphone, tablet, USB game controller or portable console. This allows you to quickly charge these devices for use when you're not gaming on your PC, eliminating the need for wall power sockets.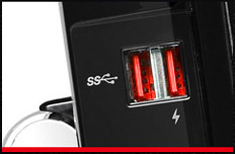 USB 3.0
The USB 3.0 port supports transfer rates up to 5 Gbps, ten times faster than USB 2.0. Transfer high-definition data including movies, videos, and other large file formats – faster and easier than before.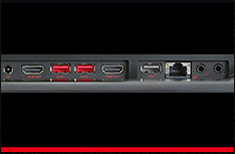 High Connectivity
MSI AIO PCs are packed with more than enough ports to connect all your favorite devices with ease and convenience.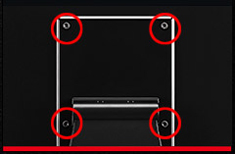 Wall Mountable
AIO GAMING PCs are all wall mountable with four VESA wall mount holes on the back to save on the space you need.