ARCTIC Freezer 33 CO Tower CPU Cooler
Powerful Cooling Capacity with Semi-Passive Fan Design
Compatible with the latest AMD AM4 socket and most Intel sockets, the ARCTIC Freezer 33 CO tower CPU cooler is a great choice for your new build or system upgrade. With four 6mm diameter direct-touch heatpipes, 49 perfectly spaced aluminum fins and a quiet 120mm PWM fan, this model keeps your powerhouse running cool even when you're pushing it hard. The fan features semi-passive design that stops at idle or low load, and its Japanese ball bearing guarantees ultra low noise and ultra long lifespan.
Price-Performance Champ
The Freezer 33 CO is based on the ARCTIC Freezer i32 CO, but features several improvements that boost performance and further reduce noise. Thanks to the award winning cooling performance, the Freezer 33 CO is the perfect gadget for PC enthusiasts looking for an affordable solution for the CPU cooling.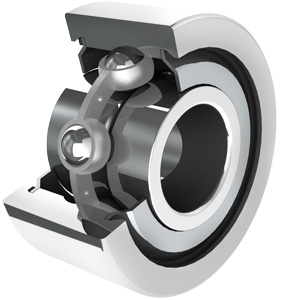 Enhanced Bearing for Continuous Operation
"CO" stands for Continuous Operation and makes the cooler suitable for PCs with non-stop operation like servers. The Japanese dual ball bearing used in the "CO" fan reduces rotational friction considerably, is significantly less sensitive to dust and high temperature and hence up to 5 times more durable than other bearings.
Semi Passive Cooling
The sophisticated fan controller that was developed by German engineers allows passive cooling of the CPU during simple applications such as surfing and creating documents. The F12 PWM fan only starts up at a PWM signal with 40 % pulse width. This saves energy, extends the service life and makes the cooler at low load completely silent.
Improved Heat Dissipation
The Freezer 33 CO has off-centered heat pipes that dispense the heat in a more efficient way than the centered ones of its predecessors. Also, the layout of the 49 aluminum fins creates micro vortices that boost the airflow and circulate it around the heatpipes.
Optimal Compatibility
Fast and easy to install and extremely reliable, the mounting system is compatible with Intel and AMD sockets. Also, the low footprint of the Freezer 33 CO avoids interference with the RAM, even if there are two fans used ensuring the best compatibility.

Easy Installation & Safe Transportation
Thanks to different mounting models for various sockets, a backplate and a significantly lower weight compared to the i30, the Freezer 33 CO is not only fool-proof to install, but also absolutely transport safe.
This model supports AMD AM4, and Intel LGA 1151, 1150, 1155, 1156, 2011-v3** and 2011** socket types.
* The AM4 backplate comes with your motherboard.
** Square ILM (80 x 80 mm spacing) only