The DELL XPS 13 sets a new standard for 13" laptops with excellent performance, an attractive design and premium build in a sleek, elegant compact package. It is the world's smallest 13" laptop, by featuring a 13" display in a dimension of an 11" laptop. You'll love the screen at first sight, with a virtually border-less design, IPS panel technology, Full HD (1920x1080) resolution and touch capability that offers new way to interact with Windows.
The 6th generation Intel Core processor delivers performance and capability needed for everyday tasks, like surfing, movies, office documents, home budget, and multitasking. Its backlit keyboard allows error-free typing in dim environments. The improved touch pad lets you scroll, pinch, zoom and point with speed and accuracy. You'll also appreciate its Corning Gorilla Glass for screen protection, extended battery life, fast SSD storage and an array of the latest connectivity options like USB 3.0, mini DisplayPort, 802.11ac Wi-Fi and Bluetooth. Best of all, with a stylish, durable and lightweight machined aluminum casing, the XPS 13 is a great companion that keeps you productive and entertained whenever you need it.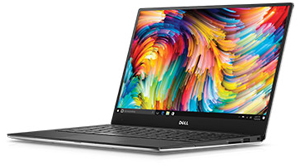 More Screen, Less to Carry
The virtually borderless InfinityEdge display maximizes screen space by squeezing a 13-inch display in an 11-inch frame. With a bezel only 5.2 mm thin, starting at only 2.7 pounds and measuring a super slim 9-15 mm, the XPS 13 is exceptionally thin and light.
Stunning, State-of-the-Art Display
Full HD resolution (1920x1080): See every image with maxed out details and clarity on this 13" screen.
Easy to share: See content clearly from nearly every angle with the IGZO IPS panel, providing a wide viewing angle of up to 170°.
Brighten your day: 400 nit brightness is brighter than a typical laptop panel, so you get a great view, even outside.
Gorgeous colors: See the brightest brights and the darkest darks with a color gamut of 72% and a contrast ratio of 1000:1.
Touch friendly: Tap, swipe and pinch your way around the screen. The optional touch display lets you interact naturally with your technology.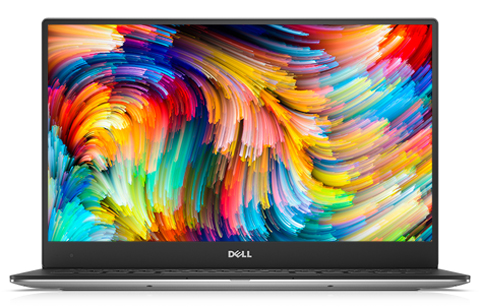 Fully-Loaded For Enhanced Performance
The latest performance features: New next gen Intel Core processors and higher performing graphics offer speed and reliability. Boot and resume in seconds with the latest solid state drives and 8GB of memory.
Stay powered longer: Depending on how you use your laptop, your battery life will vary. When you are using productivity applications, like Word or Excel, experience the longest battery life of any 13-inch with up to 22 hours of continual use6 on a FHD model. Enjoy up to 13 hours of battery life when streaming Netflix content or browsing the web with Microsoft Edge. Add an additional 11 hours, 30 minutes with the optional Dell Power Companion.
Leading-edge connectivity: The Thunderbolt 3 multi-use Type-C port allows you to charge your laptop, connect to multiple devices (including support for up to two 4K displays) and enjoy data transfers up to 40Gbps, 8 times that of a USB 3.0.
Advanced docking: The XPS 13 can be used with the newest Dell docking solutions, featuring single-cable connections for power, Ethernet, audio and video. Add the optional Dell Thunderbolt™ Dock for faster data transfers and support for up to three FULL HD displays or two 4K displays.
Killer Wireless: The optional Killer 1535 Wireless-AC adapter provides the strongest and most reliable Wi-Fi connection and was designed specifically to make your online videos, voice and games play faster and smoother. It automatically detects, classifies and prioritizes network traffic ensuring your most important data takes priority over your other less urgent applications. Killer delivers your critical packets immediately, thus eliminating unnecessary latency and lag.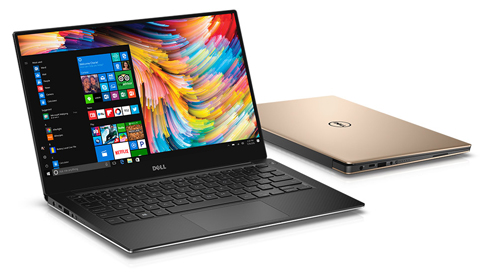 Built For Business
Best-in-class Security with industry-leading endpoint solutions that include leading-edge encryption, authentication and threat protection.
Protect data across multiple end-points with Dell Data Protection | Encryption. Factory installed, IT admins can remotely manage encryption policies to easily meet compliance regulations right out of the box.
Dell Data Protection | Endpoint Security Suite Enterprise11 includes advanced threat prevention, enterprise-class encryption and authentication and stops malware before it can run. In fact, testing shows that our protection is 99% effective against threats compared to traditional top antivirus solutions that have only been able to catch an average of 50% of the same threats.
The world's most manageable XPS allows IT to change BIOS settings and configure systems with ample flexibility that your business requires.
Dell Client Command Suite compatibility - free tools that help automate and streamline system deployment, monitoring and updating in complex IT environments
Factory installed, Dell Command | Update eliminates time-consuming hunting and pecking while minimizing system disruption.
Factory installed with Dell Command | Power Manager and Battery Extender Mode.
Simplify deployments with long lifecycles using Dell Configuration and Deployment Services with Dell Imaging Services.
KACE System Management solutions meet the most demanding IT management needs.
Available only with Windows OS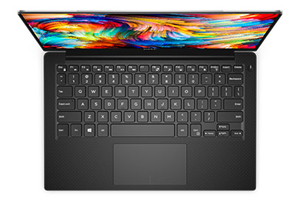 Improved Usability
Pinch, zoom and click with precision: The precision touch pad prevents jumping and floating cursors, while Accidental Activation Prevention puts a stop to unintentional clicks when your palm hits the touch pad.
See what you've been missing: A standard backlit keyboard illuminates your keys so you can stay productive in low-light or no-light rooms.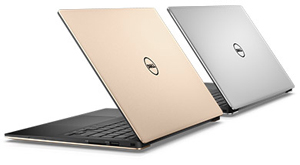 Artfully Constructed from Premium Materials
Maximum durability: Cut with precision from a single block of aluminum for a sturdy, durable chassis in a sleek design. The Corning Gorilla Glass NBT touch display option is up to 10 times more scratch resistant than soda lime glass12.
Cool under pressure: The palm rest is made from carbon fiber. It's strong and thin like aluminum, but lighter and cooler to the touch.
Elegant design: Choose between rose gold or silver for a more personalized touch.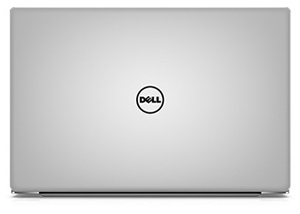 More Environmentally Responsible than Ever
Power efficient: XPS 13 is ENERGY STAR certified.
Smarter materials: Free of materials like cadmium, lead, mercury and some phthalates, it's also EPEAT Gold registered13 and BFR/PVC-free14.
Recycle-friendly: 90% of the laptop's parts can be easily recycled or reused, and the bamboo packaging trays are 100% recyclable.