Combining the state-of-the-art hardware, gamer-centric features and superior thermal design into an ultra-thin, stylish chassis, the MSI GS60 GHOST PRO-002 is ready to move and ready for battle. Grab this unstoppable war machine, and experience desktop-class gaming performance on a laptop.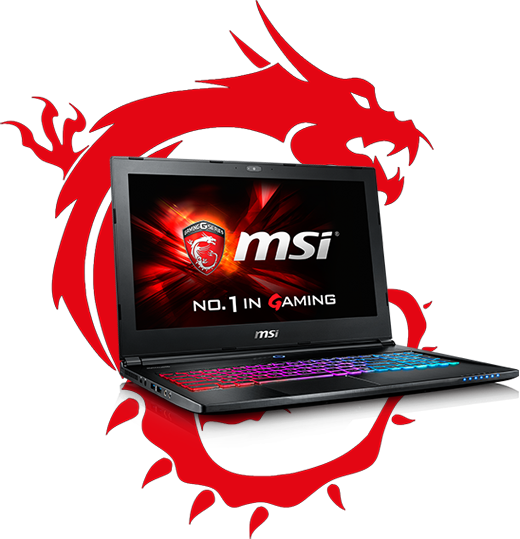 6TH GENERATION INTEL CORE I7 PROCESSOR
The Intel 6th Generation Core i7 processors, codenamed Skylake, bring significant improvements to gaming performance, multiple application data processing, and 4K video transcoding, delivering superb performance leaps as the next platform for extreme gaming.

GREEN
Enables lowest power consumption of both CPU and GPU while maintaining coolest constant temperatures for both
COMFORT
Enables enough power consumption of the GPU while maintaining comfortable temperatures of the GPU
SPORT
Enables max power consumption of both CPU and GPU for extreme performance
INSANELY POWERFUL
The NVIDIA GeForce GTX 970M Series brings extreme, next-generation graphics performance to serious gaming notebooks. Reaching performance levels higher than last generations high-end GTX 880M, the GeForce GTX 970M delivers desktop gaming performance in an ultra-portable design.
Enable antialiasing for a smooth and realistic gaming experience. Feel the difference with NVIDIA PhysX technology, bringing games to life with dynamic and interactive environments.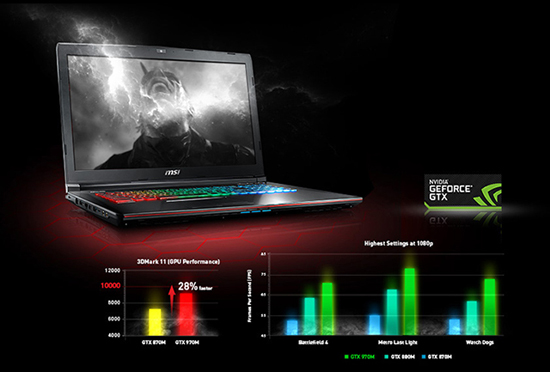 PCI-E GEN 3 SSD – GO FROM 0 TO 100 IN SECONDS
Get in the game before everyone else with the latest PCI-E Gen 3 x4 M.2 SSD with NVMe technology. Harness the full performance potential of the Gen 3.0 SSD through the optimization of the hardware and software outputting extreme read speeds up to 2200MB/s, 5x faster than SATA3 SSD's.

DDR4 MEMORY SUPPORT
Get the best possible performance out of your notebook with support of the advanced DDR4 memory. With over 32% faster performance than previous generations, DDR4 is the new standard to take your gaming experience to the next level.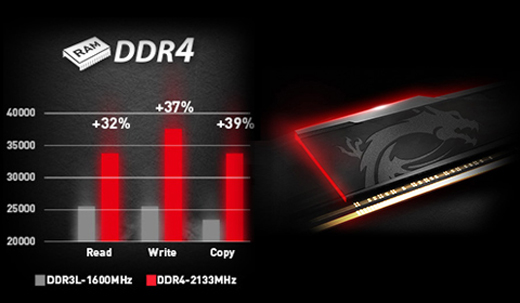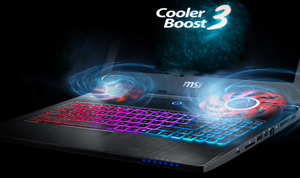 GAME FOREVER WITH COOLER BOOST 3
Play hours on end with an intelligently and efficiently designed dual fan cooling system with Cooler Boost 3. Drawing heat away from both the CPU and GPU with designated heat pipes significantly reduces heat generation and increases heat dissipation for stable gameplay after hours of gaming.
AN EYE OPENING EXPERIENCE WITH TRUE COLOR TECHNOLOGY
See the world for what it is using MSI's exclusive True Color Technology. Precisely calibrated to deliver vibrant colors, stunning details, and sharp images, True Color Technology brings the colors of the world right to your display.
Select from multiple viewing modes to control color balance, gamma adjustment, and gamut mapping, pre-calibrated for the best viewing experience:
[Select multiple viewing modes]

Increase brightness for gaming

Reduce potential harmful blue light

Set screen to 100% sRGB of color gamut

Increase clarity for lines and words

Reduce eye-strain after long term use

Optimize contrast for vivid movies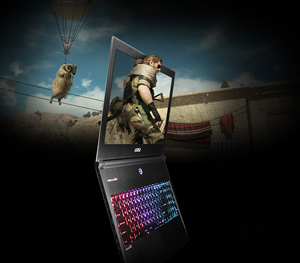 Full HD 1080P ENJOYMENT
Whether you're the hero or the villain, get ready to be immersed in the fierce gaming world through a stunning 15.6" Full HD eDP Wide View Angle display.
WATCH, STREAM AND PLAY SIMULTANEOUSLY
Do everything, all at once with MSI's Matrix Display technology, supporting multiple external displays so you can multi-task like a pro via HDMI and mini-Display Ports. Stream on Twitch or watch your favorite shows while playing your games, whatever it is you do, you'll never miss another moment.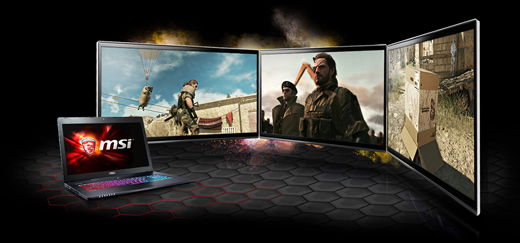 TURN IT UP
Fill the room and feel the bass with Dyanudio high fidelity speakers, acoustically tuned to perfection to deliver unheard of quality fit for any audiophile.
Drop the beat or feel the thunderous roar of the battlefield with an integrated subwoofer.
Get an extra boost in performance for your audio with built-in dedicated bass, speaker, and headset AMPs, gold plated for maximum audio transfer. Add dynamics and punch to every gunshot, explosion and gaming sound with stunning surround effects, producing an incredibly realistic surround sound experience even from just a pair of headphones or stereo speakers.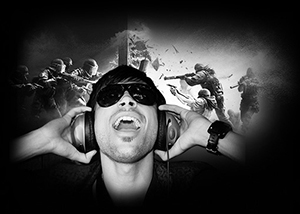 ESS SABRE HIFI AUDIO DAC – EVOLVE THE WAY YOU HEAR
Push the limits of your audio peripherals and hear the difference when you jack into the SABRE Audio DAC. Discover new details that you've been missing or maintain the upper-hand in competitive FPS matches where every bit of sound counts.
NAHIMIC VIRTUAL SURROUND SOUND - MILITARY TECHNOLOGY, THE NEXT GAMING STANDARD
Technology originally developed for the military fighter jets, Nahimic specializes in 3D sound software processing and audio improvements offering virtual 7.1 sound in immersive high definition. Designed to work with standard audio and stereo equipment, Nahimic transports gamers into the action, allowing them to sense every footstep, hear every bullet whizzing past, and feel every explosion. Nahimic highlights even the smallest sounds, intensifies gameplay by boosting bass, and reducing exterior noise pollution for optimum in-game voice clarity and comprehension. It also features a high definition audio recorder to easily capture and stream studio quality sound. This new technology is exclusive with MSI gaming laptops.
STEELSERIES GAMING KEYBOARD - SWIFT. ACCURATE. POWERFUL.
Gain the unfair advantage, day or night, with the agile gaming keyboard by SteelSeries. Play with accuracy with the well-spaced and strategically designed key layout. Feel the difference with tactile feedback for quick responses and anti-ghosting capabilities to detect multiple key actions simultaneously.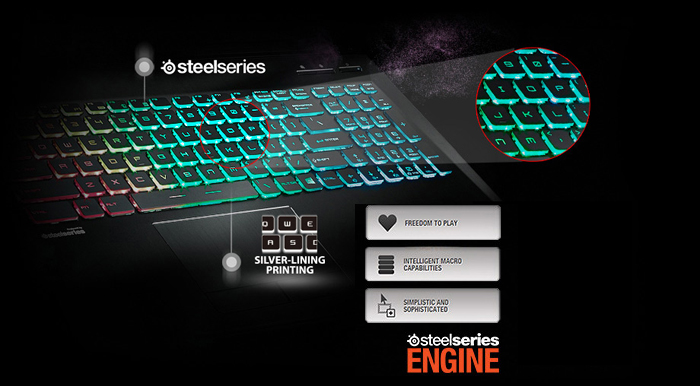 SILVER LINING PRINT
See more and do more in the night with high-grade silver lining printed keys. See the full color spectrum on the Steelseries multicolor keyboard and enjoy longer lasting keys worry free of long-term wear and tear.
KILLER SHIELD - PROTECTING YOUR PING
Stop losing games to lag with Killer Shield, the latest networking technology from Killer. Protect and prioritize networking traffic while preventing lag spikes so you can game without fear and play at your best. Select programs you want your network to prioritize to ensure maximum bandwidth and track your speeds with the easy-to-use Killer Networking Manager.
KILLER DOUBLESHOT PRO
Don't let lag ruin your experience. Max out the performance of your network with Killer DoubleShot Pro, supporting both Killer E2400 LAN and dual band 802.11ac Killer Wireless for improved latency and smoother online gameplay.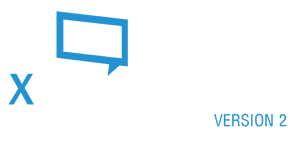 SHOW OFF YOUR SKILLS TO THE WORLD
XSplit Gamecaster lets you easily record your gaming moments and broadcast your live gameplay sessions to Twitch, YouTube, UStream and more. It's simple, easy to use and ideal for sharing your gameplay with the world. So what are you waiting for? Join the revolution and start streaming and recording with XSplit Gamecaster today.