Upgrade your network to dual-band wireless AC for the latest online media enjoyment. The ASUS RT-AC53U router operates on 5 GHz and 2.4 GHz simultaneously, and provides up to 1167 Mbps concurrent data rate for smooth online gaming, 4k video streaming and other bandwidth-intensive tasks. Enjoy better coverage and less dead spots with the AiRadar technology, which delivers 150% greater signal strength in any direction. Prioritize and optimize time-sensitive applications like gaming and VoIP using smart QoS. Share your printer or storage device via the onboard USB port. And the ASUSWRT dashboard UI allows quick setup and easy management, thus you can get your router up and running in seconds. Plus, with a stylish wedge design and classy checkered top cover, the ASUS RT-AC53U router will seamlessly fit with any room fashion.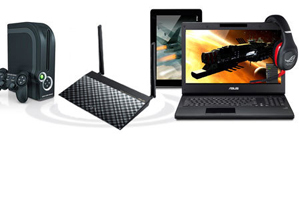 Dual-Band Connectivity for Compatibility and Performance*
Delivering 2.4 GHz and 5 GHz concurrent bands at up to 300 Mbps and 867 Mbps, respectively, RT-AC53U has a total speed of up to 1167 Mbps, and maintains complete stability. You can perform basic tasks like web browsing and file downloading on the 2.4 GHz band, while simultaneously allowing multiple devices to stream in 4K Ultra HD videos or support online gaming and other bandwidth-demanding applications smoothly on the clearer 5 GHz band.
* Actual performance may vary due to differences in ISP service bandwidth, PC and graphic card performance, operating environments, building materials and wireless obstructions.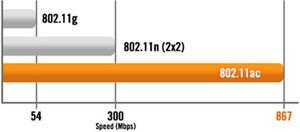 Experience the World's Fastest Wireless Speeds*
RT-AC53U delivers wireless-AC speeds up to 867 Mbps on the 5 GHz band that's 3 times faster than standard wireless-N. This high performance wireless lets you enjoy ultra-smooth online gaming, snappier web surfing and other bandwidth-demanding tasks without a wired connection.
* Actual performance may vary due to differences in ISP service bandwidth, PC and graphic card performance, operating environments, building materials and wireless obstructions.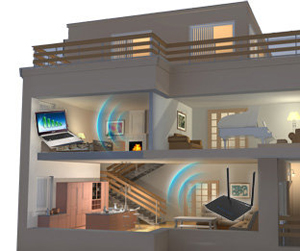 AiRadar Delivers 150% greater Wi-Fi Coverage*
ASUS AiRadar's unique design increases wireless signal coverage and quality without consuming additional power. This technology simply adapts beam patterns to local conditions to enable higher-gain directional signal emulation. AiRadar shapes signals to offer stronger output, transforming what may be a weak omnidirectional signal to a stronger unidirectional one, improving throughput at the same time.
* ASUS-tested and verified setup time. Actual duration may vary by ISP, specific connection type, location, and other factors.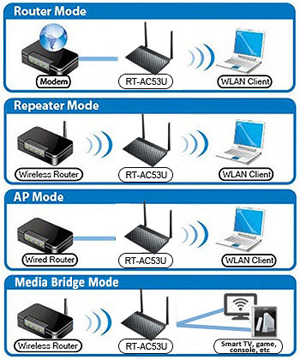 Easily Select Your Preferred Mode
ASUS routers with EZ Switch give the flexibility of simple router, repeater, access point and media bridge mode selection. Router mode is the standard wireless and wired operation, while repeater mode extends existing Wi-Fi coverage, and access point mode connects with wired routers to instantly add wireless capabilities. Media bridge mode enables instant wireless for all your Ethernet devices. Switching occurs on the hardware level, meaning true 4-in-1 versatility with no delays and no complicated menus to go through.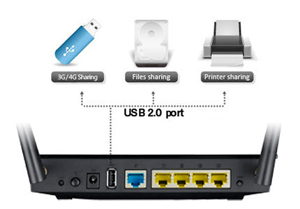 Easy Sharing via USB Port
Make RT-AC53U your media and device center. With built-in USB 2.0 port, connect external storage drives, printers, scanners, 3G/4G dongles, and many other USB-enabled devices to share with your networked PCs. Having your devices networked, lets you access them easier than ever before.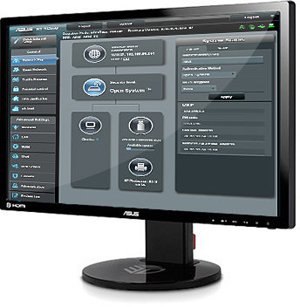 Robust Control and Optimization with ASUSWRT
Easy to use and highly intuitive, ASUSWRT dashboard UI offers complete network management. Whether you're a gamer or HD media enthusiast, get improved performance with ASUS Quality of Service (QoS) bandwidth prioritization that optimizes internet speeds for your specified tasks. Plus, the traffic monitor allows you to check your web usage in a clear graphical interface. Along with that, the Download Master feature ensures better network productivity and management. One-click settings enable easy troubleshooting, printer setup and parental controls. Try the ASUSWRT.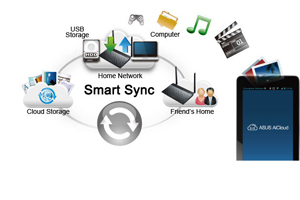 ASUS AiCloud – Your World on Demand
ASUS AiCloud keeps you connected to your data wherever and whenever you have an internet connection. It links your home network and online Web storage service* and lets you access it through the AiCloud mobile app on your iOS or Android smartphone or through a personalized URL in a Web browser. Even better, the new Router-to-Router Sync function allows you to synchronize your stuff with storage devices connected to other compatible ASUS routers - it's as simple as choosing a sync folder. Sharing with friends and family is now easier than ever!
* Works with selective web storage services only.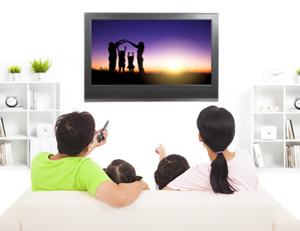 Download and Stream Anywhere
Exclusive Download Master uses a special data acceleration algorithm to increase download speeds to save you time. With USB storage devices connected to the router, downloads can continue uninterrupted in the background even when your PC is turned off for added convenience.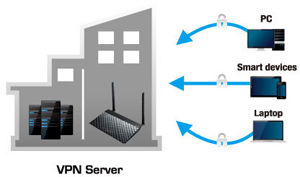 VPN Server Enabled
Easily set up a VPN server to browse the web and access data - no matter where you are. Featuring PPTP encryption, your data transmission remains always secure and confidential.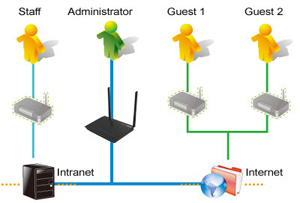 Customize and Control Your Network for Others
Share your internet connection with your guests in safety, with no need to share your personal password or network resources. ASUS Guest Network supports up to three separate guest networks, each with its own usage limits and password. Guests cannot access your primary network or any other connected devices.
Easy 3-Step Setup
In less than 30 seconds and in only 3 easy steps, effortlessly set up your ASUS router through the simple user interface to start surfing the internet in record time. Step 1: plug in the necessary cables. Step 2: open your web browser to instantly activate the setup wizard. Step 3: complete the setup wizard setup. And you're ready to start surfing the web! No CDs, complicated manuals or time-consuming operations. Setup is quick and easy so you can start experiencing the best of the internet with the most innovative router.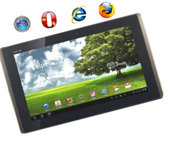 Step1: Open web browser.
Step2: Enter ID/Password.
Step3: Done!