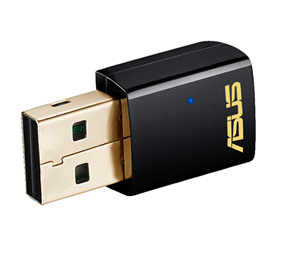 ASUS Dual-Band Wireless-AC600 Wi-Fi adapter
The smallest 802.11ac USB Wi-Fi adapter in the market
Selectable dual-band 5GHz/2.4GHz for up to 433Mbps
Instant upgrade to next generation 5G Wi-Fi for your desktop and notebook
Features
The easy way to add next-generation 802.11ac Wi-Fi to notebook and desktop PCs
ASUS USB-AC51 is the smallest 802.11ac USB Wi-Fi adapter for you to instantly upgrade your desktop and notebook to the next generation 5G Wi-Fi with hassle-free setup. Its specially-designed internal antenna provides wireless speed up to up to 150Mbps at 2.4GHz and 433Mbps at 5 GHz. It supports multiple OS including Windows, Mac OS X, and Linux. The transmission quality and excellent features make USB-AC51 a great choice for simultaneous downloads, online gaming, and video streaming.
Next gen 802.11ac wireless, up to 3X faster than previous wireless N adapters
The fastest Wi-Fi ever becomes more accessible via USB, going up to 433Mbps on the clear 5 GHz band. Using 802.11ac wireless, faster connectivity and enjoyment come to all your devices. Compared with current 802.11n, the USB-AC51 delivers up to 433Mbps at 5 GHz, which is 3X faster than 802.11n.
*Quoted network speeds and bandwidth based on current IEEE 802.11ac specifications. Actual performance may be affected by network and service provider factors, interface type, and other conditions. Connected devices must be 802.11ac-compatible for best results.
Selectable dual-band 433Mbps/150Mbps bandwidth
Dual-band operation suits mainstream and power users. The 2.4GHz band is perfect for web browsing, email, and social networking, while the 5GHz frequency enables smooth HD streaming and online multiplayer for blazingly fast and lag-free home entertainment.
Smallest 802.11ac Wi-Fi adapter for easy connection and instant upgrade for PCs
The world's most compact wireless USB adapter measures just 3cm long. It's easy to carry and fits in pockets, yet offers strong wireless. With its USB interface, the USB-AC51 gives your desktop and notebook an instant 802.11ac Wi-Fi upgrade, with access to speeds of up to 433Mbps.
Gallery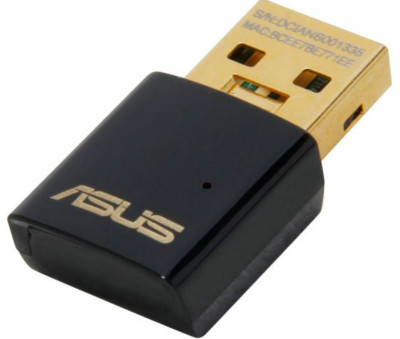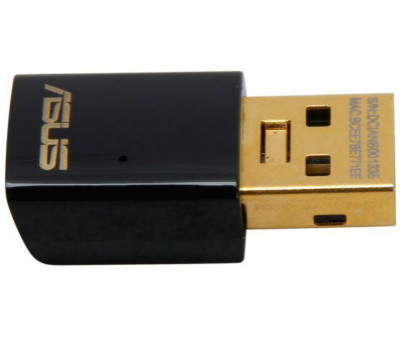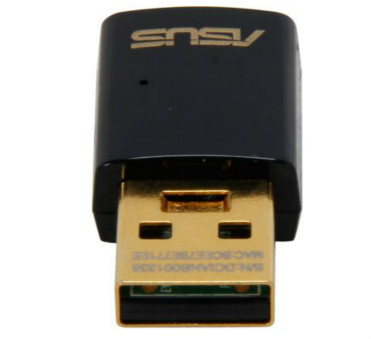 What's In Box