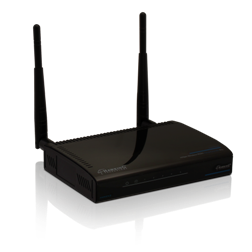 INTRODUCTION
Eliminate wireless dead spots for Long Range Applications and strengthen unstable connections for digital streaming!
Hi-Gain™ Wireless-300N Range Extender Pro repeats wireless signals from any access point or router with a 2.4GHz 802.11b/g/n network. With a transmit power of up to 500mW and network speeds of up to 300mbps, the HWREN2 Pro, not only doubles your Wi-Fi network coverage, but its performance is three times stronger than any standard wireless repeater or extender on the market. It eliminates wireless deadspots and strengthens unstable connections for long range applications. With additional features like upgradable antennas, high power amplification, and hassle-free installation, the HWREN2 is an ideal solution to upgrade and improve your wireless experience.
Along with wireless connectivity, the HWREN2 has 5 wired 10/100Mbps Ethernet ports for connecting your computers that do not have wireless access. It also offers the latest wireless security features, ensuring that your files and network are safe from outside intruders. The external removable antennas allow quick and easy upgrades for more range demanding environments.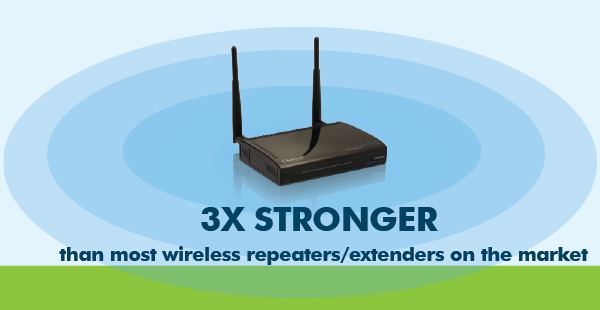 The HWREN2 Range Extender Pro combines a built-in Power Amplifier with removable external antennas to upgrade your overall wireless experience. The HWREN2 not only doubles the size of your Wi-Fi network, but also boosts performance up to three times stronger than the leading wireless repeaters/extenders on the market.
HOW THE HWREN2 WIRELESS NETWORK EXTENDER WORKS
A common problem with standard wireless routers is that the quality of most standard wireless networks diminishes significantly past a coverage radius of 200 feet. Anywhere outside the coverage zone will have slow and unstable connections, or even as major as no connection at all. The HWREN2 Pro is designed to pick up an existing wireless signal from an access point or router, then repeat it, doubling the existing wireless coverage. The Built-in Range Amplifier Technology boosts the power strength and filters out the unwanted Wi-Fi interference. As a result, it provides a stronger and more solid wireless connection to improve overall performance, such as improving the data transfer speed and reducing lag while streaming or downloading multimedia content (video, music, etc.).
SEAMLESS ROAMING FEATURE & THE HWREN2 WI-FI NETWORK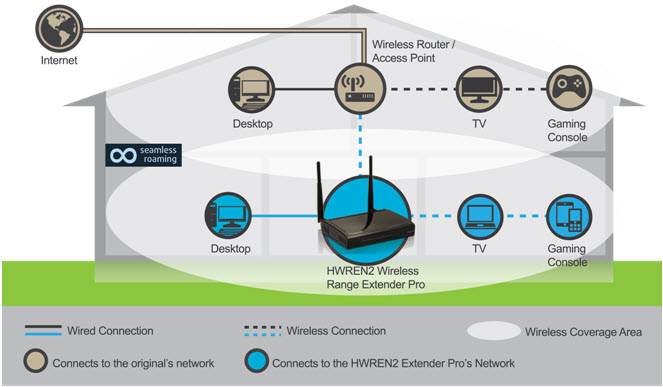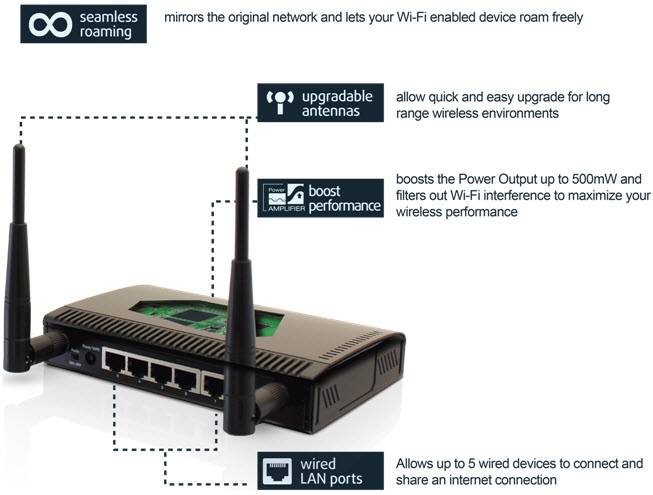 Place the HWREN2 within your existing network to expand the wireless coverage throughout your home and office. Eliminate slow network connections due to poor wireless coverage. Seamless roaming mirrors the existing network settings and allows your WiFi devices to connect and roam freely.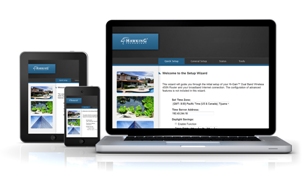 HASSLE-FREE INSTALLATION
The HWREN2 is quick and easy to install using a Wi-Fi enabled device (i.e. tablet, smartphone, Mac or Windows computer). Hassle-free means, there is no Ethernet cable or CD required for the installation. Simply power up the unit, use a Wi-Fi enabled device, and log into the set up page. This installation feature lets you configure and set up the HWREN2 within minutes.
PERFORMANCE CHART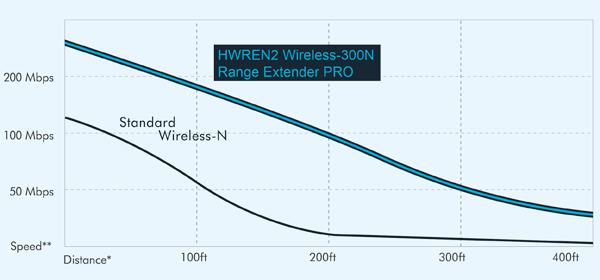 The HWREN2 Range Extender Pro doubles the wireless coverage radius and delivers unsurpassable signals to your Wi-Fi enabled devices. As a result, the HWREN2 reduces wireless dead spots and brings high definition content to you at blazing fast speeds.
HELP ME CHOOSE
Hawking Technology, Inc. carries a full range of repeaters & range extenders. This guide below will help you find one that will fit your network environment, indoor or outdoor, mobile or station.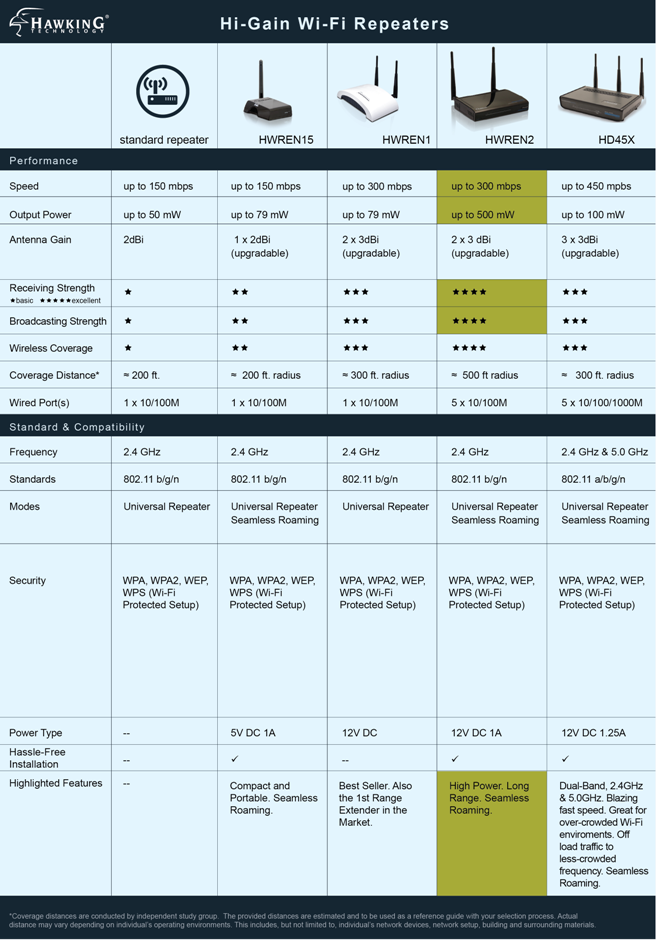 | | |
| --- | --- |
| FEATURES | |
| | Mirrors the original wireless network and lets your Wi-Fi enabled device roam freely |
| | Boosts the power output to 500mW and filters out Wi-Fi interference to maximize your wireless performance |
| | Quick and easy upgrade for long range environments |
| | Allows up to 5 wired devices to connect and share an internet connection |
| | Install using a tablet, smartphone, mac or windows computer |
Package Content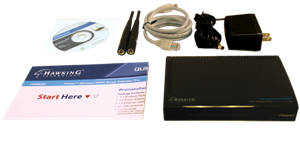 One Hi-Gain™ Wireless-300N Range Extender Pro
Two 3dBi Hi-Gain Omni-Directional Antennas
One Mac/PC CD (includes User's Manual and Support Utility for PC)
One RJ-45 Ethernet Cable
One Power Adapter 12V / 1A
Quick Installation Guide