L337 Gaming Motherboard - Battle Ready for Today's and Tomorrow's Gamers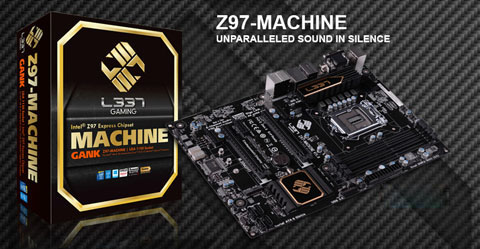 Hardcore gamers need hardcore thrills, and this is exactly what the L337 Gaming Motherboard gives you.
Based on the Intel Z97 chipset, it carries an LGA 1150 socket to support powerful 4th and 5th generation Intel Core i7/ i5/ i3/Pentium/Celeron processor, delivering jaw-dropping computing performance. It brings you the multi-GPU choice of CrossFireX, and supports 4K Ultra HD graphics via HDMI port, elevating your visual experience to the new level. The ESS SABRE premier audio DAC, along with Sound Blaster Cinema 2, delivers the true cinema-quality sound. Hear every detail clearly and experience the full impact of your entertainment. The high-quality component design – Ice chokes, long-lasting Nichicon Japanese Caps, CS extreme power module design, exclusive dual cooling MOSFETS design etc., ensures superior cooling performance, high efficiency, and maximum reliability. Complete with super-fast network, great expansibility and more, it's an absolute choice for any pro-gamers.
World-class Audio Quality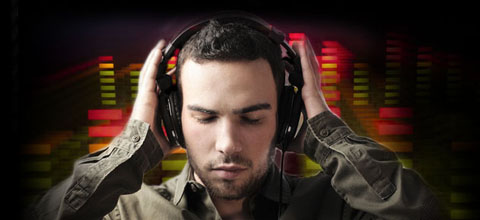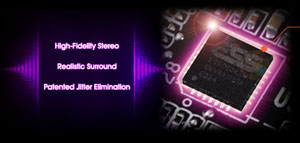 Unparalleled Sound by ESS saber Premium DAC
ESS SABRE Premier Audio DAC is the world's highest quality audio D/A converter for high -fidelity gaming headsets and professional audio applications.
Sound Blaster Cinema 2
SBX features such as Surround, Crystallizer, Bass, Dialog Plus and Smart Volume, delivering an exceptional audio experience with incredibly realistic performance and stunning surround effects.
Extreme Graphics
4K Resolution & 3-way Video across Three Screens Simultaneously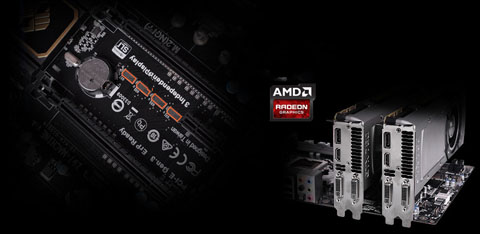 2-WAY CrossFireX Support
The most advanced multi-graphics processing technology of dual PCIe x16 Gen3, supporting AMD 2-way CrossFire to deliver up to 2X performance over a single GPU system.
Native 4K Ultra HD Support
L337 features advanced onboard 4K Ultra HD graphics, which natively supports up to 4096 x 2160 pixels via HDMI, offering immersive visual clarity for gaming, multimedia and entertainment.
Extreme Overclocking
Four Quad Channel Overclockable DDR3 memory 1700Mhz double up to 3400 with BIOS adjustable clock rates giving you a huge boost. Supports Up to 32GB Max memory.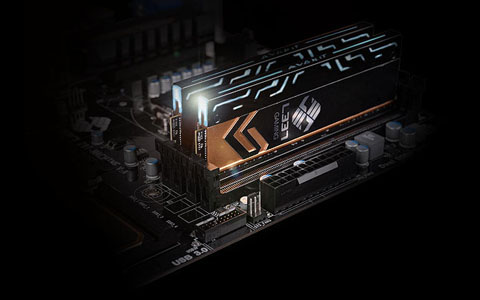 Extreme Expansion
M.2 Expansion Socket for NGFF (Next Generation Form Factor)
The latest evolution of M.2 socket provides a better and faster standard for connecting NGFF (Next Generation Form Factor) solid state drives supported by PCIe or SATA.
ECS M.2 socket supports all 42mm, 60mm and 80mm version SSD in identical width 22mm design.
Extreme Networking
Super-fast Network for Gaming - No Lag, No Pings
No. 1 Intel networking technology provides the most stable speed for gaming, ultra-low power consumption and lower latency.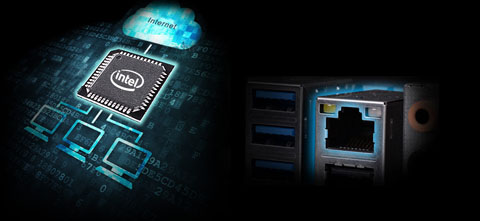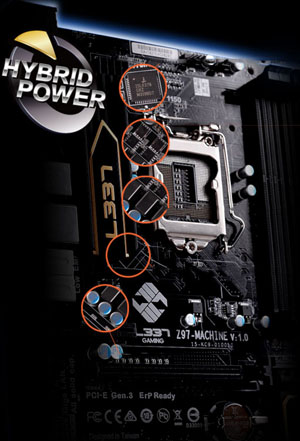 Exclusive Components Design for the Ultimate Cooling and Efficiency
Hybird Digital PWM
Hybrid Digital 6-Phase PWM was designed to manage microprocessor core and memory voltage regulator with auto phase shedding for easy setting, high system flexibility and overclocking applications.
Ice Chokes
Exclusive Dual Advanced MOSFETs provide up to 90% power efficiency, which allows for extreme heat dissipation with the optimal combination of fast switching, high efficient power conversion and low on-resistance.
Dual Advanced MOSFET
1.5X greater stability offers 50° wider temperature range and reduces heat by 13% more than standard ferrite chokes, even under full loading operations.
Exclusive Heatsink Design
L337 heatsink offers extreme cooling and heat dissipation of up to 10% more, and the style design represents the architectural homage of L337 spirit.
Superior Japanese Caps
Ultra-long lifespan Nichicon Japanese Caps deliver the highest standard of stability, reliability and longevity to fulfill hard-core gamers' demand and over-clocking application.