SunSun Lighting aims at being the best LED lighting company in the world. We achieve this through technical innovation and automation supported by the best global business practices. Our objective is to delight customers with excellent quality and delivery, while providing exceptionally competitive pricing. We are a vertically integrated company with strong ties to our customers, suppliers, investors, and the communities we serve.
We are a lighting provider, but technology is our core competitiveness. Our technical team has developed patented and proprietary technology in lighting and manufacturing that makes us outstanding among traditional manufacturers. We aim to offer continuous product innovation to save more energy and being continuous cost advantages to our customers. Our quality assurance includes high standards in color accuracy control, optical precision, thermal dynamic analysis, and a 7-cycle reliability test.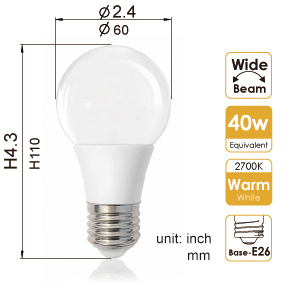 Model #: SI-JA19E26N07-27CE
Power Consumption / Wattage: 6.5W
Wattage Equivalent: 40W (Incandescent)
Lumen Output: 470lm
Dimmable: No
Beam Angle: 240°
Color Temperature: 2700K
Light Appearance: Warm White
Voltage: 120V
Base: E26
Life: 25,000hrs
SKU: 03-269-035
Barcode(UPC): 819968012587

240° Wide Beam Angle
SunSun 240° super wide beam brings the most comfortable and average light. The shadow area is reduced to 30%. On average, the shadow area of other common bulbs is 70%.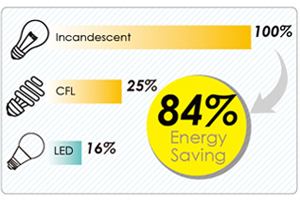 High Performance - Energy Saving 84%
SunSun 6.5W LED bulb saves up to 84% of the energy used compared with 40W incandescent lamp of similar brightness.
Low Cost - 6.5W LED Replaces 40W Incandescent
Only $0.85/year for one LED bulb.
Save $98 for each LED bulb compared with incandescent lamp.
* Electricity savings (By the comparison of using the LED and 40-watt incandescent lamp for 25000 hours at $0.11/kWh ). The cost depends on your rates and use.
25,000 Hours Super Long Life
Lasts 5 times longer than CFL bulbs.
Lasts 25 times longer than traditional light bulbs.
22.8 years lifetime
* Based on 3 hrs/day usage in an open fitting.

Reliability
SunSun has obtained UL/ FCC/ RoHS certifications, so the product has high reliability.