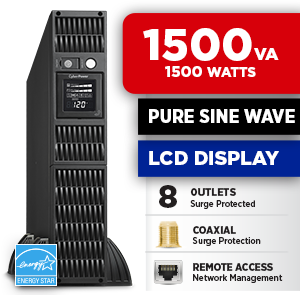 The PR1500LCDRTXL2U Battery Backup

1500VA / 1125Watts Capacity
Full Buck/Boost Automatic Voltage Regulation (AVR)
Multifunction Rotatable LCD Panel
2060 Joules of Surge Protection
8 Battery and Surge Protected Outlets
Up to 301 Minutes of Runtime @ 50W
Network Connection
EPO (Emergency Power Off)

CyberPower PR1500LCDRTXL2U Line-Interactive UPS System
Offering battery backup protection for servers, telecom equipment, VoIP and internetworking hardware requiring pure sine wave output and Active PFC power source compatibility.
Why you need it: When power goes out for even a second it can result in data loss and hardware damage which can shorten equipment life expectancy. This battery backup unit provides sufficient emergency runtime power to allow for safe closure of open files and proper shut down of electronics when an outage occurs. In addition, it safeguards electronics from commonly occurring power surges caused by storms, activity on the power grid or high-powered equipment turning on and off. Full buck/boost Automatic Voltage Regulation (AVR) stabilizes incoming voltage, preventing costly business interruptions and chronic problems caused by minor but frequent power fluctuations.
Typical Use
Provides backup power and surge protection for corporate and departmental servers, telecom equipment, VoIP and Internetworking hardware requiring pure sine wave output and Active PFC power source compatibility. Safeguards valuable documents, image files and connected equipment from loss or damage due to power fluctuations and surges, as well as uncontrolled equipment shutdown caused by power interruptions.
Product Highlights

Pure Sine Wave Output — Provides power protection to Energy Star 5.0 devices with Active PFC power supplies and non-APFC power supplies.
Surge Protection — Prevents damage to equipment from surges and spikes, including lightning, and also safeguards telephone and fax equipment, cable modems and routers from power surges traveling through unprotected phone or data lines. The amount of energy a surge protector can absorb is measured in joules. A higher joule rating means more protection.
ENERGY STAR Qualified — Recognized by the US Environmental Protection Agency (EPA) as one of the most energy efficient battery backup units available.
Full Buck/Boost Automatic Voltage Regulation (AVR) — Corrects minor power fluctuations, including under and over-voltages, without switching to the battery, thereby extending battery life - essential in areas where power fluctuations occur frequently.
Multifunction LCD Panel — Displays battery backup vitals for easy monitoring of run-time and power conditions.
Additional Features
Energy-Saving Technology — GreenPower UPS Bypass Design saves energy costs by reducing power consumption and heat buildup.
Remote Computer Monitoring — PowerPanel Business Edition management software allows for controlling and monitoring the battery backup remotely, when an optional network card is installed, to safeguard open files and connected equipment during an outage.
USB & Serial Communication Ports — Allows communication between the battery backup unit and the PowerPanel software installed on the connected computer to enable power management and auto shutdown functionality.
Noise Filtering — Advanced EMFI/RFI noise filtering coils reduce electromagnetic and radio frequency interference that cause disruptive humming and static.
Audible Alarms — Distinctive tones sound when the backup unit is on battery power, overloaded or low on power. The alarm can be silenced if desired.
FREE PowerPanel Business Edition Management Software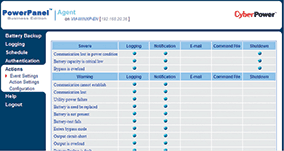 PowerPanel BE is included with this battery backup unit and is easily downloaded and installed on any computer. Its diagnostic screens facilitate complete control of the battery backup unit's capabilities.
Highlights
Intuitive dashboard design
Remote, real-time monitoring of battery backup status
Self-testing functionality
Adjustable high/low voltage warnings
Safe auto shutdown
Configurable system notifications
Power problem event summary
Versions available for download:
PowerPanel BE for Windows — Compatible with Windows XP 32/64, Vista 32/64, 7, 8, Server 2008 and 2012, and all versions of Windows 2k+
PowerPanel BE for Linux — Compatible with most versions of Linux, 32/64bit
PowerPanel PE for Mac — Compatible with Mac OSX 10.4.1+
Works with Mac Energy Saver — No software required
Product Support
Lifetime Connected Equipment Protection — Covers up to $400,000 on any properly connected equipment damaged by a power surge caused by storms.
Free Technical Support — Assists customers with any product, installation, or warranty concerns at no added cost.
---
Estimated Runtimes for the PR1500LCDRTXL2U Battery Backup
| | | | | | |
| --- | --- | --- | --- | --- | --- |
| Load | 50 Watts | 100 Watts | 300 Watts | 500 Watts | 700 Watts |
| Runtime | 301 Minutes | 150 Minutes | 49 Minutes | 27 Minutes | 17 Minutes |
Specifications
| | |
| --- | --- |
| Power Protection Type | UPS |
| Capacity | 1500VA / 1125Watts |
| Total Outlets | 8 Battery + Surge Outlets |
| Outlet Type | 3-Prong Standard - NEMA 5-15R |
| Cord Length & Plug Type | 10 ft. (3.05 m) Cord – Right Angle Plug - NEMA 5-15P |
| UPS Topology | Line-Interactive |
| Surge Suppression | 2060 Joules |
| Communication Ports | Coax RG6, RJ45/RJ11, USB, Serial (2x), EPO Port, Remote Monitoring |
| Energy-Saving Technology | GreenPower UPS Bypass Design |
| Input Voltage Compatibility | 80Vac – 150Vac |
| Frequency Compatibility | 50/60Hz +/- 3Hz |
| On Battery Waveform | Sine Wave |
| On Battery Voltage | 120Vac +/- 5% |
| On Battery Frequency | 50/60Hz +/- 0.1% |
| Battery Size & Type | 4x Rechargeable 12V/9AH Sealed Lead Acid |
| Rackmountable | 2U |
| Dimensions | 17.25" W x 3.5" H x 19.5" D (43.82cm W x 8.89cm H x 49.53cm D) |
| Weight | 70 lbs. (31.75 kg) |
What's Included in the Box
(1) PR1500LCDRTXL2U Battery Backup UPS, (1) User manual, (1) USB A+B type cable, (1) Serial cable, (1) Emergency Power Off (EPO) Cable, (1) Warranty registration card, and (1) PowerPanel Business Edition software CD