Keep your phones/tablets juiced up while on the road with the ORICO dual-port car charger. Two USB ports, a 5V 2.4A super charging port and a 5V 1.5A universal charging port, allow you to charge two devices at one time quickly. A smart chip detects and identifies devices plugged in, and outputs required current for optimized charging. Sleek and compact, this gadget fits nicely into your lighter socket and will not get in your way. Plus, this charger is toughly built with quality material and superb assembly, ensuring it's always ready whenever you need to power/charge your electronics.
Available in black or white to suit the car interior, and your taste.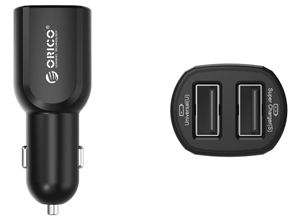 Dual Charging Ports
You rely on your tablet computer and your other mobile devices equally when you're on travel or business trip. So why not choose this item to charge devices when their batteries begin to run low? With the ORICO Dual USB Car Charger, you can simultaneously repower both a tablet computer and a smartphone, MP3 player, GPS unit, e-reader or any other standard USB device. You'll never have to go without one device and keep using another, so you can make more calls, send more texts, listen to more music, use more apps and surf the web more when you're traveling.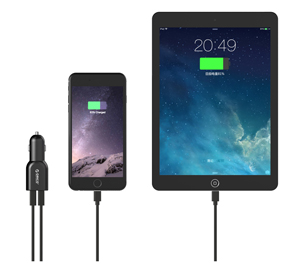 Smart Charging
The ORICO Dual USB Car Charger is the first portable car charger because of its Smart Charging Technology, allowing it to operate at the optimal charging rate for whatever you plug into its dual ports. This means that tablets, smartphones and other mobile devices will recharge as quickly as possible without you having to worry about overcharging or short circuiting.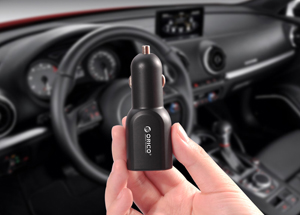 Easy to Use
With the ORICO Dual USB Car Charger, recharging your tablet and any other USB devices is incredibly easy. Just slip the charger into the cigarette lighter and connect the standard USB charging cable to the 5V2.4A or the 5V1.5A charging port. The ports are clearly marked, so you can tell in a glance which is which. Once your cord is in place, and your device is attached, charging will begin automatically at the optimal rate.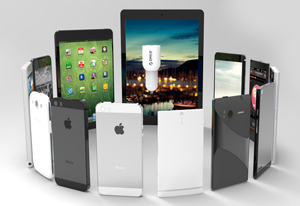 Enhanced Versatility
This charger is widely compatible with most of 5V electronic equipment such as phone / tablet / eBook / mini stereo, etc. In addition, it also supports 12-24V rated input voltage. Both family car and truck may provide you adequate power.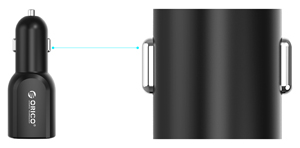 Solid, Secure Contact
High-quality copper nickel material ensures your product is scratch resistant, antioxidant, strongly conductive and so on. It also makes the buckle tighter when plugged into lighter socket, is easy to use, and prevents product swing and slide due to bump.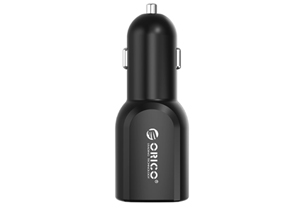 Comprehensive Protection
ORICO's multi protection safety system makes this product adapt to all kinds of power supply circumstance and ensures complete protection from electrical short circuit, over heat, over voltage, over charging, over current and etc. Easy to enjoy reliable, safe, and fast charging.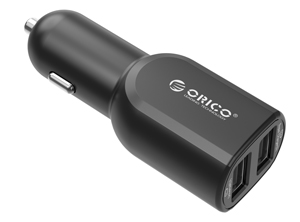 Superb Build
It uses special matte process so that you will feel more comfortable than others in planeness and slickness. Moreover, this product adopts fireproof composite material as the same as car dashboard. Corrosion-resistant, nontoxic and lead-free product, worry-free use, green life.