BrightLink 585Wi
Interactive WXGA 3LCD Projector
The perfect ultra-short-throw widescreen projector for the BYOD classroom.
Engage students in a new way with the next generation of kinesthetic learning from the BrightLink 585Wi ultra-short-throw interactive projector. Offering 3x Brighter Colours than competitive models, Epson 3LCD projectors ensure bright, vivid lessons. With 3300 lumens of colour brightness and 3300 lumens of white brightness, the 585Wi delivers dynamic images to the BYOD classroom. And, it displays up to 100" images from just 12" away. Plus, with PC-free interactivity, the 585Wi makes it easy to annotate on displayed content from virtually any device, or no source at all. Teachers can use the EasyMP® with Moderator software to simultaneously share students' work from PCs, Mac®, iOS® and AndroidTM devices.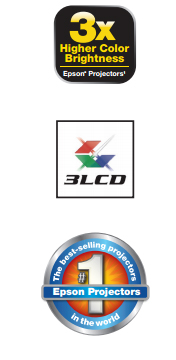 3x Brighter Colours and reliable performance - 3LCD, 3-chip technology*
One measurement of brightness is not enough - look for both high colour brightness and high white brightness. The BrightLink 585Wi has:

Colour Brightness: 3300 lumens
White Brightness: 3300 lumens

PC-free interactivity - display and write on content from your iPad®/iPod®/iPhone®, Android device, document camera, DVD player, or no source at all
Convenient collaboration for BYOD classrooms - wirelessly share and compare students' work from multiple devices, simultaneously, with Moderator software
Wireless interactivity - easy network connectivity; software included
Dual pen support - allows two users to annotate simultaneously anywhere on the surface on which the image is projected
SMART™ Notebook Collaborative Learning software - included with purchase. Includes one year of Notebook Advantage
Compatible with top interactive software - maximize your investment by utilizing familiar teaching applications such as Promethean ActivInspire®, and MimioStudio™ by Mimio (Software sold separately)
Wall mount included - get a 100" image from as little as 12" away; significantly reduces shadow interference and glare
2x HDMITM - supports multiple high-definition A/V devices, with MHL® support4
Long-life, low-cost lamp - lasts up to 6,000 hours in ECO Mode
Bright and Colourful
Features 3300 lumens of colour brightness (colour light output) and 3300 lumens of white brightness (white light output)

WXGA Resolution
1280 x 800 HD widescreen resolution

Interactive
Make almost any smooth, lightly-coloured surface interactive with BrightLink solutions.

Two Interactive Pens - Simultaneous
Annotate and interact with projected images using two interactive pens. Users can write simultaneously or independently.

Mount Included
Wall mount is included

Ultra-Short Throw Projector
Can be mounted only 12.2" away from the board, and the projected WXGA image can get as large as 100" diagonal with reduced shadow interference.
The bright choice in interactive projectors for today's BYOD classroom.
The BrightLink 575Wi and 585Wi bring cutting-edge kinesthetic learning to the BYOD classroom. Offering 3x Higher Color Brightness than competitive models, Epson® 3LCD projectors ensure bright, vivid lessons. The 575Wi and 585Wi ultra short-throw projectors deliver dynamic images, whatever the task at hand. And, they display images up to 100" from just 12" away. Best of all, with PC-free interactivity, these projectors make it easy to walk in and start an interactive session on any wall or whiteboard. Instructors can use the Moderator software to share students' work over the network from multiple devices, simultaneously. Or, they can wirelessly project content from iOS® or Android devices or utilize popular learning applications.
Advanced connectivity
Wireless interactivity
When using Epson's EasyMP software with a networked BrightLink projector, teachers are no longer tied down by restrictive and confining cables. Educators can wirelessly display and interact with content as they move about the classroom with their laptop, experiencing a whole new level of interactive freedom.
Advanced network connectivity and management capabilities.
Present A/V content over the LAN or annotate on network content using BrightLink's instant annotation tools. With Epson's EasyMP Monitor software, IT administrators can configure and monitor the status of their Epson networked projectors, including the remote viewing of power status, lamp hours and temperature/filter conditions.
Amazing image quality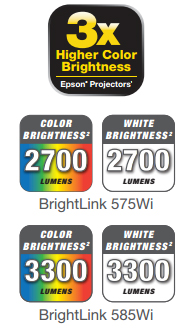 3x Higher Color Brightness with Epson
Brilliant image quality requires high color brightness (color light output), and Epson 3LCD projectors have 3x Higher Color Brightness than leading competitive projectors.
One brightness measurement (lumens) is not enough. A projector's specification needs to show both high color brightness and high white brightness. If color brightness is lower than white brightness, images may be dark, dull and lose detail. If not provided, be sure to ask for a projector's color brightness specification.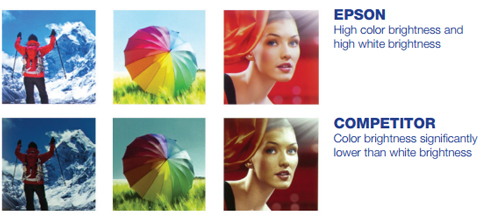 Actual photographs of projected images from an identical signal source. Price, resolution and white brightness are similar for both projectors (Epson 3LCD and 1-chip DLP competitor). Both projectors are set to their brightest mode.
3LCD, the #1 projection technology in the world, has:
Both high color brightness and high white brightness
3 chips for up to 3x Higher Color Brightness than DLP projectors
25% lower power consumption for lower energy costs
25 years of road-tested reliability
A nationwide study reveals that 9 out of 10 people prefer images from 3LCD projectors
Classroom collaboration
Teaching tools.
Support BYOD classroom collaboration and wirelessly share and control content from personal devices to the projector with Epson's Moderator device management software.
Wirelessly connect up to 50 Windows® and Mac® devices, plus iOS or Android mobile devices running the Epson iProjection™ App
The teacher can share content from up to four device screens simultaneously to the projector and control which device screens to display
Encourage and control classroom collaboration; it's perfect for comparing students' work side by side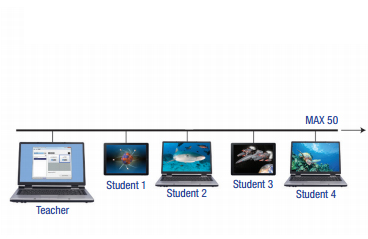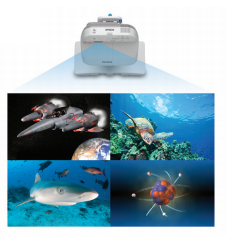 Easy Interactive Tools 3.0.
This new annotation software from Epson allows users to control projector settings over the network; record and save video from Epson document cameras; save, re-open and edit annotation files; access archived curriculum; and program the interactive pen button to provide instant access to the most used tools. Best of all, Easy Interactive Tools is free and ships with each BrightLink projector.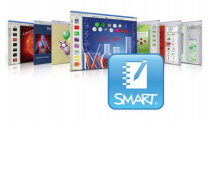 SMART Notebook software for BrightLink.
SMART Notebook collaborative learning software helps teachers create engaging and interactive learning experiences. Make learning fun with SMART Notebook's subject-specific functionality, easy integration with mobile devices, and thousands of pieces of pre-created content. Each BrightLink includes a 4-seat user license (available for Windows and Macintosh®) for SMART Notebook, as well as a 1-year subscription to the SMART Notebook Advantage software maintenance program.
Energy saving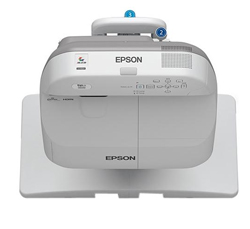 Save energy and reduce operating costs.
ECO Mode - operates the projector at a lower brightness setting
Light Optimizer Mode - adjusts the lamp brightness, based on the projected image
Auto Mode - sensor automatically adjusts the lamp brightness, based on the room environment
Lamp dimming - after a certain period of inactivity, the projector lamp dims, thereby extending the lamp life
Sleep Mode (A/V Mute) - control your presentation; it's right at your fingertips
Direct Power Off/On - power the projector on/off with the flip of a wall switch
Standby audio out - use the projector's internal speakers or continue to pass audio out to an external speaker and play your audio even when the projector is "off" (in Standby Mode)
Easy to use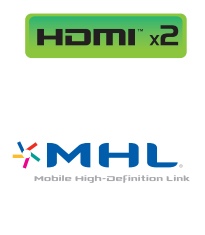 Simple Setup Suite from Epson.
Epson projectors offer a suite of innovative features that ensure flexible placement and fast, easy setup.
Flexible wall mount (included) - the telescopic arm makes it easy to mount the projector and then adjust the image on any surface, including plain walls and existing boards, as well as thicker boards
Auto calibration - get up and running in no time
2x HDMI - use with multiple high-definition A/V devices (compatible with the latest laptops, Blu-Ray Disc® and media players) 
MHL - the latest in connectivity

Display content with MHL-enabled smartphones, tablets and Roku® devices

Use the projector remote to control MHL-enabled devices
Charge your MHL-enabled device when it's plugged into the projector

Get instant access to movies, games and more

Quick Corner® - this innovative feature allows you to move any of the four corners of an image independently, to adjust each corner for a perfectly rectangular picture
Quick, convenient control - Instant Off® means no cool-down time required; it's ready to shut down when you are
Copy menu settings for multiple projector installations - save on installation time; copy settings via a USB flash drive, USB cable or LAN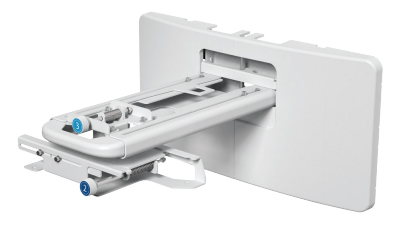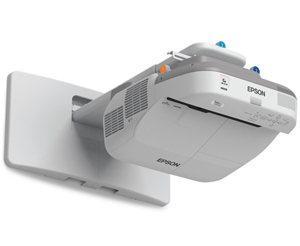 What's in the box
BrightLink 585Wi ultra-short-throw interactive projector
Projector wall mount
Projector template sheet
Installation guide
Quick user's guide
Power cable
USB A/B cable
Computer / VGA cable
Electronic user manual
Interactive driver for Mac
Epson Easy Interactive Tools
Network Management software
Projector remote control
Two (2) interactive pens
Pen tray
Two (2) AA batteries (for interactive pens) + battery charger
Two (2) AA batteries (for remote)
SMART™ Notebook redemption code