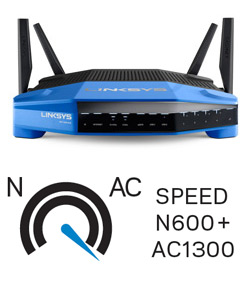 Linksys WRT1900ACS Dual-Band Gigabit Wi-Fi Router
Powerful 1.6GHz dual-core processor
512MB of RAM
Four external antennas provide greater coverage and strength
Speeds up to N600 + AC1300 Mbps
Four Gigabit Ethernet ports, a USB 3.0, and combo eSATA/USB 2.0 port
Exclusive Smart Wi-Fi with Network Map provides a visual overview of your home network
Open Source ready

Powerful 1.6 GHz Dual-Core Processor for Multitasking
The Linksys WRT1900ACS comes with a professional-grade 1.6GHz dual-core processor that's designed to push data through the network faster and handle more browsing and gaming simultaneously. Unlike a single-core processor, which has to switch between data streams, the WRT1900ACS offers optimum efficiency and performance when you are using multiple devices on your network.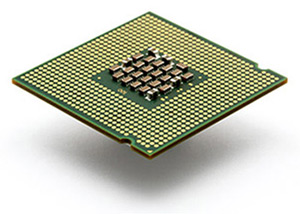 Generous 512MB of RAM
The Linksys WRT1900ACS offers 512 MB of RAM--double the RAM of its predecessor--providing more memory to speed up data transfers. The router is capable of transferring data faster, meaning your movies, photos, and other files transfer at lightning-fast speeds.
Advanced Wi-Fi Router Performance
The WRT1900ACS features Wireless-AC speeds up to N600 + AC1300 Mbps. Four high-performance adjustable antennas enhance wireless dual-band connectivity, delivering professional-grade coverage and reliability throughout your home or office. A high-powered amplifier helps maximize Wi-Fi signal strength and coverage vertically and horizontally.
Beamforming Technology Creates Stronger, Faster Connections
Beamforming, an innovative technology that enables the router to strengthen the wireless signal to specific devices rather than simply sending out a blanket Wi-Fi signal, provides a strong, fast connection for multiple Wi-Fi devices. This results in faster network speeds and better wireless range.
eSATA, USB 3.0, and USB 2.0 Ports Allow for Multiple Wired Connections
The WRT1900ACS comes equipped with eSATA, USB 3.0, and USB 2.0 ports for connections to many types of storage devices. Connect your enabled devices for faster data sharing and file transfers. USB 2.0 and 3.0 ports allow you to add external storage devices for sharing content across your network or a printer for the office. The WRT1900ACS also features an eSATA port, which can double as a USB 2.0 port, to support external SATA devices.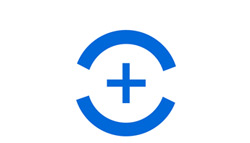 Open Source Ready
The Linksys WRT1900ACS was designed with OpenWRT, an open source Linux-based operating system that allows modification and customization for advanced users.*
Advanced Security for Safe Connections
Wi-Fi Protected Setup (WPS), WPA2 encryption, and an SPI firewall help ensure maximum network security to safeguard against unauthorized users accessing your data.
Smart Wi-Fi Software with Network Map for Greater Network Control
With Linksys Smart Wi-Fi software, you can monitor and control your home network at any time, wherever you are. For example, Smart Wi-Fi allows you to restrict Internet access at certain times of the day with parental controls. It also allows you to create unique Wi-Fi passwords for your guests, monitor and add devices on your home network, and check upload and download speeds. In addition, this software allows you to prioritize which devices on your network get the most bandwidth.
The WRT1900ACS also integrates Network Map, which provides a visual overview of your network, allowing you to see all devices on your network, view their online status and signal strength, and measure how much bandwidth they're using at any time.
Wireless Repeater Mode and Wireless Bridge Mode for a More Powerful Wi-Fi Network Signal
Linksys WRT1900ACS Dual-Band Gigabit Wi-Fi Router, four antennas, Ethernet cable, power adapter, quick start guide, and CD-ROM with documentation.
Package Contents
Linksys WRT1900ACS Dual-Band Gigabit Wi-Fi Router, four antennas, Ethernet cable, power adapter, quick start guide, and CD-ROM with documentation
*While Linksys fully embraces the open source community and is providing open source use capabilities, they do not offer technical support on using open source firmware. Installing 3rd party firmware is done at your own risk and replacing factory-installed firmware with OpenWRT firmware will void your warranty. Please always seek the advice of more experienced users via open source community forums if you're unsure.