It is definitely the one PC gamers want. A well-equipped case with impressive cooling capacity, a gaming keyboard with highlighted WASD keys, and a gaming mouse with red lighting effect together create the best gaming machine - ABS Vulcan GT730 ALA038 Gaming Desktop PC. Just dominate the battlefield without breaking a sweat.
A Gaming Machine That PC Gamers Will Love
The case, keyboard and mouse all have a black and red color scheme. It is typical gamer's color scheme. The large case with a magnificent front panel design gives off a rugged and muscular look. The black keyboard has the most frequently used keys - WASD - highlighted in red for better gaming. The mouse has red lighting effects to perfectly match your gaming mood.
Well Outfitted for Intensive Gaming Performance
The ABS Vulcan GT730 ALA038 Gaming Desktop PC comes with impressive components, including AMD Quad-core FX-4350 processor with a whopping speed of 4.2 GHz, NVIDIA GeForce GT 730 2 GB graphics card, 4 GB DDR3 memory, 1TB hard drive, and 400W power supply. Each component excels in performance to make it a highly responsive gaming rig.
Moreover, the graphics card supports multi-display setup, and comes with two DVI and one HDMI. It is easier to get panoramic gaming experience at high resolution.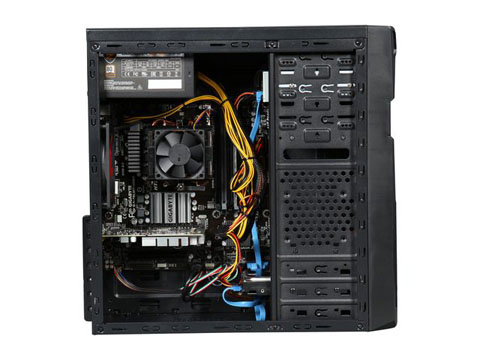 Stay Cool for Stable Gaming
The front panel, left side panel and rear panel have large-sized vents to keep your chassis well ventilated. The PC is preinstalled with one front red fan and one rear red fan, and also provides multiple slots for optional fans. The vents and case fans work together to keep all your components cool to give you lag-free gaming experience on the battlefield.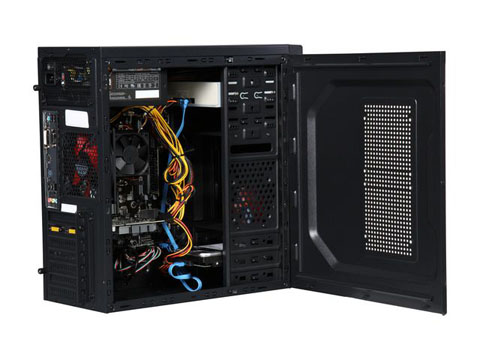 Rich Accessories Give You Better Flexibility
The gaming machine includes a DVI to VGA/D-sub adapter and an IDE/PATA cable. It gives you more freedom for customization.